Celebrity Deaths In 2016: 22 People We Lost This Year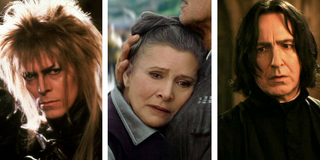 2016 really felt like it was taking away every great, beloved celebrity we have, didn't it? Right when you're finally coming to terms with your favorite actor going on permanent hiatus, you wake up to find that the musician that shaped so much of your life has died as well. Now that this garbage year is finally nearly over, let's take a look back at all the great stars that we had to say goodbye to in 2016.
David Bowie
Died: January 10, 2016
David Bowie wasn't just a musician --- his ferocious adherence to his own individuality and uniqueness in regard to fashion, art, and societal norms helped shape the landscape of pop culture into a more colorful and explosive place. He's churned out countless pop and rock hits over the past half century, and even stepped into acting with memorable turns in movies like Labyrinth and Basquiat. He died of liver cancer just days after releasing his final album, Blackstar, at the beginning of the year.
Alan Rickman
Died: January 14, 2016
Severus Snape had one of the most emotional death scenes in recent memory on the big screen, and actor Alan Rickman's death left just as many Harry Potter fans sad and shaken at the very beginning of 2016. And Rickman wasn't only beloved by hordes of Harry Potter fans --- he was a beloved actor known for bringing depth and snark to iconic roles in movies like Die Hard, Love Actually, and Galaxy Quest. Sadly, the accomplished thespian died of pancreatic cancer at the age of 69.
Harper Lee
Died: February 19, 2016
Harper Lee became one of the most well-regarded American authors after publishing only one book in half a century. Her iconic novel about racial inequality, family, and growing up, To Kill a Mockingbird is still taught in schools to this day. Her second novel Go Set a Watchman was published a year before she died in her sleep at the age of 89 this past February.
Garry Shandling
Died: March 24, 2016
Many comedians today list Garry Shandling as an inspiration to their craft. The television mainstay kept audiences laughing throughout the '80s and '90s with his pair of successful comedy talk shows: It's Garry Shandling's Show and The Larry Sanders Show. Sadly, Shandling died of a blood clot in late March of 2016.
Patty Duke
Died: March 29, 2016
An icon of the 1960s, Patty Duke was the "it" girl of the decade after delivering phenomenal performances in stage plays like The Miracle Worker and movies like Valley of the Dolls. Duke also hosted her own talk show throughout the decade, and additionally released a pair of top 40 hit songs. Sadly, Duke died earlier this year of a ruptured intestine.
Doris Roberts
Died: April 17, 2016
Legendary actress Doris Roberts was known for a number of prominent film roles throughout the '70s and '80s, but most TV viewers know her as the pushy but lovable Marie Barone from Everybody Loves Raymond. Roberts brought unmatched humor and professionalism to every role that she took on, which made her death from a stroke earlier this year all the more upsetting.
Prince
Died: April 21, 2016
One of the most shocking deaths of the year was that of Prince, the iconic musician behind an entire era of funk music. His biggest hits like "Purple Rain," "When Doves Cry," "Little Red Corvette," and so many others defined a generation of music fans, and went on to influence countless R&B and pop artists today. News of his death due to accidental opioid overdose earlier this year shocked the world.
Muhammad Ali
Died: June 3, 2016
The devastating power of 2016 hit us in full force when it bested even "The Greatest." One of the most decorated and inspiring figures in professional sports, boxing legend Muhammad Ali died at age 74 after years of struggling with Parkinson's syndrome.
Gordie Howe
Died: June 10, 2016
One of the most famous hockey players of all time, Gordie Howe set the standard for how the sport was meant to be played when he first put skate to ice back in the 1940s. Decades later, he still holds many of the NHL's records, and was the inaugural recipient of the league's Lifetime Achievement Award in 2008. Sadly, Howe couldn't outskate fate, and died at age 88 this summer.
Anton Yelchin
Died: June 19, 2016
Anton Yelchin's death this summer may be one of the most upsetting of the year, given that the actor was still so young. The Russian actor gained some popularity as the title character in the high school pharmaceutical dramedy Charlie Bartlett in 2007, and then made it big when he was cast as Chekov in the rebooted Star Trek movie series. Tragically, Yelchin was killed when he was pinned between his car and a brick mailbox.
Gene Wilder
Died: August 29, 2016
The world lost a bit of magic this past August when Gene Wilder was pronounced dead. His comedic talents have kept audiences laughing for centuries, with iconic films such as The Producers, Blazing Saddles, and Young Frankenstein. And he found his way into the hearts of a whole new generation when he injected zany, silly life into Willy Wonka.
Arnold Palmer
Died: September 25, 2016
Known as one of the best golfers to ever play the game, Arnold Palmer had to hang up his clubs for good this fall when he died awaiting heart surgery at age 87. Palmer won over 60 PGA tour titles throughout the '50s, '60s, and '70s, but non-golfers will also remember him for the signature half-lemonade, half-tea drink named after him.
Jose Fernandez
Died: September 25, 2016
September 25 took another major athlete along with Arnold Palmer. Florida Marlins pitcher Jose Fernandez died in a boating accident at the young age of 24, after creating a viable future for himself in the Major League by winning Rookie of the Year just three years prior. Even more tragically, Fernandez had just announced that his girlfriend was pregnant with his first child five days before the lethal accident.
Leonard Cohen
Died: November 7, 2016
One of the most prolific songwriters in history --- Leonard Cohen --- also died this year. Along with non-musical writings in the form of poetry and novels, Cohen provided the world with some of the most highly praised songs ever, including his stirring, emotional masterpiece "Hallelujah." Sadly, Cohen's song ended this fall after Cohen died in his sleep at age 82.
Florence Henderson
Died: November 24, 2016
All of America felt like it was saying goodbye to its mom this fall when news broke that Florence Henderson had died. The veteran actress was best known for her role as The Brady Bunch mother Carol Brady throughout the late '60s and '70s. She continued to work in the entertainment industry until dying of heart failure at the end of November.
Ron Glass
Died: November 25, 2016
Ron Glass' death was one of the very few times that both young sci-fi fans and nostalgic baby boomers mourned the same actor, who had a profound impact on the lives of both cultures. Barney Miller fans remember Glass as the ambitious sergeant Ron Harris, whereas fans of the cult favorite space-Western Firefly looked to Glass as the charismatic spiritual leader Shepherd Book.
John Glenn
Died: December 8, 2016
John Glenn is flying higher than ever before now. The legendary pilot became the first man to orbit the Earth in the 1960s, going on to become one of the most famous astronauts ever. Later in life, Glenn transitioned into politics, becoming the senator for Ohio for a couple of decades. Glenn died in early December at age 95.
Alan Thicke
Died: December 13, 2016
Just weeks after losing an iconic TV mom in Florence Henderson, America was hit with another blow when iconic TV father Alan Thicke passed away in December. The Growing Pains patriarch helped raise a generation, and Thicke himself never stopped being a beloved television mainstay, working up until the day of his death at age 69.
Zsa Zsa Gabor
Died: December 18, 2016
Zsa Zsa Gabor had survived more eras of filmmaking than just about anyone, but 2016 finally got to her and she unfortunately died of a heart attack just a couple months shy of her 100th birthday. Gabor became a movie star in the golden age of Hollywood, and lived an insanely glamorous lifestyle to match it. In all, Gabor had nine husbands throughout her life.
George Michael
Died: December 25, 2016
The holiday classic "Last Christmas" took on a whole new meaning in 2016, and not a good one. Pop star George Michael died in his sleep during the holidays, 32 years after his band Wham! released their modern Christmas anthem. Along with his work with Wham!, Michael also had an incredibly successful solo career and was a vocal activist for LGBT rights.
Carrie Fisher
Died: December 27, 2016
2016's final blow is one that hit most movie fans the hardest. Before the holidays, people all over the world worried about Carrie Fisher's health after it was reported that she had a serious heart attack on an airplane. Things appeared to clear up, but unfortunately, Fisher passed away a few days later. Of course, Fisher gained iconic film status for her role as Princess Leia in the Star Wars franchise, and she went on to become an incredibly accomplished author and beloved personality in her own right later in life.
Debbie Reynolds
Died: December 28, 2016
Of course 2016 had to end with one of the most heartbreaking deaths of all. The day after her daughter Carrie Fisher died, acting legend Debbie Reynolds died as well. Known for her iconic roles in Singin' in the Rain, The Unsinkable Molly Brown, and so many other hugely influential films, Reynolds' last words were reportedly that she wanted to be with daughter.
Your Daily Blend of Entertainment News
Thank you for signing up to CinemaBlend. You will receive a verification email shortly.
There was a problem. Please refresh the page and try again.