The 10 Best Romantic Comedies Of 2020, Ranked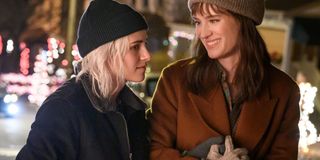 (Image credit: (Hulu))
We've always sought comfort in romantic comedies, and 2020 was no exception, though we may have embraced them more tightly and with more adoration this year. Late date nights in the town or party meet-cutes were more fantasy than ever. Thankfully for movie fans, I believe 2020 was a landmark year for the rom-com.
In the past few years, the genre has been making a comeback, but under Hollywood's current circumstances, we not only turned to streaming, where rom-coms have been blooming and flourishing as of late, but they became events and memorable pop culture moments again. And although I must warn that much of the best of the pack are somber and sometimes existential portraits of the genre, there are plenty of charm and sweep-off-your-feet moments that we'll be pressing repeat on again and again. Here are my picks for the best romantic comedies of 2020, ranked:
10. To All The Boys: P.S. I Still Love You
One of the first big releases of the year, and the only sequel on this list, was To All The Boys: P.S. I Still Love You. It followed the 2018 Jenny Han book adaptation that many of us became smitten with, kicked off Netflix's second-coming of rom-coms and Noah Centineo's heartthrob status. Although the second movie doesn't measure up to the original, it's still as sweet as bubblegum and swooning over Jordan Fisher's Ambrose McClaren, and the inherent heated controversy regarding Lara Jean's love triangle won't soon be forgotten as we await the next film.
9. Looks That Kill
One great beauty of the romantic comedy is how it can come from anywhere and doesn't need a big story or studio behind it to be memorable. Every year, there are a couple of indie gems that come from the genre, and Looks That Kill is a great wildcard you may have glossed over. The dark comedy follows Max (played by 13 Reasons Why actor Brandon Flynn), who has to cover his face with bandages because glances at his face literally kills people. His perspective on life changes when he meets Alex (The Affair's Julia Goldani Telles), who suffers from her own rare condition, and they bond. This strange and dark, yet funny release puts a different spin on coming-of-age romances.
8. The Lovebirds
Too many rom-coms focus on the first spark of love and don't dare to venture into the in-between moments of a relationship in an entertaining way. The Lovebirds does this by focusing on an in-a-rut couple played by the hilarious Issa Rae and Kumail Nanjiani, who find themselves in the middle of a mystery to solve after they are framed for murder. The Lovebirds has a smart premise, great moments and cleverly discusses race in avenues the genre doesn't typically dare to go.
7. The Photograph
Insecure starlet Issa Rae had two opportunities to be leading lady in 2020, and I'd argue the better rom-com was Valentine's Day weekend release The Photograph, which paired her with the entrancing Lakeith Stanfield of Atlanta. This one's smoother round the edges, slowly dancing to a jazz soundtrack as Stanfield's photographer character gets entangled with Rae's Mae as she also explores her past, which acts as a second romantic storyline in between. The Photograph is subtle and reserved at times, but has a seductive quality about it that more rom-coms could take notes from.
6. The Half Of It
We're no strangers to the high school-set romantic comedy, but too often does Hollywood frame young love as an effortless and glamorous affair. Netflix's The Half Of It tells an endearing story of Ellie Chu, a shy and awkward teen who helps Daniel Diemer's Paul score with Aster, the object of both of their affections. Though in Ellie's instance, she has repressed her infatuation and channeled it into helping Paul through text messages and letters to Aster. The Half Of It forms into a unique and exciting love triangle of sorts that explores love and acceptance of bisexuality from a place of pure and wholesomeness we don't often get to see.
5. Love and Monsters
I mean… is there anything more romantic than aspiring to find love during a monster apocalypse? In an exciting change of pace into the world of sci-fi action, Love And Monsters works with this premise for its epic rom-com story. It follows Maze Runner actor Dylan O'Brien as lonely Joel, who spends his days cooking minestrone for his bunker during the apocalypse. After getting back in touch with his high school sweetheart over radio, he decides to travel 80 miles to be with her. Along the way, he befriends a dog sidekick, a fun Michael Rooker character and a whole lot of monsters. It's a delightful spin on the genre, and filled with a combination of witty and adorable moments.
4. Happiest Season
Christmas-set romantic comedies come and go year after year, but it's been awhile since we've had one as memorable as Happiest Season. The record-breaking Hulu flick not only aptly uses its amazing cast, but puts a smart spin on the classic 'bring your SO home for holidays' awkward circumstances that are all too relatable during Christmas time. Kristen Stewart shines with Schitt's Creek creator and scene-stealer Dan Levy in a story focused on the struggle of Mackenzie Davis to come out to her family also amidst exes of her past intervening. Happiest Season has an earnest message, but it's also a great comfort watch that feels primed to be a classic. And continue a soon-to-be age old debate about Aubrey Plaza's Riley.
3. Emma
One of the most influential people on today's romantic comedy formula is certainly Jane Austen, who wrote a slew of classic novels before the genre took flight in the modern era. Many of her stories have been adapted in different ways over the years, and this year we were gifted Emma, one of the standout Austen adaptations to date. Starring the electric Anya Taylor-Joy, Autumn DeWilde's beautifully captured movie tells the classic story with whimsy and slowly enraptures you in the story's magic. Since the story was modernized for Clueless, Emma is not an easy movie to win an audience over, but it's a delightful period rom-com that will sit on the shelf with Joe Wright's Pride and Prejudice.
2. Spontaneous
In 2020, Spontaneous feels distinctly of the COVID-19 era, yet was shot back in 2018 ahead of its low-profile release this year. Perhaps this speaks to its universal quality, because wow, does its story resonate! Spontaneous is a spunky, yet grim tale about a graduating high school class who begin to spontaneously combust. It's an anomaly that becomes central to the film, but more importantly inspires Charlie Plummer's Dylan to finally ask out the girl he's liked for some time, Katherine Langford's Mara. The pair form a genuinely sweet romance in the middle of government experiments, quarantines and drug trials. Spontaneous takes bold swings, and it oddly works. It explores deep existential questions and keeps things delightfully weird.
1. Palm Springs
The best romantic comedy of the year and one of the best all-around films of 2020 is Palm Springs. I know this because it's a movie about time loops (repeating the same day over and over), and yet, I pushed play on a second viewing the morning after seeing this just to relive its glory and continues to stick with me months later. Palm Springs tops this list for a number of reasons. It's filled with laugh-out-loud moments, chiefly pulled off by Andy Samberg and Cristin Milioti; it's not only romantic, but challenges us on the subject of relationships and love tied with our own existence; it has a unique premise that really cleverly ties into its commentary; plus, it has a great soundtrack. Palm Springs isn't dreamy or sugar-coated, yet pulls off the hopeful alchemy of the genre by the end as the pair step out of their desert sunset. We'll undoubtedly be talking about Palm Springs for years to come.
What was your favorite rom-com of 2020? Vote in our poll below and stay here on CinemaBlend for more best-of lists as we ring in the new year.
This poll is no longer available.
Your Daily Blend of Entertainment News
YA genre tribute. Horror May Queen. Word webslinger. All her writing should be read in Sarah Connor's Terminator 2 voice over.
Your Daily Blend of Entertainment News
Thank you for signing up to CinemaBlend. You will receive a verification email shortly.
There was a problem. Please refresh the page and try again.