Should Mission: Impossible Recast Ethan Hunt When Tom Cruise Is Done?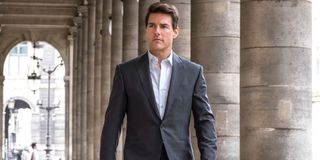 It's 2021, and while the world gears up for the final act of 52-year-old Daniel Craig's stint as James Bond, the 58-year-old Tom Cruise is filming Mission: Impossible 7. The actor has gotten bumped, bruised and even broken along the way, but he's still here and still playing Ethan Hunt. With so many years under his belt and the continuing passage of time, one has to wonder: what will happen when he calls it quits?
Tom Cruise has yet to indicate he's done playing Ethan Hunt, but when that day comes, what's next? Can the Mission: Impossible franchise survive after Tom Cruise, and more importantly, should it?
Mission: Impossible Existed Before Tom Cruise, But Ethan Hunt Didn't
Many people know Mission: Impossible began its run as a '60s television series that was revived in the late '80s before the current film franchise kicked off in 1996. It's important to remember that the movies are directly tied to the TV shows. Jon Voight's character Jim Phelps was a carryover character from the original '60s program and late 80s revival, though he ended up flipping from good guy to bad in the transition.
What's most interesting to note is that he's the only character from the franchise to appear in both the films and the two shows; the latter featured a rotating cast of IMF agents throughout the runs on television. None of those agents were Ethan Hunt, who debuted in the first Mission: Impossible movie. Tom Cruise is the only actor to have portrayed the character, so he definitely would be the last if he wasn't recast.
The Mission: Impossible franchise also has a precedent for new agents, and didn't always make a point to highlight the exploits of just one agent. While James Bond has been the hero of the 007 franchise for over 50 years, past precedent in Mission: Impossible would dictate that IMF doesn't and won't stop with Ethan Hunt. The character could totally be retired, killed off or even go full circle like Jim Phelps and become the villain. That would definitely be quite a twist and quite a way to end Tom Cruise's legacy as the character.
Would Fans Accept Another Lead In Mission: Impossible?
Past precedent is all well and good, but shows and film series live and die by the audience and what they want. Regardless of if replacing Ethan Hunt as a lead would be seen as a continuation or reboot, fans are conditioned to love a character who has carried the franchise on his shoulders for 25 years and counting. That's longer than any actor who ever played Bond, and think of how well-loved Sean Connery and Daniel Craig are as two of the most tenured actors to portray the spy.
That's doubly so for Tom Cruise, who has regularly made headlines for the stunts and spectacles he's taken part in while filming the Mission: Impossible movies. He's the star of the show and still one of the biggest stars in Hollywood. The day Mission: Impossible loses the actor, it will have to answer what it is without Cruise as Ethan Hunt.
Personally, I have no doubt there's an actor in Hollywood who will be capable of captaining the franchise in Tom Cruise's absence, but whether they'll live on as an equal or a suitable replacement is an entirely other question. As I mentioned, Cruise is a rare breed of actor who does some of the most outlandish stunts that audiences love. Few actors are willing to go those lengths, and even fewer that are at quite the level of prestige in Hollywood that he is. If there's an actor capable of filling Cruise's shoes in this role, then I'm sure they'll do fine. The real problem is finding that actor.
Will Mission: Impossible Continue After Tom Cruise Is Done?
Regardless of whether or not Tom Cruise has a large part in its success, there's no denying the successful track record of the Mission: Impossible franchise. The series has done quite well at the box office, which is remarkable given the number of delays and turnaround times the movies have faced throughout the years. Even Mission Impossible III, which is considered the underperforming film of the series (via Forbes), made $133 million domestically, and $399 million total worldwide on a $160 million budget.
Hollywood is already a place where even underperforming franchises find new lives, so it's hard to believe it would let a cash cow like Mission: Impossible go gentle into that good night. Even if continuing the franchise without Tom Cruise is a terrible mistake everyone can see from a mile away, someone, somewhere is going to roll the dice and see if they still can't keep the series rolling.
For what it's worth, Mission: Impossible director Christopher McQuarrie has stated on the record he's explored the option of spinoffs in the past. More recently, he discussed his idea of Ilsa Faust having her own project, but any discussions ultimately fell through because he felt audiences would just be looking for Tom Cruise to make an appearance as Ethan Hunt. That wouldn't be a problem if Ethan Hunt was unable to return, so perhaps these recent talks were feeling out the next step for the franchise if Cruise is on his way out?
As I mentioned earlier, we have no idea how much longer Tom Cruise will play Ethan Hunt or what Paramount's plans are for the franchise should he leave. With that being said, given all we've learned about the franchise's past and the fact that Cruise is a once-in-a-lifetime talent, it would be for the best if Ethan Hunt rides into the sunset along with the actor's exit. There are still avenues for the franchise to survive without him, and apparently ideas are being tossed around for spinoffs. Whether the franchise will continue to thrive without him is a different story, but if there is a future without Cruise, it should be without Hunt as well.
Mission: Impossible 7 is currently shooting back-to-back with Mission: Impossible 8. Continue to stick with CinemaBlend for more on the movie and other headlines in television and movies.
Mick likes good television, but also reality television. He grew up on Star Wars, DC, Marvel, and pro wrestling and loves to discuss and dissect most of it. He's been writing online for over a decade and never dreamed he'd be in the position he is today.
Your Daily Blend of Entertainment News
Thank you for signing up to CinemaBlend. You will receive a verification email shortly.
There was a problem. Please refresh the page and try again.