Flora And Ulysses Drops Its First Trailer, Here's Why It's Headed Straight To Disney+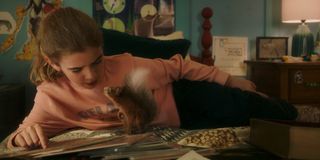 The time has come for Disney+ to finally release another fun-filled family adventure, this time starring none other than Sonic the Hedgehog's Ben Schwartz and How I Met Your Mother's Alyson Hannigan, along with relative newcomer Matilda Lawler. The new movie Flora & Ulysses is based on the popular children's novel by Kate DiCamillo and will be another live action venture from the House of Mouse. Now, we are finally getting an idea of what that will look like with the first trailer for the film.
As you can see, Matilda Lawler's Flora is a young girl who loves comics and adventure. So when a squirrel who seems to have certain powers ends up in her midst, the two end up being a very good team, helping Flora to navigate the waters of complicated familial relationships. With an animal control employee (played by Danny Pudi) on Ulysses' furry tail, the two are about to go on an unforgettable adventure.
Why Flora & Ulysses Is Heading To Disney+
While some flicks like Mulan and Artemis Fowl were created for the big screen and later pushed to Disney+, Flora & Ulysses is unique in that it was created with the subscription streaming service in mind. One of the reasons the company chose the film for Disney+ was its focus on family viewings. Associate Producer Jennie Lee candidly told us why Flora & Ulysses the hopes the team has for the film's Disney+ release and why the streamer seemed like a good fit. (Note: When CinemaBlend spoke to her on the set of the film, this was pre-pandemic, so it should be noted that any theatrical issues that have cropped up in 2020 were not an issue at the time.)
If only she'd known how prescient that "you're at home" comment would be. Speaking of pitching, creating, producing, or acting in a movie that had very different aims than a splashy theatrical release might, lead Ben Schwartz did says the film will fit in with what Disney is trying to bring to its fanbase in multiple forums. Per the actor, that Disney magic will still be there:
Disney+'s Flora & Ulysses Is Also Going For 'Pixar in Live Action'
So, why live action for Flora & Ulysses? One thing CinemaBlend heard over and over on the set for the Disney+ film was that the team behind the new movie was really looking forward to tying in the Pixar aesthetic and emotionality with the realism of live action. The director of the film, Lena Khan, talked about how she really worked to make sure there's enough in the new film to interest and appeal to adults, mentioning Toy Story and its jokes that are "clearly not for children" as an influence, also elaborating:
So, what does Pixar in live action mean? While I suppose technically Ulysses himself is a CGI squirrel and thus a little more cartoon-y than the other characters, in general Lena Khan wants people to feel that the subjects are moving and feel "grounded" to help the film resonate with a lot of different types of people at different stages in their lives.
When it hits the schedule, Flora & Ulysses will be nestled in between new Marvel TV shows WandaVision and Falcon and the Winter Soldier in the Disney+ schedule, officially hitting the streaming service on February 19. In the meantime, the book is already available (opens in new tab) if you haven't checked it out yet.
Reality TV fan with a pinch of Disney fairy dust thrown in. Theme park junkie. If you've created a rom-com I've probably watched it.
Your Daily Blend of Entertainment News
Thank you for signing up to CinemaBlend. You will receive a verification email shortly.
There was a problem. Please refresh the page and try again.