As James Earl Jones Turns 90, The Wire's Wendell Pierce Pays Tribute To His Mentor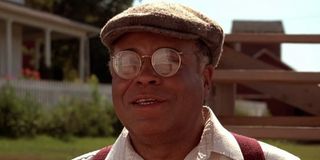 The legendary James Earl Jones turned 90 today, and what an incredible 90 years it has proven to be. He has been working a solid 70 of those 90 decades, and has played ore than a few iconic characters in his time. He managed to break into the acting game early in his adult life with major roles, and he has not only given strong performances throughout his career but remains remains a relevant figure in Hollywood today. His 90th birthday has likely spurred well wishes from many, but The Wire's Wendell Pierce gave a particularly sweet shoutout to Jones.
James Earl Jones has likely been an inspiration for many actors in Hollywood and, apparently, he's also been a mentor to Wendell Pierce, who is a very accomplished actor himself. Pierce took to his Twitter to wish his inspiration and teacher a happy birthday:
Wendell Pierce's tribute to James Earl Jones is not only thoughtful but a pretty substantial honor as wel;. Pierce has done his fair share of work, as he has over 100 actor credits attached to his name, including the iconic HBO crime drama The Wire and notable films like Bad Moms and Selma. Pierce's claim that Jones is "one of the greatest artists of our generation" is not one to be argued. James Earl Jones may have a great body of work attached to his own name, but his impact on other actors in Hollywood like Wendell Pierce contributes to his legacy as well.
The legacy of James Earl Jones is one that would be difficult to match. If you don't know his face, you should know his name, and if you don't know his name (for shame!), you definitely know his voice. Jones is the voice of arguably the most recognized (fictional) bad guy through his vocal role as Darth Vader. And for all of you Disney fans, he also voices the OG Lion King himself, Mufasa. He's held both these titles in various forms for years now, with him reprising his Disney character back in 2019 for the remake. He has a more than impressive resume and, with his role in the upcoming Coming 2 America, it doesn't look like James Earl Jones is slowing down.
He has held his iconic (is there a stronger word than iconic? Can we name one after James Earl Jones?) role in Star Wars for going on 5 decades. That, his two-decade stint as Mufasa, and now his reprisal of King Jaffe Joffer in Coming 2 America after over 30 years pretty much makes Jones the king of retaining quintessential characters.
Although initially delayed due to the pandemic, you will be able to watch James Earl Jones, along with other original cast members like Eddie Murphy and Arsenio Hall, in the long-awaited Coming 2 America. The film is set to release to streaming on Amazon Prime on March 5.
Be sure to heck out our updated 2021 film schedule, and as always, check back with CinemaBlend for more film and TV news.
Your Daily Blend of Entertainment News
Thank you for signing up to CinemaBlend. You will receive a verification email shortly.
There was a problem. Please refresh the page and try again.