James Earl Jones: 11 Great Performances Besides Star Wars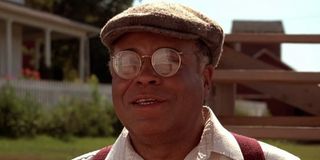 When it comes to James Earl Jones movies, the first title that may come to most audiences' minds is probably Star Wars. In fact, I would not be surprised if "Here Lies Darth Vader" was to be etched into his gravestone someday, instead of his real name. While the veteran actor's voice will forever be immortalized from the speaker box of the ruthless, galactic tyrant, people do realize that he has been in other things, right?
Not only has James Earl Jones, born January 17, 1931, lent his unmistakable voice to countless other projects as both a narrator and as a proper character, but he has also been a physical presence in even more profound roles. For instance, did you know he won a Tony for playing Troy Maxson in the 1987 Broadway debut of August Wilson's Fences years before Denzel Washington's revival and later big screen adaptation? Also, for any frequent watchers of the cable news, did you realize that was him announcing "This is CNN" in between each broadcast?
To celebrating the influential, Academy Award-nominated actor, we present a look back on his best performances outside of his time in a galaxy far, far away. A few of the following James Earl Jones films are ones that you may have forgotten or were too busy perfecting your Darth Vader impersonation to notice in the first place, but now we will start things off with a role that might even be your favorite of his.
The Lion King (Mufasa)
It was a stroke of genius for Disney to cast James Earl Jones as the voice of Mufasa, the mighty ruler of the jungle and father of Simba (Matthew Broderick), in the 1994 animated classic inspired by Shakespeare. Because the character was defined so much by his voice, Jones ended up becoming the only actor from the original cast of The Lion King to reprise his role in Jon Favreau's 2019 reboot.
Coming To America (King Jaffe Joffer)
Speaking of reprising royalty, James Earl Jones will appear as Jaffe Joffer, the ruler of fictional African country Zamunda, in the upcoming sequel, Coming 2 America. This return comes more than 30 years after his first comically earnest performance as father to Eddie Murphy's lovesick prince Akeem in Coming to America, a timeless 1988 rom-com from director John Landis.
Dr. Strangelove Or: How I Learned To Stop Worrying And Love The Bomb (Lt. Lothar Zogg)
Speaking of comical, James Earl Jones often goes unjustly overlooked for how good his comedic timing can really be - case in point, his 1964 feature film debut as B-52 bombardier pilot Lothar Zogg in Stanley Kubrick's Dr. Strangelove. I don't know about you, but I get a chuckle from the way his otherwise confident tone breaks into a stifled panic when his plane's bomb hatch experiences a malfunction in this scathing, boldly bleak Cold War-era satire.
The Sandlot (Mr. Mertle)
Lothar Zogg is a prime example of how James Earl Jones can make a memorable character out of such a brief appearance, much like his role in this 1993 period film that is still praised as the quintessential, cinematic celebration of the summer by many. Mr. Mertle does not officially show up until near the end of The Sandlot, but Jones' warm portrayal of the blind owner of Hercules (a.k.a. "The Beast") and old friend of Babe Ruth himself serves as the perfect home run.
Field Of Dreams (Terence Mann)
Speaking of home runs, The Sandlot was not the first great baseball movie on the actor's resume (in fact, it was the third), but the second, after 1976's The Bingo Long Traveling All-Stars & Motor Kings, was Field of Dreams. The magical, inspiring 1989 drama starred James Earl Jones as Terence Mann, a reclusive Civil Rights era author sought out by Ray Kinsella (Kevin Costner) to help understand the meaning behind messages urging him to build a baseball diamond on his Iowa farm property, which attracts ghosts of the sport's greatest legends.
The Man (Douglas Dilman)
The Kiefer Sutherland series Designated Survivor was also not the first piece of fiction based on the titular clause, as it was also the basis of this 1972 dramatic political commentary starring James Earl Jones as a senator facing gross discrimination after tragedy makes him the Commander in Chief. From a screenplay by The Twilight Zone creator Rod Serling and based on Irving Wallace's novel of the same name, The Man also marked the first portrayal of a black United States president on film.
The Hunt For Red October (Admiral James Greer)
Based on the first novel featuring Jack Ryan is director John McTiernan's 1990 suspense classic in which Tom Clancy's iconic CIA analyst (Alec Baldwin) finds himself literally in deep trying to prove that the Soviet Union's top submarine captain (Sean Connery) is planning a defect at the height of the Cold War. James Earl Jones plays James Greer, the Deputy Director of the CIA who personally recruited Ryan, with an iron first in The Hunt for Red October, earning him the chance to reprise the role opposite Harrison Ford in both Patriot Games and Clear and Present Danger.
A Family Thing (Ray Murdock)
James Earl Jones shared the spotlight with fellow screen legend Robert Duvall in A Family Thing, in which they both give strong, inspiring performances as a white Arkansas equipment renter and a black Chicago cop who discover they are half-brothers. Co-written by Billy Bob Thornton, this poignant and and often funny 1996 drama has a lot to say about how learning more about yourself can make you a better you.
Conan The Barbarian (Thulsa Doom)
In his most iconic pre-Terminator role as the brutish, title hero of 1982's Conan the Barbarian, Arnold Schwarzenegger seeks revenge on the powerful sorcerer who attacked his village, killed his parents, and forced him into slavery as a young boy, who is played by James Earl Jones. If there is any villainous character from Jones' repertoire that can rival Darth Vader, it is unquestionably Thulsa Doom, whose commanding, tyrannical presence and literally hypnotic stare make him an intense force to reckoned with, even for Arnold.
Roots: The Next Generations (Alex Haley)
This 1979 sequel to the groundbreaking miniseries continues to trace the lineage of Roots author Alex Haley following the American Civil War. One of the most stirring and important moments of Roots: The Next Generations appears in the seventh and final episode in which James Earl Jones as Haley brilliantly holds his own against Academy Award-winning legend Marlon Brando as American Nazi Party leader George Lincoln Rockwell, the subject of a magazine article by the writer.
3rd Rock From The Sun (Narrator)
The early days of NBC's hit sci-fi sitcom 3rd Rock from the Sun would begin with a narration explaining Dick (John Lithgow), Sally (Kristen Johnson), Harry (French Stewart), and Tommy's (a young Joseph Gordon-Levitt) mission to study human behavior for their home planet. No one could have performed that introduction as perfectly as the man they hired: James Earl Jones, which is why it is actually a bit disappointing in retrospect that his voice began on 19 episodes of the first season in 1996.
What do you think? Have we nailed all the of the most memorable James Earl Jones characters not named Darth Vader, including a few hidden gems, or do you find our lack of your most favorite performance of his disturbing? Let us know in the comments and be sure to check back for additional information and updates on the acting legend, as well as even more lists honoring of your favorite celebrities' lesser-known roles, here on CinemaBlend.
Your Daily Blend of Entertainment News
Jason has been writing since he was able to pick up a washable marker, with which he wrote his debut illustrated children's story, later transitioning to a short-lived comic book series and (very) amateur filmmaking before finally settling on pursuing a career in writing about movies in lieu of making them. Look for his name in just about any article related to Batman.
Your Daily Blend of Entertainment News
Thank you for signing up to CinemaBlend. You will receive a verification email shortly.
There was a problem. Please refresh the page and try again.