Steve McQueen Talks Blacks Being Given The 'Keys' To Create Things That 'Cannot Be Ignored'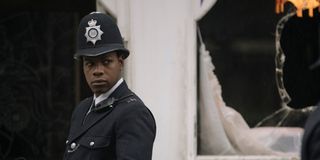 Amazon's Small Axe is a collection of five films that tell personal stories from London's West Indian community between the 1960s and 1980s. Featuring stars like Letitia Wright and John Boyega, the anthology series was created and directed by Steve McQueen. The esteemed British filmmaker perhaps best known for his award-winning feature 12 Years a Slave has commented on a shift in the industry for Black artists and creators.
Our world is constantly evolving, and we see those changes over time reflected in the media we consume. I recently attended a Q&A in support of the third installment in Small Axe titled Red, White and Blue which highlights the true story of Leroy Logan (played by John Boyega). The film is a sobering look at a man who joined the police force in an attempt to change racist ideals from within and how he's received at work, at home, and on the streets. During the Q&A, Steve McQueen said this of the difference between Black creations today and those of the past:
Small Axe is about having our hands in a way to control our own destiny. That's powerful, and I'd say the goal was accomplished.Throughout Small Axe we see strong Black characters standing up for what they believe in, really fighting for change and working to make a difference in their own lives and the lives of those around them. We also see them celebrating family, culture and opportunity in the most beautiful way.
The anthology series has been positively received by critics. As Steve McQueen mentioned, having the power to make something that cannot be ignored really makes all the difference. Yes, Small Axe is telling stories about a specific community, but it is not only the West Indian community in London that can relate to these characters or be moved by these stories. For any film fan, Small Axe offers hours of stunning cinematography and both heart-breaking and heart-warming performances you can't tear your eyes away from.
All five Small Axe films are streaming on Amazon Prime Video (opens in new tab). Keep checking back at CinemaBlend to stay updated on what's coming up on Prime Video and all your other favorite streaming services.
Obsessed with Hamilton and most things Disney. Gets too attached to TV show characters. Loves a good thriller, but will only tolerate so much blood.
Your Daily Blend of Entertainment News
Thank you for signing up to CinemaBlend. You will receive a verification email shortly.
There was a problem. Please refresh the page and try again.