We Can Be Heroes Star Had The Perfect Nickname Before Working On Robert Rodriguez's Netflix Film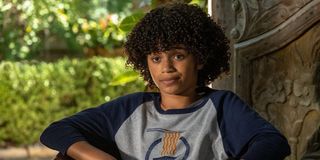 We Can Be Heroes is really popular! So popular, in fact, that it already has a sequel lined up for it in the future. And thankfully, it will likely have the same cast of characters, which will certainly make one of its stars, Lyon Daniels, particularly happy. He plays the elastic character, Noodles, in the Netflix movie.
For those who don't know, We Can Be Heroes is a spiritual sequel to the 2005 kiddie cult classic, The Adventures of Sharkboy and Lavagirl in 3D. In the original film, a young Taylor Lautner and a young Taylor Dooley played Sharkboy and Lavagirl, respectively. But while an all-grown-up Taylor Dooley reprises her role as Lavagirl, Taylor Lautner does not reprise his role as Sharkboy (Even though the actor, JJ Dashnaw, fills in for Sharkboy in a silent role in the sequel). Sharkboy as a character was especially memorable for Lyon Daniels, though, who grew up watching Sharkboy and Lavagirl. In fact, he even had the perfect nickname when he was younger. Here's what he told CinemaBlend:
Which is really cool! We Can Be Heroes is pretty much the perfect follow-up to The Adventures of Sharkboy and Lavagirl in 3D. So, to hear that one of its young actors actually grew up watching the original Robert Rodriguez kid film just goes to show what an impact it had on a younger generation.
Starring in the kiddie superhero film was "a dream come true" for the young actor, especially since he's such a massive fan of Robert Rodriquez, who he admires and appreciates as a director. Lyon Daniels said this about working with Rodriguez:
The cast, which also features adult actors such as Pedro Pascal and Christian Slater, also seemed to grow very close on the set. Perhaps some of them will reprise their roles in a future film as adults like Taylor Dooley did in We Can Be Heroes. This is what Lyon Daniels had to say about his fellow co-stars:
Sounds like fun! And what a sweet wrap gift from Priyanka Chopra. Seems like everyone had a blast on this set, including the adults, and it produced a fun film. We can't wait to see what the characters get into in the sequel.
We Can Be Heroes is currently streaming on Netflix. Do you and your kiddos agree it's the perfect follow-up to Sharkboy and Lavagirl? Let us know in the comments.
Lover of Avatar (The Last Airbender, not the blue people), video games, and anything 90s, he will talk your ear off about Godzilla, so don't get him started.
Your Daily Blend of Entertainment News
Thank you for signing up to CinemaBlend. You will receive a verification email shortly.
There was a problem. Please refresh the page and try again.