Marvel's Kevin Feige Teases Importance Of Multiverse In Phase Four And Beyond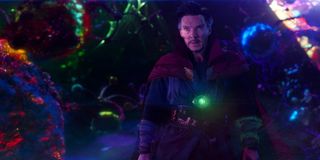 MCU fans know that the carefully woven world of its characters is the key to its success. We've watched the narrative develop over the years, across multiple franchises, wondering how it would all play out in the long run. Kevin Feige may not have all the answers for us yet - at least not ones he's willing to share - but he is making it clear that the multiverse will play an important role in Marvel's Phase Four.
Marvel has definitely diversified the way it brings its stories to fans. While much of the MCU used to be confined to feature-length films, there's a new wave of Marvel TV series that are expanding its narrative in bold ways. In an interview with Rotten Tomatoes TV, Kevin Feige made it clear that the next phase of the MCU will do more than just that -- it will lead the franchise more definitively down the path of the MCU multiverse:
It will be interesting to see what connections Kevin Feige is referring to -- and whether we've already seen some of them. We already know that the events of WandaVision will directly tie into Doctor Strange in the Multiverse of Madness, as will the events of Spider-Man 3. but he seems to be keeping his comments pretty vague, which could mean there's even more.
Kevin Feige's comments on the development of the MCU multiverse are especially intriguing since some, including Zack Snyder, have argued that the MCU's narrative is much more linear than a multiverse approach would suggest. It's true that, given their past narrative approach, introducing this new element will take some work.
Still, after series like WandaVision, it's hard to argue that Marvel isn't heading toward more experimental storytelling. Casting rumors about Spider Man 3 have also made it clear that the MCU is entering a new era that may feel much different than what we're used to.
Opening up the MCU multiverse could present a ton of exciting new stories for longtime fans to enjoy. It means we'll likely see characters from other franchises, like X-Men and Deadpool, enter the fray. It could also lead to some backlash, if they choose to use the multiverse to retcon previous narrative decisions. Regardless of how it plays out and what it means for the MCU on the whole, there's one thing that's abundantly clear: the multiverse is happening.
Your Daily Blend of Entertainment News