Jake Gyllenhaal: What To Watch Streaming If You Like The Donnie Darko Actor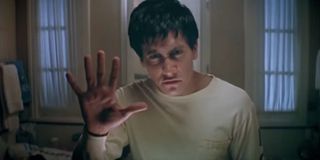 Gradually, Jake Gyllenhaal has become a dependable go-to actor for movies featuring entertaining and bold characters. Like many, I've enjoyed Gyllenhaal films for a while, but as the years have passed, he has really widened his capacity for delivering great performances. Gyllenhaal puts so much passion, quirk, and dedication into honing his craft and embodying his characters, you can't help but admire and respect his work. Jake Gyllenhaal movies don't follow a pattern--they vary in their themes, storylines, genres, styles, and so on--and that is because he's an actor who doesn't shy away from taking on any role and opportunity that presents itself, be it a super-villain or a journalist trying to catch one.
The Donnie Darko actor has been in over four dozen films, and he still manages to surprise and amaze his fans and critics. Many of those Jake Gyllenhaal films available to stream on various streaming platforms, including some of his best works (so far), as well as a few that are just fun films to watch. Here's a rundown of flicks that every Gyllenhaal fan should watch.
Nightcrawler - Netflix
In Nightcrawler, Jake Gyllenhaal plays Lou, a stringer who records violent and disturbing footage to sell to local television news stations. This disturbing drama also includes cast members Rene Russo, Riz Ahmed, and Bill Paxton.
Why Jake Gyllenhaal Fans Will Like It: I will go to my grave chanting Jake Gyllenhaal not only deserved an Academy Award nomination, but also a win for his role in Nightcrawler. That idea is up for debate, sure, but this is essentially Gyllenhaal's best performance to date. Lou is such a creep, but he's also right up there with the all-time best movie villains. He is a scary, ruthless, and psychotic character, but you can't look away, even while feeling increasingly uneasy while watching his twisted actions. What makes Lou so terrifying is that anyone who lets their ambition overpower their sense of morality could easily turn into him.
Stream it on Netflix here.
Donnie Darko - Tubi
With a soundtrack that leans heavily into the 1980s setting, Donnie Darko follows Donnie (Jake Gyllenhaal) after he receives a message from a mysterious rabbit figure that warns of an impending doomsday set to occur in less than a month. Donnie's behavior becomes increasingly strange and dark as he attempts to make sense of the impending end of the world.
Why Jake Gyllenhaal Fans Will Like It: Donnie Darko wasn't Gyllenhaal's first movie, and it was a dud at the box office, but it definitely helped his career take off after reaching a post-theatrical cult status. Donnie Darko is one of those wonderful films with so much to unpack, analyze, figure out, and discuss, showcasing a lot of narrative depth and no easy answers. Written and directed by Richard Kelly, Donnie Darko's distinct style and the story is made even better thanks to the intense and relatable performance by Gyllenhaal.
Stream it on Tubi here.
Prisoners - Hulu
In Denis Villeneuve's heavy drama Prisoners, Hugh Jackman plays a father who goes on a mission to find his missing daughter, while Jake Gyllenhaal plays the detective originally assigned to solve the case. Viola Davis, Melissa Leo, Paul Dano, and Maria Bello also appear in Prisoners.
Why Jake Gyllenhaal Fans Will Like It: Prisoners is a really compelling crime drama that's dark, heart-wrenching, and agonizing all the way through. It's a very gritty film that pulls emotional punches at the right moments. Prisoners work so well because of the top-notch performances by Gyllenhaal and Jackman.
Stream it on Hulu here.
Spider-Man: Far From Home - Starz
Spider-Man: Far From Home is the blockbuster sequel to the 2017 flick Spider-Man: Homecoming. In this movie, Peter Parker (Tom Holland) goes to Europe for a class trip, but instead of merely enjoying a vacation with friends while trying to forget the events of the last two Avengers movies, Peter meets a new superhero from Earth-833 and gets invested in a dangerous new adventure.
Why Jake Gyllenhaal Fans Will Like It: Gyllenhaal is one of those actors who I prefer to see playing villainous characters or morally dubious antiheroes. Slight spoiler if you haven't seen Spider-Man: Far From Home, but Gyllenhaal's Mysterio is pretty much a jerk, and not in the cool jerk way, but in the unnecessarily mean way. Yeah, he has maybe some justifications for going evil, but I'm still very bitter about what he did at the end of Spider-Man: Far From Home. Totally unnecessary and uncool, man, but still completely convincing and indicative of the actor's talent.
Stream it on Starz here.
Zodiac - Amazon Prime
The David Fincher-directed Zodiac focuses on the manhunt for the never-captured Zodiac killer. It features an ensemble cast that includes Gyllenhaal, Mark Ruffalo, Robert Downey Jr., Anthony Edwards, and Brian Cox.
Why Jake Gyllenhaal Fans Will Like It: David Fincher is great at creating crime dramas that leave audiences unsettled even after the credits roll. Zodiac is another unnerving Fincher tales that digs into this really interesting mystery that takes a reality-based approach to showing its characters during their journeys of self-discovery, and it's not always good what they learn about themselves. Gyllenhaal plays Robert Graysmith, a man so obsessed with finding the Zodiac killer that it ruins his marriage, and audiences will likely have little trouble believing in Graysmith's fixation.
Stream it on Amazon Prime here.
Enemy - Showtime
Enemy, the second film in this list helmed by Denis Villeneuve, is about two men who are identical in appearance but showcase very different personalities. After one of the men sees his double appearing in a film, he becomes obsessed with finding him.
Why Jake Gyllenhaal Fans Will Like It: Enemy is a film that is not straightforward, and it's one that viewers may need to watch, rewatch, and watch again to understand everything that's going on, as well as the messages it's trying to present. Enemy is similar to films like Mother! in that you may not get it first, but once you understand the concept, it's far easier to at least appreciate the uniqueness, even if the disturbing elements are still very prevalent. Enemy is also a great film to discuss with others to hear all the different interpretations of the plot and the film's message, as well as Gyllenhaal's nuanced performances.
Stream it on Showtime here.
Prince of Persia: The Sands of Time - Disney+
Based on the best-selling video game franchise, Prince of Persia: The Sands of Time is an action-adventure movie starring Jake Gyllenhaal, Gemma Arterton, and Ben Kingsley. In Prince of Persia: The Sands of Time, Gyllenhaal plays a street urchin turned prince named Dastan who gets wrongfully accused of murdering the king, and must then go on an adventure to prove his innocence.
Why Jake Gyllenhaal Fans Will Like It: Gyllenhaal rarely takes on movies where he's the lead action hero, so fans of the actor get to see him in a very different role from his norm. This is a big-budget action movie, so it's heavy on the action sequences. If you're a Gyllenhaal fan and an action adventure movie one, then Prince of Persia merges your favorite things, though one's mileage may vary on the final product as a whole.
Stream it on Disney+ here
End of Watch - Netflix
Jake Gyllenhaal and Michael Pena star in End of Watch, David Ayer's police drama about the day-to-day personal and work life of two South Los Angeles police officers.
Why Jake Gyllenhaal Fans Will Like It: End of Watch is a movie about true friendship and shows police officers in a more positive light than many grittier films in the crime drama genre. Gyllenhaal and Pena give endearing performances that make you appreciate their friendship and root for them. You enjoy watching them together with the same joy you would get watching your own friends interact, even if not everyone will appreciate all the body-cam POV shots.
Stream it on Netflix here.
Nocturnal Animals - HBO Max
Tom Ford directed Nocturnal Animals, an unpredictable drama focusing on art gallery owner Susan (Amy Adams), who receives a manuscript of a novel from her ex-husband Edward (Jake Gyllenhaal). As she reads the novel, she starts to regret her decisions while viewers watch Edward's novel playing out the story of a man whose wife and daughter are murdered by a gang, which inspires him to go on a quest to avenge their deaths.
Why Jake Gyllenhaal Fans Will Like It: Nocturnal Animals includes standout performances from the entire cast, and Gyllenhaal is essentially playing two characters throughout: the real Edward who we see in flashbacks, and the novel version. The narrative is rich and allows each actor to really explore their characters' emotional dilemmas. Nocturnal Animals is a film that leaves an impression and keeps you contemplating what it all means long after the ending, which is fitting for a movie tied to the art world.
Stream it on HBO Max here.
October Sky-Starz
October Sky is a biopic about Homer H. Hickam, Jr. (Jake Gyllenhaal), a coal miner's son who takes up rocketry. Chris Cooper and Laura Dern also star.
Why Jake Gyllenhaal Fans Will Like It: October Sky is one of Gyllenhaal's first leading roles. It tells the story of a young boy who doesn't compromise on his dreams, and it's filled with hope and wonder. Gyllenhaal guides audiences along Homer's journey as he dares to take on a difficult challenge without giving up, no matter the cost. October Sky is a great film to watch during trying times, because it offers inspiration and a feeling that anything is possible if you work for it and believe in yourself.
Stream it on Starz here
Stronger - IMDBTV
Stronger is a biographical drama about Jeff Bauman (Jake Gyllenhaal), a man who lost his legs in the Boston Marathon bombings. The film follows Jeff as he adjusts to life without legs and deals with the trauma of the event, with a cast that also includes Tatiana Maslany and Miranda Richardson.
Why Jake Gyllenhaal Fans Will Like It: Stronger features great performances by the entire cast – I barely recognized Miranda Richardson here, as she was so good with her fake Boston accent. It's also an interesting biopic in that it shows the hero fall down and down until he realizes that he has to get up and fight, and handles human behavior more realistically than many biographical films. Gyllenhaal takes viewers on a complete journey with him, where you feel a range of emotions, from anger to empathy and joy to frustration, before returning back to hope.
Stream it on IMDBTV here.
Brothers - Cinemax
Written by Game of Thrones co-creator David Benioff, Brothers follows soldier Sam Cahill (Tobey Maguire) as he returns home from the War in Afghanistan, where he was taken prisoner. After Sam is eventually presumed dead, his brother Tommy (Jake Gyllenhaal) steps in and helps Sam's wife Grace (Natalie Portman) raise the kids and things of that nature. Of course, when Sam returns home unexpectedly, everyone is in for a whirlwind of emotions.
Why Jake Gyllenhaal Fans Will Like It: Tobey Maguire gives one of his best performances in Brothers, nailing all the emotionally raw and primitive moments, big and small. And while Gyllenhaal does have more of a quiet role, it's just as captivating to watch him evolve from the screwup brother to a responsible and loving surrogate father. He also shows guilt watching Sam deal with his PTSD, as well as for his time with Grace while Sam was away. Brothers is intense but that's what makes the performances, directing, and writing work so well in tandem.
Stream it on Cinemax here.
Jake Gyllenhaal currently has a few films and television shows in varying degrees of the production process. As we wait for more Gyllenhaal content, the films listed above are great for revisiting some of his knockout performances.
Your Daily Blend of Entertainment News
Spent most of my life in various parts of Illinois, including attending college in Evanston. I have been a life long lover of pop culture, especially television, turned that passion into writing about all things entertainment related. When I'm not writing about pop culture, I can be found channeling Gordon Ramsay by kicking people out the kitchen.