3 Things About Losing Disneyland Annual Passes That Suck, And 2 Things That Won't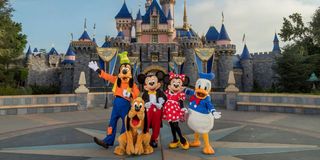 The recent announcement that Disneyland Resort had made the decision to end the Annual Passport program sent something of a shockwave through the Disneyland fandom. While the exact number of pass holders is unknown, it's estimated that the number in the six, or possibly even seven figures. As such, that's a lot of people who just lost their golden ticket to get through the gates of the happiest place on earth.
As a former Annual Passport holder myself who was always looking for an excuse to renew, the loss of the program is somewhat bittersweet. There was a lot to love about the Annual Passport program, though that's not to say it was in any way perfect. Here are the things I'll miss most about the end of annual passes, and a couple things I really won't.
Dropping In For A Half Day
Without a question, there was one element of having an annual pass that was awesome, and it was the simple fact that you didn't always feel a need to get the most out of every moment of your time in the parks. If you visited Disneyland frequently, you could just drop in, maybe hit your favorite ride or not really do anything but enjoy being at Disneyland.
As somebody who still had to travel a reasonable distance to get to Disneyland, this usually manifested itself in getting into town in the late afternoon or early evening, and just dropping in to have dinner or watch the fireworks or Fantasmic! You'd never spend a full day's ticket price and only visit for a couple hours. Going to Disneyland costs about $100 a day, so if you're planning a trip, you want to get your money's worth. But with the annual pass, it was easy to just drop in, and it didn't cost you anything more.
The Discounts
In the grand scheme of things, the discounts offered by one's annual pass were not going to make or break anybody's decision to get one. Still, there's nothing wrong with getting discounts, and the AP program offered users 10% or more off most food and merchandise purchases, depending on which flavor of AP you had. Whether you just needed to grab a snack or had an expensive table service dinner, those discounts made theme park prices a bit easier to swallow.
Even a 10% discount was nothing to sneeze at. Getting a coffee at the Starbucks inside Disneyland was even more expensive than a normal cup of Starbucks, but once you applied that discount, the price dropped to that of a normally overpriced cup of Starbucks, so that's nice.
Losing The Excuse To Visit Disneyland
Of course, it's somewhat understandable why so many locals with annual passes would visit Disneyland so often. I mean, why wouldn't they? If you've already paid for the annual pass, then there's essentially no reason not to visit the parks. And that goes for anybody not just locals. Any other leisure activity is going to cost you money you haven't already accounted for.
When I had my annual pass, I looked for any reason to visit the parks. If I was going to be anywhere near Disneyland, I would try to hop over, even if it was only for a day or less. There's a reason the Anaheim Convention Center is such a popular place for events, and if you're there for any reason and have an annual pass, you might as well walk over to the parks.
The Crowds
While we don't know exactly how many people had annual passes to Disneyland, the number is significantly north of... a lot. We also don't know how many annual pass holders were Southern California local who visited the parks frequently, as in weekly or even daily, but it seems quite clear that number was also pretty huge. A whole bunch of people in the parks one any given day were AP members, and that means that even when Disneyland is able to be open close to capacity, the park will likely feel less crowded than it did before the shutdown. This is not a bad thing.
People with annual passes that had to make "a trip" out of every visit to the parks may still visit with the same frequency they once did. However, those who were hitting Disneyland to grab a Dole Whip every day certainly won't. They won't be able to afford it. Disneyland rarely hit full capacity, which means these former AP holders won't simply be replaced by other guest; it will just mean fewer people in the park every day.
The Entitlement
Yeah, it kinda needs to be said that Annual Passholders could be real dicks. There was even a term coined to specifically describe those people: passholes. While the vast majority of passholders were certainly fine, there were absolutely those people who seemed to feel that the AP gave them some sort of ownership over the parks. This all too frequently resulted in guests who seemed to feel that because they had an annual pass, they should be first in line to get their grievances dealt with.
Believe me, when I was an annual passholder, I had an incredibly infuriating experience once inside the parks (ask me about it on Twitter if you care to hear the story) and I wanted to give somebody a piece of my mind. But it wasn't the Cast Members' fault, so I bit my tongue and moved on with my life. There were a lot of people who seemed unwilling or unable to do this.
While the existing Annual Passport program is gone, Disneyland Resort has already confirmed that it will be replaced with something new down the road. It will likely be a year or more before we actually see what that is, as it won't be unveiled until the parks are open and back at full capacity.
When that happens, all these things, the good and the bad, will probably come back, but it will be interesting. Disneyland has the ability to start from scratch, and with all the knowledge of the Annual Passport program. Knowing how things worked, what was good and what didn't work out, just what will the new program look like?
Content Producer/Theme Park Beat
CinemaBlend's resident theme park junkie and amateur Disney historian. Armchair Imagineer. Epcot Stan. Future Club 33 Member.
Your Daily Blend of Entertainment News
Thank you for signing up to CinemaBlend. You will receive a verification email shortly.
There was a problem. Please refresh the page and try again.