Kristen Wiig's Barb And Star Go To Vista Del Mar Reviews Have Dropped, Here's What Critics Are Saying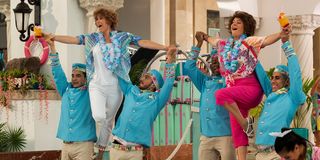 Kristen Wiig's latest adventure on the big screen is here. Kristen Wiig and Annie Mumolo, who co-wrote the 2011 comedy Bridesmaids, have teamed up once again for Barb And Star Go To Vista Del Mar. Directed by Josh Greenbaum, the film features lifelong friends Barb (Annie Mumolo) and Star (Kristen Wiig) as they embark on the adventure of a lifetime when they decide to leave their small Midwestern town for the first time ever to go on vacation in Vista Del Mar, Florida.
Barb And Star Go To Vista Del Mar drops on VOD today, and critics have begun sharing their thoughts on the film.
CinemaBlend's own Eric Eisenberg gave Barb And Star Go To Vista Del Mar 4.5 out of 5 stars and says that, though it takes a minute to adjust to the movie's absurdity, the movie is spectacular fun. He calls Kristen Wiig and Annie Mumolo a phenomenal and enchanting pair, and was surprised at how Jamie Dornan "comes out of Barb And Star Go To Vista Del Mar looking like a comedy genius." He continues, saying:
Jamie Dornan's comedy chops seemed to surprise several people (who apparently haven't seen his Instagram). David Rooney of The Hollywood Reporter pointed out that Dornan proves to be "a great sport in a himbo performance that's equal parts amusing and endearing." Rooney notes the film's "infectious spirit," saying:
Owen Gleiberman of Variety describes Barb And Star Go To Vista Del Mar as a film that could be a spin-off of an SNL sketch but is actually executed well, and notes that "while it has more chuckles than belly laughs, doesn't feel padded." He goes on to compliment the performances of Kristen Wiig and Annie Mumolo, saying:
Alonso Duralde of The Wrap was excited that Barb And Star Go To Vista Del Mar is a movie that diverges from the "same bland assembly line" that many other films seem to emerge from. Though he mentions that not all of the jokes hit 100% of the time for him because all viewers have different opinions about comedy, the movie kept him intrigued. He continued, saying:
Kate Erbland of IndieWire was a little bit less impressed with Barb And Star Go to Vista Del Mar. She noted that the film is mostly hysterical, but criticizes its cohesiveness. She said:
It would seem that though receiving a smattering of mostly positive, but somewhat mixed, reviews, Barb And Star Go to Vista Del Mar will probably make you laugh. It might even generate a cult following, though we'll have to wait and see just how big that cult becomes.
You can watch Barb And Star Go to Vista Del Mar on VOD today.
Your Daily Blend of Entertainment News
Thank you for signing up to CinemaBlend. You will receive a verification email shortly.
There was a problem. Please refresh the page and try again.