See Kevin Smith's Respectful Response To A Critic Bashing Jay And Silent Bob Reboot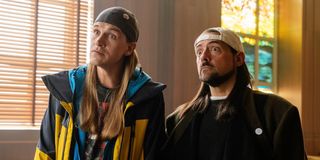 In 2019, following a 13-year absence from the View Askewniverse (although only six if you count the animated Jay and Silent Bob's Super Groovy Cartoon Movie!), filmmaker Kevin Smith returned to his shared universe of quirky characters with Jay and Silent Bob Reboot. Of course, as with most movies and artistic offerings in general, there were different opinions about Jay and Silent Bob Reboot's quality, and recently, Smith respectfully responded to one of the critics who didn't enjoy the movie.
Kevin Smith turned his attention to a tweet that professor, attorney and author Seth Abramson posted almost a full year ago regarding his opinion on certain 2019 movies. When it came to Jay and Silent Bob Reboot, Abramson recommended that people not watch it, which has now led to Smith saying the following on Twitter:
Those who followed along with Jay and Silent Bob Reboot's production know how personal making the movie was for him, and not just because it allowed him to play with these characters for the first time in live-action in over a decade. Although Smith announced that Jay and Silent Bob Reboot was happening back in 2017, filming didn't begin late February 2019, exactly one year after Smith suffered a nearly-fatal heart attack. Throw in the movie's focus on fatherhood, with both Smith and Jason Mewes having daughters, and it's understandable why Smith felt it was harsh for someone to straight up suggest skipping Jay and Silent Bob Reboot.
After Seth Abramson responded to Kevin Smith's original tweet, Smith clarified that he doesn't mind people critiquing his movies and saying they don't like them, but there's a difference between that and someone telling their followers to avoid the movie entirely. In the writer/director's words:
As far as overall critical reception goes, Jay and Silent Bob Reboot did fairly well for itself, ranking at 67% among critics on Rotten Tomatoes and garnering a 93% Audience Score. So while it didn't reach the level of acclaim of movies like Clerks and Chasing Amy, it's also a far aways off from the likes of the likes of Cop Out and Yoga Hosers, which were not received well. It's also worth mentioning that Jay and Silent Bob Reboot didn't have a traditional theatrical release; following the two Fathom Events showings in mid-October 2019, Smith went on a roadshow to present the movie in numerous cities and hold Q&As, which lasted until late February 2020.
While Jay and Silent Bob Strike Back saw its eponymous protagonists journeying to Hollywood to stop the Bluntman and Chronic movie from being made, Jay and Silent Bob Reboot went in a much different direction by… having the eponymous protagonists journey to Hollywood to stop the Bluntman and Chronic reboot from being made. In all seriousness, the story also involves Mewes' Jay learning he had a daughter, as well as running into plenty of new, colorful characters alongside faces quite familiar to the View Askewniverse.
Speaking of that shared universe, Jay and Silent Bob Reboot didn't mark Kevin Smith's final time visiting it. The filmmaker is also working on Twilight of the Mallrats and Clerks 3, with the latter boasting a different story than what he'd conceived earlier in the 2010s. Neither project has a release date yet, but we'll let you know when they do.
Connoisseur of Marvel, DC, Star Wars, John Wick, MonsterVerse and Doctor Who lore. He's aware he looks like Harry Potter and Clark Kent.
Your Daily Blend of Entertainment News
Thank you for signing up to CinemaBlend. You will receive a verification email shortly.
There was a problem. Please refresh the page and try again.