Sounds Like Chris Evans' Role In Netflix's The Gray Man Is A Far Cry From Captain America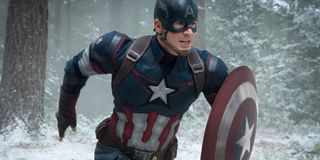 At this point, the Russo Brothers have pretty much made themselves a staple in Hollywood with their huge productions, including a number of the Marvel Cinematic Universe films. They've got a staggering amount of projects in the works and are once again dipping into the talent pool they already know and love, this time by casting Chris Evans in the upcoming The Gray Man. While Evans is highly regarded as the good guy, from playing more heroes than just Captain America, he's getting a whole new look in his latest team-up with the Russo Brothers.
Chris Evans played Captain America, basically the world's most goodie goodie superhero, just about a decade. With that in mind, it's kind of hard to imagine him playing a villain again (remember him as one of Romona's evil exes in Scott Pilgrim vs. the World?). During their time on an episode of the Lights, Camera, Barstool podcast, the Russo Brothers gave us a small mental image of what to expect from Evans in The Gray Man, and it's nothing like what we've come to know from him. In Joe Russo's own words:
Those recent reports aside, it currently appears Chris Evans' time as Captain America has come to end, especially since he was 106-years-old the last time we saw him. His career is far from over, though, and Evans will need to break out of his good guy reputation if he wants to keep things fresh, especially with another good guy role coming up for him in the Toy Story's Buzz Lightyear spinoff. So it sounds like The Gray Man is just the film for Evans to break back into his bad boy self.
The Gray Man is no small scale project for anyone involved, either. The film will feature two killers going head to head. The Netflix film also stars Ryan Gosling as Chris Evans' rival assassin, and it's the hope of the Russo Brothers that they'll be able to turn the film into its own franchise with its own universe. The Russo Brothers already have one franchise with Netflix as a storytelling platform, as Chris Hemsworth's Extraction has a sequel confirmed.
The Russo Brothers have stayed pretty busy, and The Gray Man is still in the early phases. So between their hectic schedule and the unknown future the pandemic still presents, there's no telling when we can expect The Gray Man to hit Netflix. Not to worry though, as the Russo Brothers have another Marvel star team up within grasp. Cherry, starring Tom Holland, is set to release to theaters and Apple TV+ in just a few weeks.
Even though we have some time before we see the result of another Russo Brothers/Chris Evans team-up, it sounds like it'll be something worth the wait. It's been a long time since we've seen Evans stray so far from his Captain America-esque goodness, and we're excited to see him tackle a darker role, especially opposite a chameleon such as Ryan Gosling.
Constantly thinking about books, coffee, and the existential dread I feel from Bo Burnham's Inside. While writing I'm also raising a chaotic toddler, who may or may not have picked up personality traits from watching one too many episodes of Trailer Park Boys.
Your Daily Blend of Entertainment News
Thank you for signing up to CinemaBlend. You will receive a verification email shortly.
There was a problem. Please refresh the page and try again.