Why Salma Hayek Was 'Afraid' To Do The Desperado Sex Scene With Antonio Banderas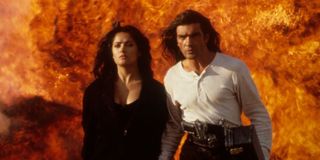 Sex scenes are no doubt one of the more difficult parts of filming as an actor. Some of the best in the business won't even entertain doing them. Salma Hayek recently shared a not-so-glamorous behind the scenes story about filming the famous sex scene for 1995's Desperado opposite Antonio Banderas, and why she was afraid to do it.
In a recent podcast appearance, Salma Hayek revealed, years later, why she was so afraid to film the Desperado scene and how she felt embarrassed by the whole situation. It was so early in her career. She noted:
The Oscar-nominated actress recently detailed the entire ordeal on the podcast Armchair Expert with Dax Shepard. She went on the describe exactly why the entire situation was more awkward than anything, and how it was intimidating to work with Antonio Banderas, who was "very free" with his acting on the set.
She did note that those involved did their best to make the filming as comfortable as possible. Director Robert Rodriguez cleared the entire area, only allowing Salma Hayek, Antonio Banderas, producer Elizabeth Avellán and himself to be a part of the scene. While the ordeal was no doubt traumatic, Hayek went on to commend the group for their support while speaking with Dax Shepherd. Despite the one scene, she mostly seems to have positive things to say.
Desperado was the second installment of the Mexico Trilogy from director Robert Rodriguez. In it, Salma Hayek played Carolina, the love interest of El Mariachi, played by Antonio Banderas. Despite the ordeal during the filming of the 1995 film, Hayek returned for the third and final installment of the series, Once Upon a Time in Mexico, which released in 2003.
Salma Hayek has had an impressive career since Desperado, appearing in major titles such as From Dusk Until Dawn, Wild Wild West, and her breakout hit Frida, for which she was nominated for an Academy award. Recently, she co-starred alongside Owen Wilson for Bliss, which is now streaming on Amazon Prime and features an ending that has had people talking. She will also be appearing in the upcoming MCU Phase 4 installment, Eternals, alongside an impressive cast. In the meantime, fans can stay up to date on the ever-changing upcoming slate of movies with CinemaBlend's 2021 release schedule.
Your Daily Blend of Entertainment News
Into tracksuits by Paulie Walnuts, the Criterion Channel and Robert Eggers.