Why Anna Kendrick, Blake Lively, And Other A-List Celebrities Refuse To Do Nude Scenes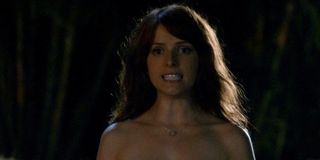 When actors perform their craft, they often have to be unreserved, vulnerable and liberated. That often means stripping away their modesties and insecurities in order to embody their characters, both psychologically and physically. As such, nude scenes can often come into play with acting. Though that's certainly not always the case; there are plenty of actors — including a few A-listers — who choose not to do nudity for various reasons.
In Hollywood, it's often common practice to hire body doubles or find creative or unique means to prevent the performer from performing scripted nude scenes. There are also actors and actresses in Hollywood to make sure that "no nudity clauses" are written clearly and explicitly in their contracts. The explanations for why certain actors go to painstaking lengths to avoid showing skin on-camera vary from person-to-person, and of course, it's often for personal reasons. After all, nobody should be obligated to take off their clothes and some people just aren't comfortable being in-the-buff, particularly on a set.
Still, while actors and actresses shouldn't need to explain why they don't feel like taking off their clothes, it's a common question in interviews and plenty of people have been comfortable with discussing their views before. Several famous people, including Anna Kendrick and Blake Lively, have talked openly about their respective decisions for avoiding nudity in their work. Here's why why different performers have chosen not to go forward with nude scenes while acting.
Anna Kendrick
While some viewers might've thought they saw Anna Kendrick reveal herself in 2016's raunchy comedy, Mike and Dave Need Wedding Dates, Anna Kendrick has been open about using a body double for that film. In her memoir that same year, Scrappy Little Nobody, Kendrick elaborated on the weird process of selecting a body double (which apparently involved a binder full of butts), and why she chooses not to get naked on camera, saying:
Blake Lively
In 2012, Blake Lively told the press that she wasn't planning on doing a nude scene anytime soon. The film/TV actress was finite about keeping herself clothed in front of the camera, believing that they are often "distracting" and believing it wasn't in her best interest to shed her clothes for a role. While her stance on nudity might've loosened slightly while filming 2016's All I See Is You, it doesn't seem like she has necessarily warmed up to the notion of nudity, opting for a body double for her skinny dipping nude scene in last year's A Simple Favor. Here's what Blake Lively told The Daily Mail:
Jessica Alba
In the mid '00s, Jessica Alba was one of the most famous, sought-after actresses in Hollywood. While she starred in a few suggestive films, she stayed true to her decision not to get naked in front of the camera. The explantation she gave came down to family. In an interview with Glamour, Alba claimed that she was uncomfortable with the possibility of her family members, including her grandmother, seeing her in her birthday suit. She said:
Mila Kunis
Having grown up in the industry, Mila Kunis tries to respect her privacy. She has chosen not to perform any nude scenes in her career, with her sole bit of nudity in 2011's Friends with Benefits featuring the work of a body double. In a profile piece with Allure, Mila Kunis explained she didn't feel comfortable baring too much in front of the camera, opting to keep most of her modesty intact. She believes she didn't need to show any more skin other than side boob, which is in the movie.
Samuel L. Jackson
With nearly 200 acting credits to his name, Samuel L. Jackson is an incredibly accomplished and committed actor, a man capable of dedicating himself to a high number of projects — big and small — through a wide-ranging career. Even though Jackson will work with a variety of filmmakers under a number of different circumstances, he draws the line at nude scenes. Or, at least, full-frontal nude scenes. On The Howard Stern Show, Jackson said:
Megan Fox
In the late '00s, Megan Fox rose to superstardom through her appearance in Michael Bay's Transformers. Yet while the actress became something of a sex symbol in the following years, she has continued to refuse to do nude scenes — despite the pressures from some Hollywood figures. In fact, in recent years, Megan Fox has reportedly opted to appear in fewer projects due to her insistence on not playing heavily-sexualized characters. Megan Fox explained for The Mirror that she had no interest in playing roles that she would find "degrading."
Mandy Moore
Before she celebrated a career resurgence through the uber popular NBC series, This is Us, Mandy Moore was a former teen superstar who quickly found herself in a number of high-profile projects. While there were a few roles that required a limited number of clothing items to be worn, Mandy Moore chose to keep certain parts of herself private. For instance, Moore used a butt double for her nude scene in 2003's Chasing Liberty, and she explained in an interview with ET that she wasn't comfortable with anyone seeing her actual derriere.
Ricky Gervais
Though Ricky Gervais might not be afraid to speak his mind as a comedian and performer, he is a little shyer when it comes to the possibility of performing any sort of nude scene. While the comic might do whatever it takes to get a laugh, there is evidently one measure that he feels is too far. In an interview with MTV, Gervais made it perfectly clear that he has absolutely no desire to get nude on camera anytime soon, and will use a double if a nude scene is ever necessitated.
Sarah Jessica Parker
There's no denying that HBO's comedy series Sex and the City had a slew of raunchy and scantily-clad scenes, some of which involving its main characters. But while Sarah Jessica Parker was the lead of the popular series, she opted never to get naked for the series, insisting on a no-nudity clause on all of her projects, including this particularly famous series. When she was asked why she was the only one not to get nude on the show, Sarah Jessica Parker had the following response to give to The Hollywood Reporter.
Emma Roberts
Much like her aunt, Julia Roberts, Emma Roberts has chosen not to do any nude scenes in her career. Though Emma Roberts has appeared on a few salacious shows over the years, including American Horror Story and Scream Queens, Emma Roberts insisted on not being nude in any of her projects. And she has held steadfast to that insistence. Back in 2010, when she was interviewed about her film It's Kind Of A Funny Story, she was asked if there would be a day where she would do a nude scene. Here's the response she gave, and one she has held true to in the nearly 10 years since she said it.
Emma Watson
Typically in Hollywood, when an actor or actress wants to escape the child-friendly image they've created over the years, they'll take on more mature, adult-oriented roles that might require sex, drugs and/or nudity. But Emma Watson never wanted to participate in any of those activities on-screen solely for the sake of divorcing herself from the public's well-associated image of Hermione Granger. As she admitted to The New York Daily News back in 2010, Emma Watson admitted that she had no interest in participating in a nude scene. And she still hasn't done one since then.
These are only a handful of the examples of celebrities who have decided it wasn't in their best interest to participate in any nude scenes. And there are some other actors who have famously chosen to keep their clothes on in front of the cameras, including — but not limited to — Julia Roberts, Kristen Bell, Jessica Simpson, Rebel Wilson, Isla Fischer and Jenna Fischer, to only name a mere few. Additionally, there are other celebrities, including Keira Knightley and Emila Clarke, who have famously participated in nude scenes in the past, but have now insisted on not doing them again in the future.
To be an actor, you have to be many different things. You have to be open. You have to be dedicated. You have to be committed and focused on your craft. But as many of the celebrities on this list prove, you don't always have to take off your clothes for the camera. Actors have boundaries as well, and for many of them, there hasn't been a desire or a need to take off their clothes in order to play a part. That will likely not change for them soon.
Your Daily Blend of Entertainment News
Will is an entertainment writer based in Pittsburgh, PA. His writing can also be found in The Playlist, Cut Print Film, We Got This Covered, The Young Folks, Slate and other outlets. He also co-hosts the weekly film/TV podcast Cinemaholics with Jon Negroni and he likes to think he's a professional Garfield enthusiast.