Adam Sandler Brought Back Happy Gilmore For The First Time In Decades, And I'm So Happy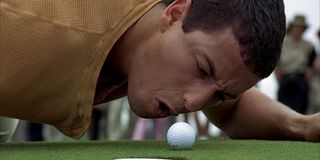 It's always fun when an actor makes a callback, cameo, or surprise appearance as a beloved character. Adam Sandler is the latest to slip back into character with a recent homage to fan favorite Happy Gilmore. For the first time in decades, Adam Sandler hopped back onto the tea box to give fans a glimpse of Happy's signature golf swing, and I couldn't be happier.
In celebration of the 25th anniversary of Happy Gilmore's release, Adam Sandler headed out to the golf course for an impressive homage to the film. Check it out below:
How about that absolute rocket? Form, check. Swing, check. Distance, I'm going to assume that's a check as well based on Sandler's reaction. It looks like he's still got it, despite the film releasing 25 years ago. Ben Stiller even got in on the fun, congratulating Sandler on the anniversary as his sadistic retirement home employee character, Hal:
This is the kind of celebrity interaction that I just love to see. It's nice to see that the Happy Gilmore and Shooter McGavin rivalry is still alive and well. Actor Christopher McDonald, who plays Shooter, fired back with an impressive chirp of his own:
After nailing an impressive at-home put, Shooter thanked Sandler and fans before proposing a challenge at the 9th green at nine, another homage to Happy Gilmore. While I doubt we will see any of the shenanigans that went on during the '96 Pro-Am tour, I bet there would be some serious interest in getting the old crew together for a celebrity tournament.
Happy Gilmore is just one of a number of successful comedies Adam Sandler has starred in over the years. Since signing a deal with Netflix back in 2014, the actor has appeared in multiple hits for the streaming service including last year's Hubie Halloween. He was also recognized for his critically acclaimed foray into dramatic territory with A24's Uncut Gems.
Ahead of awards season for Uncut Gems, Sandler mentioned that if he didn't win an Oscar for his performance, he was going to intentionally make a horrible film. Well, Uncut Gems didn't secure a single nomination at the 92nd Academy Awards, so I wouldn't be surprised if we saw a real, intentional dud from the actor in the coming years.
One thing is for certain though, Happy Gilmore is anything but a dud. It's one of the most iconic comedies of the '90s, and has even inspired actual professional golfers to try out Happy's iconic drive. Fans of the film can now revisit Happy Gilmore on HBOMax. Just make sure if you are planning on practicing the iconic swing, you are doing outside (make sure you bundle up, though).
Your Daily Blend of Entertainment News
Into tracksuits by Paulie Walnuts, the Criterion Channel and Robert Eggers.