24 Adam Sandler Movies Available Streaming Right Now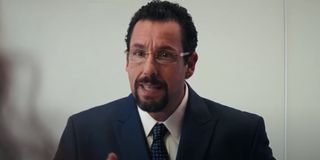 Make no mistake about it, Adam Sandler is one of the most prolific actors, writers, producers, pick-up basketball players in Hollywood, and has been for a long time. Now, this isn't to say that all of the comedian's performances are as memorable as the anxiety-inducing crime thriller Uncut Gems, but not all Adam Sandler movies fall in the same category as Man Overboard or Jack And Jill either.
Over the course of the past 30 years, Adam Sandler has given audiences some of the funniest movies filled with large casts of oddball characters. But at the same time, Sandler has proven time and time again that he can be a convincing dramatic actor in some of his more intimate and sometimes disturbing performances. And with the star of Happy Gilmore, 50 First Dates, and many others back in the limelight, now is the perfect time to catch up on some of the Adam Sandler movies that are available to stream at this very moment.
Uncut Gems (Netflix)
Written and directed by the Safdie brothers, the 2019 crime thriller Uncut Gems gave audiences an Adam Sandler they had never seen before in the comedian's dark portrayal of gambling-addicted jeweler Howard Ratner. There are few movies that are as tense as this, especially Sandler's interactions with Lakeith Stanfield's Demany or with his brother-in-law, Amo (Eric Bogosian) and his henchmen throughout.
Stream it on Netflix (opens in new tab).
Big Daddy (Netflix)
There is no better era of Adam Sandler's career than his remarkable run throughout the 1990s, and what better way to close out the decade and 20th Century than with his 1999 sentimental comedy Big Daddy. Centered around Sandler's Sonny Koufax after Julian "Frankenstein" McGrath (Cole and Dylan Spouse) is dropped off at his front door, the movie sees the comedian pull out some of his best tricks but also some incredibly tender moments.
Stream it on Netflix (opens in new tab).
Hubie Halloween (Netflix)
Adam Sandler's latest offering, Hubie Halloween, may not find itself on any top-10 lists anytime soon, but this moderately funny fantasy comedy is classic Sandler, and that's not just because it's loaded with a ton of references to the comedian's back catalog of movies. And who knows, maybe the story of Hubie Dubois attempting to get to bottom of an unsolved murder while trying to prove he's not a crazy person may become a Halloween tradition in the years to come.
Stream it on Netflix (opens in new tab).
Funny People (Starz)
Loosely based on the experiences of writer-director Judd Apatow, the 2009 dramedy Funny People starring Adam Sandler and Seth Rogen tells the story of standup comic, who upon learning of a devastating cancer diagnosis, tries to reconnect with figures from his personal and professional lives. Apatow drew inspiration from Sandler's early comedy career, during which time the future stars were roommates.
Stream it on Starz (opens in new tab).
Anger Management (Starz)
Adam Sandler was a few years removed from what many might consider the peak of his career when he starred alongside Jack Nicholson in Peter Segal's Anger Management. In the 2003 comedy, Sandler plays David "Dave" Buznik, a mild-manner businessman who is forced to undergo anger management training after an incident aboard a place. To make matters worse, Dave's counselor is none other than the demented Dr. Buddy Rydell (Nicholson), who does everything he can to make Dave crack.
Stream it on Starz (opens in new tab).
Billy Madison (Cinemax)
Just about everyone and their mother (even the Mucus Queen herself) has seen Adam Sandler's 1995 breakout performance in Billy Madison. Centered around Billy Madison (Sandler), the deadbeat heir to Madison Hotels, this 1995 comedy classic answers the question no one is asking — can a 27-year-old who only got through school the first time because his dad paid off his teachers make things right the second time around by having his father re-enter the public school system?
Stream it on Cinemax.
Happy Gilmore (Cinemax)
What does a hockey player who can't skate do when he learns that he can make money and save his grandmother's by hitting golf balls as far as humanly possible? If you guessed turn it into a successful 1996 comedy by the name of Happy Gilmore, you'd be correct. One year after Billy Madison, Adam Sandler starred in what's probably his most notable mid-90s comedy about an ex-hockey player turned golf sensation. Plus, this movie gave the world Shooter McGavin.
Stream it on Cinemax.
The Meyerowitz Stories (Netflix)
Several years before writer-director Noah Baumbach introduced audiences to the drama of divorce in the Netflix original Marriage Story, the acclaimed filmmaker released The Meyerowitz Stories, a film about a dysfunctional family as they prepare to honor the patriarch of the family, Harold Meyerowitz (Dustin Hoffman). With a cast that includes Ben Stiller, Emma Thompson, Adam Driver, and Adam Sandler, this intimate look at a broken family offers both humor and drama as its story unfolds.
Stream it on Netflix (opens in new tab).
Mr. Deeds (Netflix)
Adam Sandler's history of playing the every man who finds himself in a preposterous situation continued with the 2002 comedy Mr. Deeds, in which his character, Longfellow Deeds, becomes an instant billionaire after his unknown grand-uncle dies leaving behind a sizable estate. It's not the best, but perfect for those looking for something to mindlessly watch after digging through Netflix for several hours.
Stream it on Netflix (opens in new tab).
Punch-Drunk Love (HBO)
Adam Sandler proved that he could take on more serious roles when he starred in Paul Thomas Anderson's 2002 romantic dark comedy Punch-Drunk Love. In the film, Sandler plays Barry Egan, a businessman with crippling social anxiety who is set up on a blind date with a character played by Emily Watson. This oddball piece of filmmaking from a director just before he hit his prime remains one of the best entries in Sandler's filmography.
Stream it on HBO.
That's My Boy (Starz)
You would think that a comedy starring Adam Sandler, Andy Samberg, and James Caan would have you rolling in laughter, but that's not really the case for 2012's That's My Boy. Although somewhat funny in a very "Adam Sandler" way, the story about a hotshot businessman (Samberg) and his deadbeat dad (Sandler) reconnecting in hopes that the father fixes some serious financial issues, doesn't fully reach its potential.
Stream it on Starz (opens in new tab).
Reign Over Me (Crackle)
Set a few years after the events of September 11, 2001, the 2007 drama Reign Over Me, follows Charlie Fineman (Adam Sandler), a man battling depression after losing his entire family in the attacks, who reconnects with his Alan Johnson (Don Cheadle), his college roommate. There's no way of getting around it, this movie is tough to get through based on the subject matter, but it shows the resilience of friendship and human spirit.
Stream it on Crackle.
Click (Netflix)
When Michael Newman (Adam Sandler) finds himself between a rock and hard place after his wife (Kate Beckinsale) gets angry because he dedicates too much time to work, he finds a universal remote that controls more than just the family's television set. Michael soon finds out that some things can't be missed and hopes to learn the lesson before it's too late.
Stream it on Netflix (opens in new tab).
Bedtime Stories (Disney+)
Released on Christmas day 2008 is the Adam Shankman-directed Disney film Bedtime Stories in which Adam Sandler plays a hotel handyman by the name of Skeeter Bronson who discovers that stories that he tells his niece and nephew start to become reality.
Stream it on Disney+ (opens in new tab).
The Week Of (Netflix)
Chris Rock and Adam Sandler have worked together multiple times over the course of their respective careers and the collaboration between the two continued with the 2018 comedy The Week Of. In the film, the two comedy legends play two fathers whose children are set to get married. As the couple plans their ceremony and reception, their fathers have a bit of a clash of personalities that they will have to overcome.
Stream it on Netflix (opens in new tab).
Sandy Wexler (Netflix)
Set in Los Angeles in the 1990s, Sandy Wexler tells the story of a talent agent (Adam Sandler) trying to make the most of his reputation and the roster of strange and oddball clients for whom he tries to find work. He thinks his luck has changed when he meets Courtney Clark (Jennifer Hudson), a talented singer who he may or may not be in love with.
Stream it on Netflix (opens in new tab).
Going Overboard (Tubi)
Before Adam Sandler became a household name on Saturday Night Live, he played a struggling comedian who tries to enter the world of cruise ship comedy in the 1989 Going Overboard. Don't expect Happy Gilmore or Billy Madison level of humor here, but it's free.
Stream it on Tubi.
Murder Mystery (Netflix)
Adam Sandler and Jennifer Aniston teamed up again in 2019 for the Netflix original Murder Mystery in which they play a New York cop and his wife as they attempt to bring the spark back to their love life on European vacation. Things, however, don't go according to plan after they are framed in the murder of a billionaire.
Stream it on Netflix (opens in new tab).
Jack And Jill (Starz)
Jack And Jill, it's a movie. A bad movie where Adam Sandler plays identical twins, but a movie nonetheless.
Stream it on Starz (opens in new tab).
The Do Over (Netflix)
The Do-Over is about two former high school classmates, Charlie McMillan (David Spade) and FBI agent Max Kessler (Adam Sandler) who reconnect at a class reunion and decided to fake their own deaths and start over. Things never work out that easy.
Stream it on Netflix (opens in new tab).
The Ridiculous 6 (Netflix)
Not to be confused with The Magnificent Seven or The Dirty Dozen, or any other cowboy movie with a number in its title, Adam Sandler's 2015 The Ridiculous 6 follows a group of outlaws who all have the same father. With a cast that includes Sandler, Terry Crews, Luke Wilson, Nick Nolte, and countless others, it's tragic that it just didn't work.
Stream it on Netflix (opens in new tab).
I Now Pronounce You Chuck & Larry (Netflix)
Adam Sandler and Kevin James have gone on to make several movies together over the years, with one of the earliest collaborations coming in 2007 with I Now Pronounce You Chuck & Larry, a romantic comedy about two firefighters who pretend to be a gay couple in order to benefit a life insurance policy. Things don't work out, however, and the two friends find themselves under the watchful eye of an insurance agent and the plan is forced into overdrive.
Stream it on Netflix (opens in new tab).
You Don't Mess With The Zohan (Netflix)
Adam Sandler went back to his bag of tricks with the 2008 comedy You Don't Mess with the Zohan in the sense that he brought to life an insanely over-the-top character, terrible accent and all. Over the course of the movie, which also features longtime collaborators John Turturro, Nick Swardson, and Rob Schneider, Zohan (Sandler) goes from a deadly Israeli commando to a hairstylist in New York City who has an odd way of getting new clients. But like most Sandler comedies, Zohan's past comes back with a vengeance.
Stream it on Netflix (opens in new tab).
Hotel Transylvania (Starz)
In addition to showing up in a number of live-action comedies in the past ten or so years, Adam Sandler has found a great deal of success with the Hotel Transylvania franchise. Why not go back to where it all started for Sandler's Count "Drac" Dracula as he tries to prevent his daughter, Marvis Dracula (Selena Gomez) from being swooned by a mortal human played by Andy Samberg.
Stream it on Starz (opens in new tab).
Adam Sandler Movies Not Streaming
You might be thinking to yourself that I left off a great deal of Adam Sandler's funniest movies, and there's a reason for that — a lot of the classics like The Wedding Singer and 50 First Dates aren't available to stream. However, the following movies are available to rent on Amazon:
Blended (Amazon (opens in new tab))
Little Nicky (Amazon (opens in new tab))
50 First Dates (Amazon (opens in new tab))
The Wedding Singer (Only available for purchase on Amazon (opens in new tab))
The Waterboy (Amazon (opens in new tab))
Unfortunately, one of Adam Sandler's best movies, Airheads, isn't currently available to stream or rent online, so I guess I'll have to dig up my DVD copy that features PCU on the opposite side. Are there any other movies you didn't see on the list that you should at least be named? If so, let me know in the comments below, and make sure to check back for all the latest on what's streaming here at CinemaBlend.