Every Adam Sandler Movie On Netflix, Ranked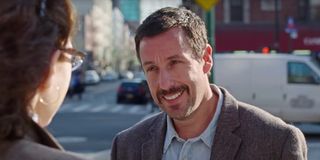 Adam Sandler has made a lot of movies. Whether comedic or dramatic, the actor/writer/producer has appeared in a variety of films, many of which are in varying qualities, as you'd expect. Now that The Sandman has signed on for more movies at Netflix, with whom the funnyman has made five films thus far (with a sixth set to come), the site has picked up even more of Sandler's flicks, including Uncut Gems, his latest drama, in international markets. Admittedly, though, some of his films are better than others. In fact, a few of them aren't worth recommending at all.
With that, let's take this time to look at all the different Adam Sandler movies currently available on Netflix (opens in new tab). Chances are, you're here to find out which ones are worth your while, and which ones are worth skipping. Fret not. We're here to help. Here are all the Adam Sandler movies on Netflix, ranked.
12. The Do-Over (2016)
While Adam Sandler's first three Netflix originals proved to be quite dire, as we'll discuss in more detail a little later in this article, The Do-Over is the worst of the pack. A regressive, charm-less, ill-tempered, and largely lewd comedy, one that's more eager to indulge in a gaggle of gross-out gags and other foul-mouthed antics than produce anything particularly amusing, The Do-Over is an action-comedy that finds Sandler working with R-rated material once more, which generally turns out poorly outside of his crowning arthouse achievements. Its mean-spirited, aggressive unpleasantness grows relentlessly dull at close to two hours.
11. Sandy Wexler (2017)
Based on Adam Sandler's long-term agent of the same name, Sandy Wexler is certainly a heartfelt effort. Unfortunately, though, it's not a funny one. Gratingly long at 130 minutes (note: no comedy should be longer than 2 hours) and lacking anything consistent in terms of tone or execution, Sandy Wexler is a classic example of an overbearing screen character that's clearly more endearing to the filmmakers than the audience.
Perhaps if we actually got to meet the real talent agent, we could understand why he's such a charming, if highly unorthodox, figure. Alas, through Sandler's well-meaning but ultimately unbecoming characterization of this hapless, clueless real-life figure, we're left to wonder why he felt the desire to play this dorky character as part of his Netflix contract. While the movie never means ill will, it walks a fine line between laughing with and laughing at its title character. Through its generally awkward execution, it's a tightrope that it never successfully crosses.
10. The Ridiculous Six (2015)
The first movie in Adam Sandler's since-extended Netflix contract, The Ridiculous Six marked Adam Sandler's first foray into the land of streaming. A new frontier, if you will. Alas, this Netflix exclusive was better left away from the big screen. While not without its humorous moments, including an inspired sequence revealing the origins of baseball, The Ridiculous Six suffers from many of the problems that plague Sandler's other Netflix originals.
Namely, it's overlong, poorly-paced, inconsistent, and lacking creative influence. More emboldened and less restricted by Netflix's loose constrictions, the Western comedy, playing as a cheeky spin on The Magnificent Seven, should've been refreshingly innovative. Instead, it becomes aimless. The mix of genres makes The Ridiculous Six more inspired than some of Adam Sandler's less fortunate comedies, but it's certainly no Blazing Saddles. Plus, the controversy surrounding its poor portrayal of the Apache culture turns what should've been a silly, lighthearted romp into an awkward watch.
9. Bedtime Stories (2008)
While it's admirable for Adam Sandler to expand his brand to younger audiences, since it's usually teenagers who crack up the most at his jokes, Bedtime Stories is a missed opportunity. While it had the potential to be charmingly unique and enthusiastically innovative, this Disney movie lacks a consistent amount of whimsy, resulting in another clunky, uneven Adam Sandler production. The premise is solid, centering around a hard-working dad who discovers his bedtime stories have come to life. Beyond a few engaging set pieces, however, Bedtimes Stories is disappointingly forgettable, resulting in a mediocre family film and another tonally/conceptually disjointed Sandler comedy. This lackluster story turns into a snooze.
8. Anger Management (2003)
In theory, Anger Management was an excellent premise for an Adam Sandler comedy. Best known for playing man-children characters with pent-up aggression and outrageous bursts of anger — think Happy Gilmore, for instance — the idea of Sandler in anger management had great potential, especially with Jack Nicholson on-board. Alas, the resulting 2003 comedy was weirdly uninspired, one that felt like a misuse of Sandler's time and certainly a waste of Nicholson's considerable talent/on-screen charisma.
While Anger Management has amusing moments, notably one involving monks, this underwhelming comedy is humdrum and one-note, lacking anything that makes it stand out compared to the other, better movies in these actors' resumes. Ironically, it could've used more aggression. Or, at least, something to give it more personality. For a movie called Anger Management, it's oddly monotonous.
7. Hotel Transylvania 3: Summer Vacation (2018)
Admittedly, I've never gotten into Sony's Hotel Transylvania series. Their frenetic, overzealous attitude create the feeling of an anxious sugar rush; for any good/inventive joke, there's always two more lame jokes that follow. Nevertheless, for what it's worth, Hotel Transylvania 3: Summer Vacation is the best in the trilogy. While not without its faults, this animated sequel has more amusing — or, at least, tolerable — moments than its predecessors.
The best thing about this third Hotel Transylvania movie is that it's easily the one that's the most influenced by co-writer/director Genndy Tartakovsky, best known for Dexter's Laboratory and Samurai Jack. His zany, high-energy style is more apparent in Hotel Transylvania 3, where he's given the most elbow room to play around, notably with its cruise setting. Nevertheless, the premise of taking the monstrous characters on a summer cruise is flimsy. While it has a few inspired jokes, it doesn't have enough material to cruise by gracefully for 97 minutes.
6. Murder Mystery (2019)
While Adam Sandler's first three Netflix original films were unfortunate duds, The Week Of showed a slight improvement to Sandler's Netflix formula, and Murder Mystery was also notably better too. Granted, that doesn't mean it's great. But a middle-of-the-road Netflix Sandler flick is better than The Do-Over, and it's benefited by Sandler's sweet on-screen chemistry with Jennifer Aniston, with whom he previously starred in 2011's Just Go With It.
The mystery-comedy follows a vacationing married couple who unwittingly find themselves at the center of a European investigation when a murder occurs on a billionaire's yacht. The premise of Murder Mystery is basic, but it's not without its clever moments, and the co-stars' palpable energy coast over some of the mediocre material. It doesn't result in a particularly great comedy, but it is not a complete waste either. It's comfortable background viewing, and it certainly found a lot of viewership.
5. Click (2006)
When it comes to high concepts, Click is an inspired one. Adam Sandler plays an overworked architect who doesn't spend enough time with his wife and kids. If only there was more time in the day. Lucky for him, he found a way to get more time in the day. When heading into the Beyond section of Bed, Bath & Beyond to buy a universal remote, Michael meets a strange man who gives him a remote control with the power to control reality, including pausing, rewinding and fast-forwarding. It all seems magical until, of course, it isn't.
While Click doesn't find its balance between sci-fi comedy and emotional drama, resulting in another uneven Sandler movie, Click is, nevertheless, inspired and heartfelt enough to result in a dramedy that's more endearing than a few of Sandler's less-appealing films. It doesn't reach the heights of Sandler's better comedies, but it has more replay value than his weaker ones.
4. The Week Of (2008)
After a trio of misfires on Netflix, Adam Sandler didn't necessarily strike gold with his fourth streaming feature, The Week Of, but his newest wedding-themed comedy was certainly better than his last few movies for the streaming service. Sandler plays Kenny Lustig, a father preparing his daughter's wedding. But he's so frugal, he causes more problems than solutions. Chris Rock plays the father of the groom-to-be, a successful heart surgeon who offers to help with the preparations, but Kenny's pride makes him refuse, much to everyone's misfortune.
The directorial debut of veteran comedy writer Robert Smigel, The Week Of allows the casual approach of Sandler's Netflix output to play to his advantage, letting the week's events to play out in a natural, casual style that invites more laughs than his broader comedies. Plus, Rock and Sandler work well together, as you'd expect. It doesn't come together in full, but it does work in the right moments. And it serves as a good model for what Sandler's Netflix movies should be.
3. You Don't Mess With The Zohan (2008)
After making a series of creatively void comedies, You Don't Mess With The Zohan wasn't a full return-to-form but it was a surprisingly inspired work, one that's aided from the actor's full investment in his goofy character. It centers around Zohan Dvir, an Israeli counter-terrorist who dreams of being a hairdresser. After faking his own death, Zohan flees to New York City and uses his superhuman powers to become a hairdressing sensation.
It's a premise that could easily fall into insensitivity. Yet, Zohan's zany, over-the-top tone works in its favor, creating a gleefully goofy comedy that holds no real ties to our reality. It is also benefited from a screenplay that's sharper than your average Sandler comedy, with Judd Apatow notably credited. It would only be one year later when the filmmaker and actor would make 2009's Funny People, which remains one of Sandler's best movies.
2. The Waterboy (1998)
While it doesn't compare to Adam Sandler's better '90s comedies, including Billy Madison, Happy Gilmore, and The Wedding Singer, The Waterboy contains some of the SNL's signature blend of charm and chuckles, particularly whenever Sandler works alongside Kathy Bates. Telling the story of Bobby Boucher, a waterboy for a local college football team who finds himself playing on the team, the comedy follows the formula that began to emerge in Sandler's comedies around the turn of the new millennium, but it is also features some winning moments, notably in the hapless character's journey from lowly waterboy to top-notch football player. It's also decently quotable too, resulting in a generally appealing, amusing Sandler comedy.
1. The Meyerowitz Stories (New And Collected)
The Meyerowitz Stories (New And Collected) didn't get as much commercial attention as many of the other films starring Adam Sandler, which is a great shame, because it's easily the best of the bunch available on Netflix. Acquired by the streaming company after its rapturous response at Cannes, the family dramedy features one of Adam Sandler's greatest performances as Danny Meyerowitz, a single, unemployed father who's trying his best to hold his dysfunctional family together, including patriarch Harold (Dustin Hoffman) and his siblings, half-brother Matthew (Ben Stiller) and younger sister, Jean (Elizabeth Marvel).
A smart, funny, relatable, moving and well-crafted achievement from writer-director Noah Baumbach, who recently received a wealth of acclaim for his excellent new film, Marriage Story (which was also a Netflix exclusive), The Meyerowitz Stories is a sensationally good, tenderly made ensemble piece, one that continues to prove Adam Sandler's knack for drama in addition to comedy.
What are your favorite Adam Sandler movies on Netflix? Let us know in the comments.
Will is an entertainment writer based in Pittsburgh, PA. His writing can also be found in The Playlist, Cut Print Film, We Got This Covered, The Young Folks, Slate and other outlets. He also co-hosts the weekly film/TV podcast Cinemaholics with Jon Negroni and he likes to think he's a professional Garfield enthusiast.
Your Daily Blend of Entertainment News
Thank you for signing up to CinemaBlend. You will receive a verification email shortly.
There was a problem. Please refresh the page and try again.