Why You Need To See Barb And Star Go To Vista Del Mar Despite The Vague Trailer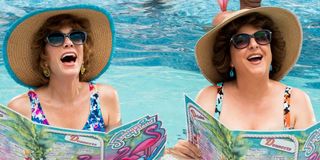 Warning: spoilers for Barb and Star Go to Vista Del Mar are in play. If you absolutely need it spoiled for you, then fine you can keep reading. But if you want to be in for a surprising tit flapper of a time, read only the first two paragraphs, and watch only the trailer provided below.
I think the first time I ever saw the trailer for Barb and Star Go to Vista Del Mar was in front of a screening for Star Wars: The Rise of Skywalker. It seemed at the time like watching the contents of that first trailer was all I needed to see in order to know that this movie movie wasn't for me. Then, 2020 happened, Barb and Star got pushed to 2021, so in the absence of a flourishing film market, I took a chance on a movie that eventually impressed me beyond belief.
Never have I been more wrong about pre-judging a movie in my entire life, which is why I'm here to tell you that not only should you see Barb and Star Go to Vista Del Mar, you need to see it only watching that exact trailer I've just mentioned. Now don't get me wrong, you can totally watch the second trailer that Lionsgate dropped for the film, as it too is pretty spoiler-free. But to fully state my case for Barb and Star Go to Vista Del Mar being the hardest 180 I've done on a movie maybe ever, as well as keep as much of the movie under wraps as possible, I suggest you only watch the trailer included at the top of this feature, and then go stream the movie as cold as possible.
You can see where a potential audience member might be a little put off with a trailer that was intended to introduce the world to Barb and Star Go to Vista Del Mar. After seeing the movie, it's a good thing that neither of the trailers reveals too much information about the movie that's been taking critics and the internet by storm. One final warning: if you're even remotely interested in seeing this film, what I've discussed above should be all you need to take the plunge. While I won't go into very deep spoilers, the content that will be discussed does spoil the absolute surprise that is Barb and Star Go to Vista Del Mar. That being said, here are some more detailed reasons why you need this movie in your life.
Barb And Star Is A Vicarious Thrill In A Pandemic Year
Take out all the jokes, mute all the music, and just show Barb and Star Go to Vista Del Mar as a silent movie, and what would you get? A vacation movie that shows off pleasant scenery, bright colors, and comedic violence befitting a PG-13 movie. That's actually enough to suggest this movie as a curiosity, in a time where vacations are not exactly being suggested to the general populace. Hitting up the hotel bar, swimming lazily at the pool and wondering what to order off the room service menu, and heading to dinner with the dulcet tones of Richard Cheese singing about his love for boobs are all signs of a time when "vacation" wasn't a dirty word. Barb and Star Go to Vista Del Mar couldn't have been released at a better time. After all, sometimes you've just got to get away, if only just on your TV screen.
Kristen Wiig And Annie Mumolo Offer The Most Quotable Comedy In Years
If you're here because you've seen Barb and Star Go to Vista Del Mar, and merely want to read how my cold, cold heart was melted by this joyful comedy, you'll notice the image selection for the film isn't very showy. Again, secrecy is key with Barb and Star Go to Vista Del Mar, but the lines in this movie are so funny, you don't even need pictures to keep the magic going. Valentine's hearts with sayings like "Official Couple" and "Tit Flapper" are all available to express your love for this movie, which is a testament to just how damned quotable the entire thing from Kristen Wiig and Annie Mumolo is. And if you don't believe me, you can ask Tommy Bahama himself.
Everyone Involved In Barb And Star Is Having A Lot Of Fun
Annie Mumolo and Kristen Wiig are comedy wizards, so it's not hard for them to look like they're having fun. Naturally, casting themselves as Barb and Star's leads was the thing to do, as you need that sort of fun to anchor the chaotic universe this movie presents. Yet, there is not one person that graces the screen in this movie that isn't committed to the absurdity that Barb and Star Go to Vista Del Mar revels in. Selling the vacation angle is one thing, but selling the laugh filled enjoyment of every twist, turn, and accidentally revealed personal detail is what really brings everything together. That goes double for the surprise cameos.
Barb And Star's Surprise Cameos Are Delights
Early on in Barb and Star Go to Vista Del Mar, our ladies go on an extended riff on why they love the name Trish. It's a gag that, in a lesser movie, with weaker performers, would have stretched too damned long and worn out its welcome. But Kristen Wiig and Annie Mumolo make it work, especially when at the end of the film, the big Trish gag pays off in the form of special celebrity guest/country music icon Reba McEntire being the physical embodiment of Trish herself! Not only that, but if you take into account Andy Garcia appearing as/being credited as Tommy Bahama, and Josh Robert Thompson's eerily close impression of Morgan Freeman, the surprises are around every laugh-filled corner.
Seriously, When Has Jamie Dornan Had This Much Fun In A Movie?
I cannot sell you on the fact that the entire cast of Barb and Star Go to Vista Del Mar is having the time of their lives, and everyone fits this film like a nice pair of evening culottes. But if I had to single out one person for their performance, it'd have to be Jamie Dornan, simply because he looks like the one person who needed this vacation the most. Being given the opportunity to sing about seagulls and pine for Kristen Wiig's dual roles of the loving Star and the cold-as-ice villainess Sharon Gordon Fisherman, Dornan's comedy chops are clearly there for the taking. No longer does he have to merely play in dour dramas, when he can climb palm trees and weakly tear his shirt open for comedic effect.
Giving actors a chance to stretch their legs is something that's never discouraged, especially when it leads to the results that Jamie Dornan racked up in Barb and Star Go to Vista Del Mar. Yhat's pretty much the thread that ties all of these charms together in the pleasant friendship bracelet that is this movie. I too got to stretch my legs a bit, as a world where vacationing and movie debuts has been reduced in the name of safety has given this film even more of a purpose than it would have had in the normal market. Rven if I got to see Barb and Star Go to Vista Del Mar on opening night at my local theater, I'd probably have enjoyed it just as much, if not more, than I currently have. It is, absolutely, irrevocably, and truly the biggest tit flapper you'll see right now; and potentially throughout the entire year.
Up next: Barb And Star Spoiler Conversation With The Comedy's Director Josh Greenbaum
Your Daily Blend of Entertainment News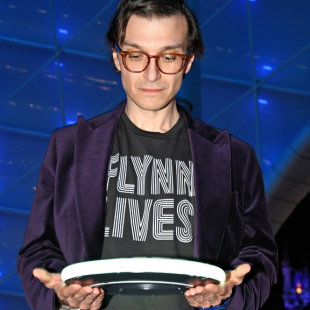 Senior Movies Contributor
CinemaBlend's James Bond (expert). Also versed in Large Scale Aggressors, time travel, and Guillermo del Toro. He fights for The User.