How To Watch Barb And Star Go To Vista Del Mar Streaming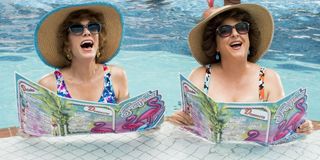 CinemaBlend participates in affiliate programs with various companies. We may earn a commission when you click on or make purchases via links.
It has already been a decade since Kirsten Wiig and Annie Mumolo got together to write and star in Bridesmaids, and if the past tells us anything, their latest collaboration, Barb and Star Go to Vista Del Mar, looks like it will become yet another cult classic we'll be talking about for years to come. But we can't talk about the movie unless we see it, and the best way to watch the comedy about two Midwestern women looking for a good time (not just with Jamie Dornan) is streaming. But where and how can we watch Barb and Star Go to Vista Del Mar streaming anyway? Funny you should ask.
Now, more so than ever before, watching a movie from the comfort of your own home on any number of streaming services is about as easy as it gets. That being said, while we push through the final weeks of wintry cold weather, here's everything you need to know about escaping to a tropical dreamland and watch Barb And Star Go To Vista Del Mar streaming.
Where Is Barb And Star Go To Vista Del Mar Streaming
Were you bummed out to hear that Barb and Star Go to Vista Del Mar wasn't coming to theaters, but instead would be exclusive to the premium video on demand market? Well, just like the titular characters leaving their Midwestern town for the first time, you are about to find yourself on a wild, daring adventure into the world of streaming.
If you want to watch Kristen Wiig, Annie Mumolo, Jamie Dornan, and the rest of the outrageous cast, all you have to do is go to the digital retailer of your choice, search for Barb and Star Go to Vista Del Mar, purchase your 48-hour rental, and start watching the two best friends embark on the adventure of a lifetime. Right now, the movie is only set up as a PVOD rental, which means there aren't any purchase options for it yet.
Rent Barb And Star Go To Vista Del Mar on Amazon here.
The digital version of Barb and Star Go To Vista Del Mar will be available for purchase on March 26, 2021. The Blu-ray will go on sale on April 6. Pre-order it here.
Will Barb And Star Go To Vista Del Mar Be On Netflix?
With Lionsgate probably wanting to make as much money from VOD purchases of Barb and Star Go to Vista Del Mar (especially with no theatrical release), the chances of watching the February 2021 comedy on Netflix at any point in the near future are most likely slim to none. Now, this isn't to say the movie won't eventually turn up on the streaming giant, but your best chance of watching the movie right now is the VOD route.
Here's What Critics Had To Say About Barb And Star Go To Vista Del Mar
No surprise here, but Barb and Star Go to Vista Del Mar is already being considered one of the funniest movies of 2021, and we're only a two months in at this point. CinemaBlend's Eric Eisenberg, who gave the movie 4.5 out of 5 stars, commented on everything from Kristen Wiig and Annie Mumolo's comedic chemistry, Jamie Dornan's surprisingly hilarious performance, and the general timing of the jokes before stating:
CinemaBlend isn't the only outlet to sing high praises for Barb and Star Go to Vista Del Mar as multiple publications like IndieWire, The Wrap, and Variety gave the movie glowing reviews prior to the film's release.
Now that you know how and where to watch Barb and Star Go to Vista Del Mar, what critics are saying about it, and other information, all that is left to do is give the movie a shot for yourself.
Philip grew up in Louisiana (not New Orleans) before moving to St. Louis after graduating from Louisiana State University-Shreveport. When he's not writing about movies or television, Philip can be found being chased by his three kids, telling his dogs to stop yelling at the mailman, or yelling about professional wrestling to his wife. If the stars properly align, he will talk about For Love Of The Game being the best baseball movie of all time.
Your Daily Blend of Entertainment News
Thank you for signing up to CinemaBlend. You will receive a verification email shortly.
There was a problem. Please refresh the page and try again.