Godzilla Vs. Kong Will Introduce A Mysterious New Corporation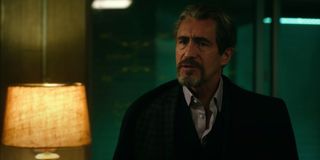 CinemaBlend participates in affiliate programs with various companies. We may earn a commission when you click on or make purchases via links.
The main connective thread throughout the MonsterVerse franchise has been Monarch, the scientific organization that studies the Titans. However, when Godzilla vs. Kong rolls around, Monarch won't be the only group in the business of focusing on these gargantuan creatures. The fourth MonsterVerse movie is introducing a corporation called Apex, and its intentions with the Titans are rather ominous.
In March 2019, I had the privilege of visiting the Godzilla vs. Kong set in Gold Coast, Australia, and producer Alex Garcia was among the people my fellow reporters and I spoke to during that time. Among the things he brought up was how at the start of the movie, Godzilla is behaving erratically, and no one can figure out why. Subsequently, Millie Bobby Brown's Madison Russell, who we met in Godzilla: King of the Monsters, starts investigating why the giant reptile is acting out, as she's one of his chief advocates and is afraid about what will happen to him if this keeps going on. Garcia continued:
Alex Garcia described Apex as a megalithic, technological conglomerate, or to put it another way, the "extreme version" of Apple or Amazon. While the full scope of the corporation's plans are shrouded in mystery, Garcia mentioned that Madison believes that Apex is responsible for Godzilla behaving erratically. Other characters affiliated with Apex during the events of Godzilla vs. Kong include Shun Oguri's Ren Serizawa, the son of Ken Watanabe's Ishiro Serizawa, and Demian Bichir's Walter Simmons, the corporation's CEO who says in the movie that he made his fortune "rebuilding a world torn limb by limb" by monsters.
And that's the key difference between Monarch and Apex, at least on the surface. While Monarch researches the Titans and is particularly interested in Godzilla vs. Kong to learn the origins of these beasts, Apex is focused on cleaning up after the Titans and helping humanity come up with "safeguards" and defenses against them. It all sounds noble, but Madison Russell, Bernie Hayes and Josh Valentine believe that Apex's true goals are more sinister.
This was certainly indicated in the scene we watched being shot on the Godzilla vs. Kong set. Remember in Godzilla: King of the Monsters how Godzilla tore off one of Ghidorah's heads during their fight in Mexico, and this head was purchased by Charles Dance's Alan Jonah in the movie's post-credits scene? Well, Ghidorah's skull now belongs to Apex, which has established a state-of-the-art lab within it that Madison, Josh and Bernie infiltrate. It's unclear whether this Ghidorah lab (which has a chair with some kind of cranial device within the center of the skull) is an on-the-books Apex operation or if Ren Serizawa, who was also in the scene, is running it in secret. We also weren't told what the purpose of the lab was, although it definitely didn't come across as benevolent work. Could the Mechagodzilla theory that's been floating around the internet factor into the work that Apex is doing in Godzilla vs. Kong? We're a little over a month away from finding out.
Godzilla vs. Kong will wreak havoc in both theaters and on HBO Max starting March 31 (use this link (opens in new tab) to sign up for the streaming service), and keep checking back with CinemaBlend for more coverage concerning the next MonsterVerse movie. You can learn what other movies are supposed
Connoisseur of Marvel, DC, Star Wars, John Wick, MonsterVerse and Doctor Who lore. He's aware he looks like Harry Potter and Clark Kent.
Your Daily Blend of Entertainment News
Thank you for signing up to CinemaBlend. You will receive a verification email shortly.
There was a problem. Please refresh the page and try again.