Flora And Ulysses Star Ben Schwartz Reveals The Scene That Sold Him On The Movie. Until He Filmed It And Quickly Realized He's Not An Avenger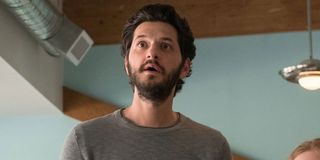 Minor spoilers for Flora & Ulysses can be found in this article, but nothing that would spoil your enjoyment of the family film.
What draws an actor or actress to a particular script or project? The answer to this question certainly varies, but if you were to ask Ben Schwartz why he wanted to play a dad in the new Disney+ film Flora & Ulysses, his answer was simple: Flight. Given he's expressed interest in playing a superhero in the past, this should be no huge shocker, but the story behind what happened when the actor was on set filming the sequence is particularly amusing.
During a visit to the set of Flora & Ulysses CinemaBlend attended prior to the global events of the past year, Ben Schwartz fondly recalled getting the script for the film. One scene in particular really caught his eye as he realized he may not be the superhero in the movie, but his character would get their own superhero moment. That moment?
If you've seen the movie in question, the trank gun plots are some of the funniest in the film, but it was the flying scene that really got the actor excited about starring in the movie. However, there's a Part 2 to this story as well, as Ben Schwartz actually had to film the Flora & Ulysses scene in question, which didn't go as well as anticipated. As many superhero-esque scenes require these days, this one was harness-based, similar to the harnesses the various Avengers have used for flight and other key superhero moments in the Disney films.
I don't know if Ben Schwartz is aware of this, but there's a somewhat famous incident where Schwartz's Parks and Recreation co-star Chris Pratt was working in a harness and things did not go particularly well either. In fact, Pratt famously was doing a Guardians of the Galaxy Vol.2 stunt where he flew through the air a little too fast and ultimately crash-landed and was knocked unconscious. So, I guess what I'm saying is, maybe Schwartz isn't as much of a novice as he thinks he is. Harnesses are difficult and things can easily go wrong.
If you and your family have caught Flora & Ulysses on Disney+, you probably already know the scene Schwartz is talking about and I think it turned out well! Despite the fact the Disney+ film doesn't have quite as hefty of a budget as some of Disney's Marvel tentpole movies, a lot of the magical, action-oriented and CGI scenes are delightful and play into the overall vision of the film, which is solidly filled with funny pop culture references and Easter eggs. (The doorbell scene is my favorite.)
Ben Schwartz also mentioned to Cinemablend and other outlets that reading the script he was looking for "the magical, Disney-type moments" and it seems like he found plenty--even if they didn't always play out how he anticipated. Give the Disney+ film (opens in new tab) a try and you will too.
Reality TV fan with a pinch of Disney fairy dust thrown in. Theme park junkie. If you've created a rom-com I've probably watched it.
Your Daily Blend of Entertainment News
Thank you for signing up to CinemaBlend. You will receive a verification email shortly.
There was a problem. Please refresh the page and try again.