Billie Eilish's AppleTV+ Documentary: 8 Things We Learned About The No Time To Die Singer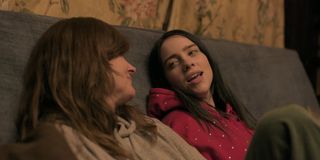 (Image credit: (Apple))
After the last couple years that Billie Eilish has had in the music world, it would actually take more energy to not recognize the dreamy blue-eyed soprano. It's been a whirlwind lately for her, as the aptly titled AppleTV+ says it, The World's A Little Blurry. On the outside, the Billie Eilish documentary seemed to be an exciting way for fans to connect with the singer as another year goes by without a tour, but now that it's out it's clear that the movie is much deeper than that. It's an incredibly intimate portrait of the singer's personal journey to her success and we learned about her in more detail than we've ever had before.
And I can also see The World's A Little Blurry being the perfect introduction to those who have heard the name, perhaps through No Time To Die's chilling theme song or her five-in-one-night Grammy wins last year. The movie does a bit of both. There's a lot here for longtime fans to appreciate and even more if you've simply been curious about her. The Billie Eilish movie almost isn't a documentary, but a coming-of-age film about the biggest newcomer in music.
Just so it's clear so that I'm not the bad guy, SPOILERS are ahead for Billie Eilish: The World's A Little Blurry on AppleTV+. I highly recommend you experience the film yourself. But in any case, it's time to break down what we learned about the pop star from R.J. Cutler's film.
How Billie Eilish Became Her Own Filmmaker
One aspect of Billie Eilish's career that allows her to stand apart from other artists who have reached her level of fame is how much agency she has about her work. That's already apparent from her fashion sense or groundbreaking music, but this documentary delves into how beautifully assertive she is about bringing her visions to life. One great example comes when it comes to making her music video for "When the Party's Over." Check it out below:
A great moment in the documentary comes when the singer starts composing the shots with her mom modeling it for her in her backyard. Seeing this back, the music video was completely Billie's visual vision for the song realized, but her experience on the music video made her realize she wanted to direct the rest of her videos on her own – which she did.
Eilish Is Really Hard On Herself And Deeply Affected By Internet Culture
Before seeing this movie, I definitely saw Billie Eilish as someone who has successfully been able to navigate being very famous and also living at a time when the internet is all consuming, and a massive part of fandoms like hers. And while she handles it very well, The World's A Little Blurry shows that just like any teenager or person in general, she struggles with not only perfection, but the fear of getting internet hate, and it carries over into her career in a number of different ways.
There's a number of conversations in the doc that showcase this, and offer a new POV on the subject, but one that specifically spoke to me was after her Coachella set when she tore herself down for messing up the lyrics of one of her songs, even though her family was telling her she'd done a great job. Goes to show that you can perform on the biggest stage in the world and face this. The movie really shows that Billie cares about her fans, and she doesn't want to disappoint them either.
Her Parents And Finneas Are With Her Every Step Of The Way
Fans of the singer will already know that Billie Eilish still lives with her parents in the home she grew up in Los Angeles and they play a huge role in her life and career, but this documentary illustrates this in ways we could not have imagined. The movie shows Billie and Finneas in the middle of crafting their hit songs, always in their home, and even her mom walking in midway through listening to ask about the dark lyrics. Billie is always talking with her family about her work and it really feels like a family effort.
A particularly touching moment comes when Billie gets her drivers license and drives away for the first time, and her father gives an unfiltered monologue about seeing his daughter grow up and have new freedoms. It's wild to see these parent-child dynamics play out in a movie like this, but it goes to show how important they are to her success.
Billie Eilish's Relationship With 'Q' And Why It Didn't Last
The biggest surprise of The World's A Little Blurry is the documentary diving into Billie's relationship with a man referred to as Q in the movie. Eilish has hinted at having a boyfriend prior and much of her deeply emotional music is about love and falling out of it. In the documentary we meet him, rapper 7: AMP, who she was with during the time of her album's release and some of her major tour. The couple were in love, but it didn't work out for them and Billie is thought to be currently single.
There's some sweet moments between the couple within the movie, but as the story unfolds, it's made clear that Q and Billie are struggling. She invites him to her Coachella set and he hangs out with her before, but then becomes MIA following her big performance. Later on another occasion, it's discussed that he punched a wall and broke his wrist. She calls it 'destructive' and says she's trying to get him to go to therapy. Later in the film, Billie discusses to a friend that they broke things off because they wanted different things and she tried but should not fix him.
That Time When She Met Superfan Orlando Bloom, But She Thought He Was A Rando
A lot went down during Coachella, one being when Katy Perry and Orlando Bloom met with Billie backstage. It was a lovely moment, because we got the entire interaction between them, including Perry telling Billie that the Pirates of the Caribbean actor listens to her music nonstop. Perry also gave her an open door to talk with her about the life of fame she's embarking on. Later, her brother and his girlfriend tell her she's just met Pirates' Will Turner and she shares her surprise. Billie thought Bloom was a random guy.
Later, Billie goes back to confess she didn't realize it was him and gives him a big hug and gush about loving him when she was nine years old. It's an adorable interaction, but it gets better...
Justin Bieber Gave Her The Sweetest Fan Moment, And Now They Are Friends
A major highlight in The World's A Little Blurry was when the film got into Billie Eilish's love for Justin Bieber, which has been public knowledge for some time. But in the movie, we really got to live all the moments with her. It starts with an Instagram DM, where Justin asked if he could work with her just three days before her album was set to come out. She didn't have the time to work on a brand new song, considering everything was done at that point, but he contributed vocals to a remix of "bad guy."
Then at Coachella they meet. It's such a sweet moment that includes J.B. holding the singer as she cries into his arms. Following the meeting, Billie goes off about knowing everything about him right down to his birthplace and her mother recalls thinking she needed to take her to therapy as a kid for her obsession with him. Justin Bieber then sends her a lengthy message about how the moment meant as much to him as her and shared his support, and bit of advice. Then after the Grammys, he casually FaceTimes her to congratulate her. So yeah, they're basically friends now.
Eilish Has Suffered Major Physical Injuries, Depression And Self Harm
The documentary became much deeper than the music and cool celebrities she met along the way when the singer's story delved into the injuries associated with jumping on stage multiple times a week paired with a past injury that ended her childhood passion to be a dancer. Eilish spoke about how she used to dance 12 hours a week before she tore a growth plate in her hip and the bone separated from the muscle. She hadn't picked up dancing since, but playing shows has led to a number of injuries, including spraining her ankle on stage in Milan. The Apple movie takes us through her intense rehab, which she was in at the time "No Time To Die" was written and recorded.
Along with the physical, Billie Eilish gets into discussions about mental health within the movie. At one point in the movie, she opens up about locking herself in the bathroom at 14 and making herself bleed. Her depression has come up within her songwriting, and she talks in the doc about it coming up because she writes about what she is feeling, not because she wanted to make a conscious point about discussing mental health.
Billie Eilish Has An Unreleased Song Called 'Happier Than Ever'
Billie Eilish has hinted at a new album in the works, especially following her lead single "Therefore I Am," but The World's A Little Blurry also offers a little peak at a song that we'd imagine is part of her new album toward the end of the film when Billie and Finneas are picking out a song with the lyrics "when I'm away from you, I'm happier than ever, wish I could explain it better. Wish it wasn't true." In the film's credits, the name of the song pops up as "Happier Than Ever" winking at a yet-to-be-released song we're excited to hear at length sometime in the future.
The World's A Little Blurry was a comprehensive and emotional look at Billie Eilish's career so far, but it definitely looks to be the first chapter of many for the young star.
Your Daily Blend of Entertainment News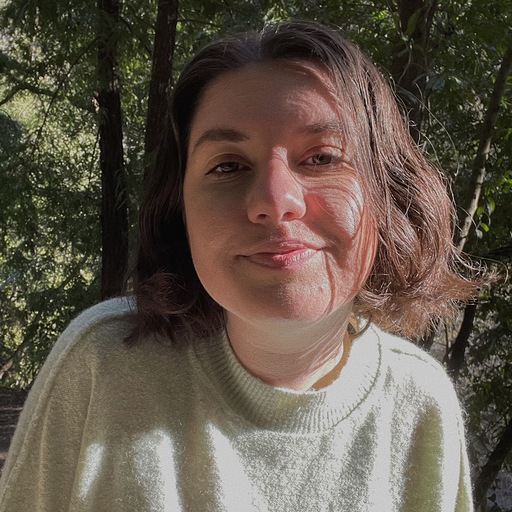 YA genre tribute. Horror May Queen. Word webslinger. All her writing should be read in Sarah Connor's Terminator 2 voice over.