Why Katy Perry And Orlando Bloom's Wedding Might Take Longer Than Expected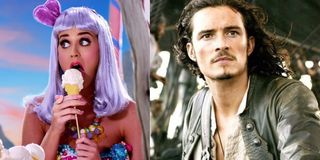 Last year superstar singer Katy Perry and her Pirates of the Caribbean husband, Orlando Bloom, announced the birth of their first child, Daisy. The newest addition to the family comes a little over a year after first announcing their engagement in February of 2019. While the couple's relationship has been famously tumultuous at times, it appears the two are now living their best lives together, alongside the five-month-old Daisy Dove Bloom. Still, some fans may be curious about when Katy Perry and Orlando Bloom plan on tying the knot officially. Unfortunately, fans of the couple may have to wait longer than expected for a wedding announcement.
Allegedly, the two are in no rush to get married, especially after the birth of their daughter, an unnamed source close to the family recently revealed. According to the ET source, the couple have "put wedding planning on the back burner," and "there's been no discussion of a new wedding date."
The nuptial news indicates that there seem to be no plans for announcing a wedding date at the moment. Even though the couple will be celebrating the two-year anniversary of their engagement on Valentine's Day, they seem to be focused on their daughter, rather than the ceremony. Perry and Bloom supposedly had wedding plans after their engagement, but "there was a lot of stress and tension" and it never panned out.
A separate source previously told ET that the couple is "both focused on being a family" for now, instead of planning their wedding. It's no surprise that the couple is making Daisy their number one priority. Who has time for a honeymoon, which may be filled with high-flying and adult adventures, when there is a five-month-old at home?
Orlando Bloom has already shared his excitement at the prospect of parenting, and the source confirms that he has been dotting over the young Daisy since her birth as "he's really focused on Daisy."
While there is a certain parental bliss associated with a newborn, raising a child is no cake walk. Katy Perry has gone on record to discuss the difficulties of parenting the newborn Daisy. During the Meditate America Benefit and Concert she detailed just hard it is to come by a good night's sleep these days:
While there are certainly challenges that come with raising a new child, especially the first one, Katy Perry and Orlando Bloom seem to put Daisy above all else, including their careers. As for the wedding, it's hard to say. There's still no confirmed date, but perhaps the couple will have an announcement for us once Daisy gets a little older and they can finally get a full night of rest.
Your Daily Blend of Entertainment News
Into tracksuits by Paulie Walnuts, the Criterion Channel and Robert Eggers.