How Billie Eilish Recorded The No Time To Die Theme Song Was A First For The Bond Franchise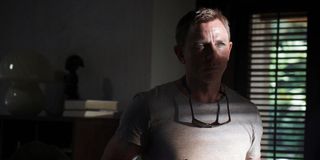 Billie Eilish has had quite a year. The singer-songwriter nabbed multiple Grammy Awards and became the youngest artist to write and perform a Bond theme with "No Time To Die." Though the movie is on hold for the time being, the song has still made waves -- and it turns out it made history in more ways than one.
At 18 years old, Billie Eilish has already accomplished some incredibly impressive milestones. Her Grammy-winning album, "When We All Fall Asleep, Where Do We Go?" was one of the best-selling records of 2019. She co-wrote and recorded it alongside her older brother Finneas O'Connell in a bedroom studio at their home. That is a far cry from the fancy studios many A-list artists use to get their music out into the world, and the down-to-earth quality of both the artist and her music has helped endear her to fans all over the world.
It looks like the fame and recognition that came as a result of that album didn't change the singer's creative process much, either. Her mother told The Express that Billie Eilish and Finneas wrote and recorded "No Time To Die" at home, too.
According to The Express, it is the first Bond theme to be recorded at home. All of the other songs recorded for Bond films, like Adele's "Skyfall" and Sam Smith's "The Writing's On The Wall," were laid down in more traditional recording studios.
Though it was recorded at home, like the rest of Billie Eilish's music, "No Time To Die's" production value is top notch. It's already earned rave reviews, with everyone from the singer's fans to Hans Zimmer praising both her performance of the ballad and the eerie mood it sets.
It has also caused Bond fans to do some deep-diving into the somber lyrics. Betrayal and heartbreak are major themes in Billie Eilish's song, and that has led some to try and guess what might happen in the upcoming film, which will see Daniel Craig suit up as 007 for the last time.
Unfortunately, we still have to wait a while to see No Time To Die and hear Billie Eilish's song on the big screen. The film's release date has been pushed back multiple times due to the ongoing COVID-19 pandemic. Having the theme song for the movie available to listen to is a small consolation, however -- and it will only make it all the more memorable when we finally do get a chance to see how it fits into the movie.
No Time To Die is currently scheduled to hit theaters on November 20th, 2020 in the United States. Keep an eye out for future updates with our 2020 movie release guide.
Your Daily Blend of Entertainment News
Your Daily Blend of Entertainment News
Thank you for signing up to CinemaBlend. You will receive a verification email shortly.
There was a problem. Please refresh the page and try again.