Disney+'s Raya And The Last Dragon Reviews Are In, Here's What Critics Are Saying About Awkwafina's New Animated Disney Film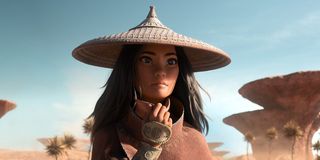 Disney's latest blockbuster is finally here, after a year of very few blockbuster films to enjoy, as the 59th feature film from Walt Disney Animation Studios is preparing to hit streaming and the big screen. Kelly Marie Tran stars as Raya in Raya and the Last Dragon, an epic adventure and martial arts movie that features a cast full of star power, with characters voiced by Awkwafina, Gemma Chan, Benedict Wong, and Daniel Dae Kim. Directed by Don Hall (Big Hero 6, Moana) and Carlos López Estrada (Blindspotting), Raya and the Last Dragon follows a lone warrior as she tracks down the legendary last dragon in hopes of restoring the fractured land of Kumandra and its divided people.
Raya and the Last Dragon debuts Friday, March 5 with a limited theatrical release and on Disney+ as a Premiere Access title (meaning it costs extra). Read on to read what critics are saying and to discover if Disney's newest blockbuster is worth a view (Spoiler alert: it certainly seems like it is).
CinemaBlend's Dirk Libbey, our resident Disney expert, saw Raya and the Last Dragon and rated it five out of five stars! He praised every aspect of the film, from the "stunning" animation; to the casting of Kelly Marie Tran (who, by the way, is understandably stoked to be a Disney princess), Awkwafina; to the narrative pacing – calling it "near perfect." Libbey continued, saying:
Inkoo Kang of The Hollywood Reporter notes that Raya and the Last Dragon is a film you'll desperately wish you could see on the big screen (which, incidentally, you can, just in limited theaters). Kang praised the imagery of the movie, the tributes to Southeast Asian cultures, and the character design. Kang writes,
Justin Chang of the Los Angeles Times praised Raya and the Last Dragon for its representative value, noting that the film is "an ambitious, imperfect stew of cultural inspirations, in which sharp new flavors and textures jostle with flat, derivative ones." Though Chang comments that the narrative skeleton is somewhat generic and perhaps reminiscent of previous fantasy literature, generic is still entertaining. He says,
Kate Erbland of IndieWire was overall very pleased with the film. She called it "a rich story about acceptance, found families, and the power of trust." Erbland continued, saying:
Hoai-Tran Bui of SlashFilm was certainly impressed with Raya and the Last Dragon, praising the beautiful animation and the characters, specifically calling Kelly Marie Tran "absolutely perfect" as Raya. However, Bui criticized the tone of the film, calling it uneven. She writes,
Though met with minor criticisms, Raya and the Last Dragon seems to be worth a trip to the theater or the cost of premiere access on Disney+, just based off of what critics are reporting so far. But we'll have to wait until March 5 to see if audiences receive the film positively!
While we wait until Raya and The Last Dragon releases, check out all the other new movies coming out in March, and our full 2021 Release Calendar.
Your Daily Blend of Entertainment News