All The New Movies Coming Out In March 2021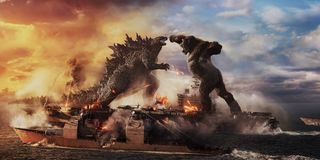 When it comes to months loaded with new releases, March isn't typically one of the first to get mentioned. Things are much different this time around, as there are a ton of new movies in March 2021 (in theaters, streaming, and both in some cases). From long-awaited sequels like Coming 2 America, the arrival of Zack Snyder's Justice League, and a duel between two of the fiercest monsters to walk the earth in Godzilla vs. Kong, the third month of the year is shaping up to be one to remember.
But, with so many movies coming out in March 2021 (14 and counting), keeping track of them and their respective release dates (which could change without a moment's notice) is no easy task. Fear not, for we have put together a list of all the new movies in March 2021, when they're coming out, and how you can watch them. There's a lot to unpack so let's get started…
Moxie (Wednesday, March 3 - Netflix)
The Netflix original comedy Moxie follows Vivian Carter (Hadley Robinson), a shy and unassuming 16-year-old high school student who decides to follow in the footsteps of her rebellious mother (Amy Poehler) and anonymously publish a zine calling out the school's sexist and toxic way of doing things. Little does Vivian know, her decision to fix the wrongs in the school's micro-society unexpectedly sparks a revolution, one that will forever change her life as well as the students and teachers around her.
The SpongeBob Movie: Sponge On The Run (Thursday, March 4 - Paramount Plus)
After multiple delays and a new release strategy, The SpongeBob Movie: Sponge on the Run will finally see its United States debut when it premieres on the new Paramount+ streaming service on March 4. After SpongeBob SquarePants' trusty pet snail Gary goes missing, the iconic sponge and his best friend, Patrick, are forced to embark upon a dangerous journey to the Lost City of Atlantic City, encountering returning and new characters along the way. Everyone from Awkwafina to Keanu Reeves and Snoop Dogg to Danny Trejo co-star in this long-awaited animated feature.
Boogie (Friday, March 5 - Theaters)
Eddie Huang, the writer, producer, and restaurateur who wrote the memoir that would be adapted into the ABC series Fresh off the Boat makes his directorial debut with the coming-of-age drama Boogie. The film follows Alfred "Boogie" Chin (Taylor Takahashi), a New York City high school basketball player with dreams of reaching the NBA, as he tries to find his place in a world that sees him as nothing more than a stereotype. Taylour Paige, Pamelyn Chee, Mike Moh, and Jorge Lendeborg Jr. co-star in what could be the next great basketball drama.
Chaos Walking (Friday, March 5 - Theaters)
The sci-fi adventure film Chaos Walking follows Todd Hewitt (Tom Holland), a young member of a society raised to think that all women had been wiped off the planet, as he comes across Viola Eade (Daisy Ridley), a mysterious woman with impressive yet unknown powers. Together they travel to find the source of "the Noise," a force that turns men's thoughts into images and puts them on display, as well as uncover other secrets and powers hidden deep in this dangerous and unforgiving world.
Boss Level (Friday, March 5 - Hulu)
There can never be too many time loop movies, and the Hulu original Boss Level aims to prove that. The action-thriller follows former special forces agent Roy Pulver (Frank Grillo) as tries to save his ex-wife Jemma Wells and uncover a mysterious government program before he is hunted down by unique assassins hired by the program's mastermind, Colonel Clive Venter (Mel Gibson). Directed by Joe Carnahan (Smokin' Aces, The Grey), this explosive action flick sounds like a darker Groundhog Day with decapitation and hit squads.
My Salinger Year (Friday, March 5 - Theaters/VOD)
Philippe Falardeau's drama My Salinger Year follows aspiring writer and poet Joanna (Margaret Qualley) as she leaves her life in Berkley, California behind to work for the literary agency responsible for handling the work (and fan mail) of the reclusive writer J.D. Salinger. Working under the guidance of the agency's owner, Margaret (Sigourney Weaver), Joanna begins to become more involved with Salinger and the prospect of a new book after years of dormancy. But, as one aspect of her life flourishes, others, most notably her personal life, begin to suffer the effects.
Raya And The Last Dragon (Friday, March 5 - Theaters/Disney+ With Premiere Access)
Disney will soon have its next princess with the arrival of Raya and the Last Dragon, the latest release from Disney Animation Studios. Set in the fantasy world of Kumandra, where dragons sacrificed themselves long ago to save humanity, the movie follows Raya (Kelly Marie Tran) as she seeks out the last surviving mythical creature in hopes of uniting her divided people, to prevent humanity from making the mistakes of the past. Little does Raya know, but Sisu (Awkwafina), the last beast of her kind, isn't as fierce or noble as her ancestors.
Coming 2 America (Friday, March 5 - Amazon Prime)
After more than 30 years, Akeem Joffer (Eddie Murphy), the newly-crowned king of Zamunda returns to Queens in Coming 2 America, to locate a son he never knew about in hopes of grooming him to be the new crown prince and one-day successor to his throne. Joining along for another trip to the mythical land of Queens, New York is Semmi (Arsenio Hall), Akeem's best friend and aide. Other members of the original Coming to America cast return as well, including Shari Headley, James Earl Jones, John Amos, and others. New members include Jermaine Fowler, Leslie Jones, Tracy Morgan, and Wesley Snipes.
Yes Day (Friday, March 12 - Netflix)
The Netflix family comedy Yes Day centers on Allison (Jennifer Garner) and Carlos Torres (Édgar Ramirez) as they give their three kids the opportunity of a lifetime: 24 hours in which the kids make all the rules and decisions. Unchained by the burdens of responsibility and order, the Torres family embarks upon an epic journey throughout the greater Los Angeles area, which could potentially bring the overworked parents and oft-forgotten kids closer than ever before.
Zack Snyder's Justice League (Thursday, March 18 - HBO Max)
At long last, Zack Snyder's Justice League, the supercharged director's cut of the 2017 DCEU crossover event film, finally takes flight on HBO Max, Thursday, March 18. This 240-minute version of the story, showing DC's all-star group, will include much of the characters in the original cut but with loads and loads of villains and heroes who either didn't make it off the cutting room floor or were added later on. Fans cannot wait to see the Justice League take on Dakseid and his minions in an attempt to save life in the universe as we know it.
The Courier (Friday, March 19 - Theaters)
The Cuban Missile Crisis has been the subject of numerous movies over the years, but Dominic Cooke's historical drama The Courier takes a different approach to one of the hottest moments of the Cold War. The movie centers on British businessman Greville Wynne (Benedict Cumberbatch), who would prove to be instrumental in helping the CIA obtain crucial information regarding the Soviet nuclear program, intel that would help bring that chapter of the bloodless war to an end.
Nobody (Friday, March 26 - Theaters)
Hutch Mansell (Bob Odenkirk) is a mild-mannered and subdued suburban husband and father until a confrontation with two burglars sets him on a path that will forever change the way he's perceived by others. Ilya Naishuller's Nobody follows the everyman as he begins to uncover truths about himself (both dark and deadly) that he never knew were there in an action-thriller for the ages.
Bad Trip (Friday, March 26 - Netflix)
Who knows when we'll get to see Jackass 4 with all the drama going on with the prank and stunt film's ongoing production, but, in the meantime, we can at least check out Bad Trip, the Eric André and Lil Rel Howery-led hidden camera comedy. The movie, which has been faced with delay after delay over the past few years, will finally appear on Netflix, Friday, March 26. We'll be able to watch Chris Carey (André) and Bud Malone (Howery) as they drive from Florida to New York in a stolen car for a shot at love.
Godzilla Vs. Kong (Wednesday, March 31 - Theaters/HBO Max)
Closing out the month of March will be the release of Godzilla vs. Kong, the highly-anticipated slugfest between two of the most iconic movie monsters of all time. One of the Warner Bros. movies to be released in theaters and on HBO Max simultaneously, the MonsterVerse movie will serve as a crossover for the two behemoths as well as further establish the shared universe and more titles coming down the road. And while there are some human elements again this time around, we're all here to see King Kong and Godzilla duke it out.
These are just the major releases coming to theaters and streaming services throughout the month of March. Not included in the list above is Cherry, which technically made its official release in February, however the Tom Holland movie will be streaming on Apple TV+ on March 12.
There are other titles on Netflix that will also see release over the course of the month and others that have yet to receive a release date at this time. Make sure to check back for the latest information, and don't forget to check out CinemaBlend's updated 2021 movie release schedule to see what's coming out the rest of the year.
Philip grew up in Louisiana (not New Orleans) before moving to St. Louis after graduating from Louisiana State University-Shreveport. When he's not writing about movies or television, Philip can be found being chased by his three kids, telling his dogs to stop yelling at the mailman, or yelling about professional wrestling to his wife. If the stars properly align, he will talk about For Love Of The Game being the best baseball movie of all time.
Your Daily Blend of Entertainment News
Thank you for signing up to CinemaBlend. You will receive a verification email shortly.
There was a problem. Please refresh the page and try again.