Will Noob Saibot Be In Mortal Kombat? The Sub-Zero Actor Has Thoughts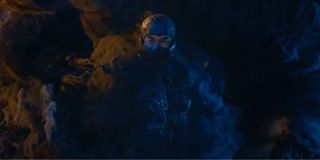 The Mortal Kombat universe is a complicated one to say the least. The franchise features a large cast of characters, including interdimensional demons, kung-fu zombies and literal gods to name a few of the more popular fighters. With the recent trailer reveal of the upcoming Mortal Kombat reboot, fans may be wondering if a certain hidden character will make an on-screen appearance.
In an interview conducted during a visit to the Mortal Kombat set in November of 2019 Sub-Zero actor and martial arts master Joe Taslim shed some light on the possibility of fans getting to see the shadowy figure known as Noob Saibot in action. When I asked about his characters connection to the wraith he had this to say:
While he didn't necessarily confirm that we would be seeing the reincarnated Noob Saibot in the upcoming film, he did hint at his character's back story and the connection between Sub-Zero and Noob. Fans of the series may also enjoy this recently released picture from the set that shows director Simon McQuoid talking to an unnamed ninja decked out in full black, with a mask that looks identical to the shadowy figure we saw in the trailer:
To me, that screams Noob Saibot. Fans of the video game franchise may remember that there are two Sub-Zeros. One is the elder, Bi-Han, who is killed by rival assassin Scorpion following the events of the first Mortal Kombat game. After his death, his younger brother Kuai Liang takes up the frozen mantle to continue to fight for the Lin Kuei clan as the second iteration of Sub-Zero.
The former Sub-Zero, Bi-Han, is then resurrected by long-time franchise antagonist Quan Chi. Through demonic sorcery Bi-Han is reincarnated as the shadowy undead figure, Noob Saibot, and dutifully serves Quan Chi and his fight for the Netherrealm.
It sounds like Joe Taslim has seriously done his research, and has insinuated that fans will at least be seeing the events leading up to Bi-Han's death and his resurrection. While Noob Saibot remains unconfirmed, some think that the shadowy, unnamed figure that briefly appears in the trailer may be another secret character named Smoke.
Noob Saibot first made his appearance in the 1993 video game, Mortal Kombat II. The fighter is a completely black palette swapped version of Sub-Zero and could be discovered as a secret character. It should be noted that Smoke also appears for the first time in the same game, with different requirements to unlock, but because of Bi-Han's connection to Noob Saibot, Joe Taslim's reference to character and the latest image released from the Mortal Kombat set, I'm starting to think that we will see the former frozen fighter in the upcoming film.
What do you all think? Is that Noob Saibot, Smoke or another character featured in the R-rated trailer? While we won't know for sure until Mortal Kombat is released in theaters and on HBO Max (opens in new tab) on April 16th, you can vote in the poll below with your thoughts. Until then, stay tuned with the latest coming to big and small screens near you with CinemaBlend's 2021 Release Schedule.
This poll is no longer available.
Into tracksuits by Paulie Walnuts, the Criterion Channel and Robert Eggers.
Your Daily Blend of Entertainment News
Thank you for signing up to CinemaBlend. You will receive a verification email shortly.
There was a problem. Please refresh the page and try again.