Mortal Kombat's Joe Taslim: 7 Movies To Watch Before His Portrayal Of Sub-Zero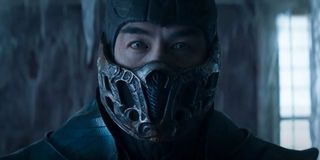 CinemaBlend participates in affiliate programs with various companies. We may earn a commission when you click on or make purchases via links.
There is no getting around it, Sub-Zero is the most badass thing about the brutal first trailer from the upcoming Mortal Kombat reboot, and that's saying a lot considering everything that goes down (Scorpion and Kano get some props here) in the two-minute video. Seriously, everything from Sub-Zero freezing off Jax's arms (giving us the Mortal Kombat 3 version of the iconic commando) to making a dagger out of Scorpion's frozen blood has me all giddy like I'm playing Mortal Kombat for the first time all over again. And don't even get me going about the way Joe Taslim's version of the legendary and lethal ninja just wrecks dudes left and right.
But Joe Taslim's portrayal of Sub-Zero is just the latest in a long line of the stellar action movies where the Indonesian actor and martial artist has been given a chance to show off his skills. Just looking over his brief filmography you'll find titles like The Raid and The Night Comes for Us, two of the greatest action movies of the past decade. Let's take a look...
The Raid (2011)
Gareth Evans' 2011 slugfest The Raid has a fairly simple concept — a heavily armed elite police squad heads into an apartment block to arrest a vicious crime lord — but one hell of an execution filled with hard-hitting fight scenes and intense action sequences whose impact can still be felt a decade later. Joe Taslim plays Jaka, the police sergeant that leads the slow and deadly march to the top of the slum and remains hellbent on completing the mission even with Mad Dog (Yahan Ruhian) standing in his way. This results in one of the most brutal fights of the movie and pretty much all movies in recent memory. Seriously, check it out.
Rent The Raid on Amazon here (opens in new tab).
The Night Comes For Us (2018)
Joe Taslim's Ito doesn't turn any limbs into blocks of ice The Night Comes for Us, but the enforcer in the South East Asian Triad breaks his fair share of arms, legs, and even backs in the 2018 action thriller. After saving a young survivor from a massacre and turning his gun on his former partners, Ito is forced to go on the run to save the young girl's life and prolong what's left of his. At times, Ito comes off as a loving and caring guardian trying to help a young girl find peace in the world and then at times a sadistic killer, especially during the warehouse fight scene with its pool balls, crowbars, and the shotgun blasts to the face. In case you were wondering, this movies brings another meaning to the word brutal…
Stream The Night Comes For Us on Netflix here (opens in new tab).
Fast & Furious 6 (2013)
The Fast & Furious franchise has featured its fair share of skilled fighters and martial artists over the years, but one of the most impressive is Joe Taslim's Jah from Fast & Furious 6. In the 2013 action spectacle, one of Owen Shaw's (Luke Evans) most trusted henchmen and assassins pops up from time to time to attempt to thwart Dominic Toretto (Vin Diesel) and crew, which includes him taking on not only two members of the crew but also three London police officers at Waterloo station. The combination of daring parkour maneuvers and an intricate fighting style help turn a run-of-the-mill chase sequence into one of the best sections of the entire movie.
Stream it on Peacock here (opens in new tab).
Rent it here (opens in new tab).
Star Trek Beyond (2016)
Much like in Fast & Furious 6, Joe Taslim took on the role of a henchman and second-in-command to the villain in Star Trek Beyond, who is played Idris Elba (who would go on to appear in the Fast & Furious franchise a few years later). Portraying Manas, a former Starfleet officer who transformed into an alien being along with the rest of his crew, Taslim continues to do what he does best here and takes part in some of the best fight scenes of the movie. And while Manas' one-on-one with Jaylah (Sofia Boutella) isn't as raw or visceral as some of his previous on-screen fights, it's still impressive considering all those prosthetics both actors were wearing.
Stream Star Trek Beyond on Amazon here (opens in new tab).
Rent it here (opens in new tab).
Dead Mine (2012)
Haven't heard of Dead Mine? Prepare for some insanity. The 2012 horror film follows a group of mercenaries hired by the son of a millionaire to explore an abandoned Japanese military bunker for treasure. Once they reach their goal, however, the group becomes trapped in the complex with subjects from inhumane human experiments that turned prisoners of war into superhuman Samurai and other creatures that look a lot like the war boys in Mad Max: Fury Road. And while Joe Taslim doesn't get as many fight scenes with his portrayal of Joko, there's one scene in particular that makes him look like quite the badass.
Stream Dead Mine on Amazon with XLTV here (opens in new tab).
The Swordsman (2020)
Th 2020 South Korean period piece The Swordsman follows Tae-yul (Jang Hyuk), one of the best swordsmen in the province of Joseon as takes on the ruthless Gurutai (Joe Taslim) to free his daughter who was seeking a treatment for her father's failing eyesight. Not as fast-moving as he is in movies like The Raid or The Night Comes for Us, Taslim's portrayal of the Qing imperial family member is just as ruthless and deadly as anything else he's played in the past. And on top of that, he's not too bad when it comes to fighting with a sword, something that will come in handy in Mortal Kombat.
Stream it on Hoopla here.
Rent it here (opens in new tab).
Warrior (Cinemax Series) (2019 - 2020)
The 2019 Cinemax series Warrior, which was based on a treatment written by Bruce Lee, follows Ah Sahm (Andrew Koji), a Chinese martial artist who travels to late-19th Century San Francisco in hopes of finding his long lost sister who was sold to a tong (criminal organization) years earlier. In addition to being tasked with rescuing his sister, Ah Sahm must take part in a series of underground fights, where he encounters Li Yong (Joe Taslim), an enforcer in the gang which has the hero's sister held captive. Li Young, with his brutal displays of strength, speed, and willpower, is brought to life through the fierce and sometimes pained performance by Taslim.
Stream it on HBO Max here (opens in new tab).
If you're not an HBO Max subscriber, you can sign up here (opens in new tab)*. *
All in all, Joe Taslim is well-suited to take on the role of Sub-Zero in Mortal Kombat, as his impressive track record shows. It's hard to say just how much depth we'll see from the masked fighter when the movie hits theaters and HBO Max on April 16, but at least we'll get to see Sub Zero break arms and turn blood into knives.