Hear Me Out: Why Adam Wingard's Face/Off Sequel Could Totally Work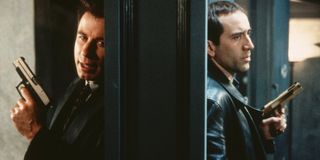 Which announcement do you think enraged fans of director John Woo's action classic Face/Off more: the fact that it was initially reported as a reboot, or that director Adam Wingard corrected that announcement by revealing its true status as a direct sequel? Either way, it's enough to put fans who could watch Nicolas Cage and John Travolta banter for hours in a bit of a predicament.
Despite all of the uproar about potentially "ruining a classic," I'm actually really optimistic that both Wingard and his writing partner, Simon Barrett, are on the right track to making a Face/Off sequel that could totally work. But before you hear me out on this, let's take a trip back to the original film, as well as a rather interesting piece of alternate history, that may hold the key to the freaky future.
How Did Face/Off End Again?
For an action/adventure classic that's known for scenes where Nicolas Cage is grabbing choir girls mid-concert and John Travolta just happens to perv on Sasha (Dominique Swain), the ex-girlfriend of the man whose face he's supposed to be wearing, Face/Off does have a pretty sappy ending that works like a charm. After FBI agent Sean Archer kills the villainous Castor Troy, he undergoes the operation to regain his face and become his John Travolta-y self once more. Bringing home Sasha's son Adam (David McCurley) and adopting him into the family, we're given the happiest of endings where Sean and his family get to put the trauma of a dead family member. Of course, there's another ending that director John Woo was interested in that could have totally changed how things played out for Face/Off, and it still could.
How Face/Off Almost Ended
On the Special Collector's Edition of Face/Off, there's an alternate ending included that is the ultimate mind trip. In a scene that picks up after the happy ending we already get at the end, we see Eve Archer (Joan Allen) and her husband Sean getting a start on their day. While Sean's in the bathroom, he takes a beat to look in the mirror and hang his head in concern. One moment, he looks like himself, but after hanging his head, he brings it back up and sees Castor Troy's face in the mirror.
Eve walks in and is startled, as if she's having the same hallucination, and eventually it leads to the two ending the scene in a hug. But while they embrace, Sean lets an ambiguous smile play out on his face, hinting that he may have been psychologically fractured by playing both sides of the law. John Woo admits on the commentary for that scene that he wanted to leave the story of Face/Off on this really big cliffhanger, but ultimately it was rejected and the happy ending stayed as the proper finale.
Face/Off Is A Ridiculous Enough Universe That A Sequel Isn't Impossible
If the huge action set-piece at the beginning of the movie, or the humorous tone of the Face/Off universe, didn't already clue you in, this is a universe that doesn't take itself 100% seriously. So if there's any doubt as to how a sequel could work, whether the original ending is still in play or not, Adam Wingard and Simon Barrett pretty much have an open canvas to play with when it comes to making Face/Off 2.
On the one hand, we could see John Travolta and Nicolas Cage return as the two sides of Sean's mental coin. Think of it as a sort of scenario akin to Two Face in the Batman mythos, where one moment, Sean Archer is the top law man at the FBI, and the next, he's indulging in his darker side and slipping back into his approximation of the Castor Troy legacy. That's probably the best case scenario to see the two iconic actors returning to their roles; but there's another option that opens the doors to a lot of other ideas.
New Leads In A Face/Off Sequel Means Unlimited Potential
Just because Face/Off is getting a direct sequel doesn't mean it needs to follow Sean and Castor's stories per se. In fact, if Adam Wingard is going to play his round in the overall mythology based on the happier ending we saw in the first film, this second installment would need a fresh pair of leads. With two new lead actors, and by extension two new characters to follow in the Face/Off universe, there's unlimited potential for a totally fresh idea to come out of merely using the concept of two characters swapping faces.
An easy connection to the original film would be following John Travolta's Sean Archer as the top dog at the FBI who just happens to be familiar with this procedure and its side effects. Our new law enforcement lead would be able to learn from him when it comes to becoming another person, as they'll have to take the fight to whomever inherits Castor Troy's reign of terror in a new Face/Off movie. Also, with the potential for new lead actors and characters, that Ryan Reynolds/Hugh Jackman pairing the internet is dying for could finally happen, and that seems to be the best option at the moment.
Adam Wingard And Simon Barrett Are Proven Face/Off Fans
Face/Off has no shortage of creative alleyways it could use to turn itself into a viable franchise possibility. But the greatest reason that a sequel to John Woo's amazing, over-the-top action classic is the fact that Adam Wingard and Simon Barrett are both obviously fans of that very film. In fact, Wingard has even gone on record as saying that if he can't make this movie as the perfectly aligned version of Face Off Two, he's not going to make it.
So long as the Wingard/Barrett machine is allowed to work to its fullest potential, there should be no problem in getting Face/Off's sequel into the air. And if you need any proof of this fact, you should watch their previous film, The Guest. Without spoiling anything, I'll just say this: The Guest is what happens when you take the plotline where John Travolta acts all slimy towards his on-screen daughter, and turn it into a twisted (and less pervy) main character. There's even a scene covering the proper usage of a butterfly knife, which, intentionally or not, vibes heavily with John Woo's film.
For once, a sequel to a classic film that feels just obscure enough to warrant a resurrection is in play. Face/Off isn't something we've seen on and off again in the decades following its original release, but it's a movie people love that somehow still goes under other people's radars. As Adam Wingard and Simon Barrett are people that take this sort of genre fair seriously, with a heartfelt dedication to making an enjoyable ride, this Face/Off continuation could work extremely well. (And honestly, that Ryan Reynolds/Hugh Jackman idea is killer. Keep that baby in consideration, and the internet will thank you.)
Your Daily Blend of Entertainment News
Senior Movies Contributor
CinemaBlend's James Bond (expert). Also versed in Large Scale Aggressors, time travel, and Guillermo del Toro. He fights for The User.