Why Disneyland Is Still Going To Have A Difficult Time Reopening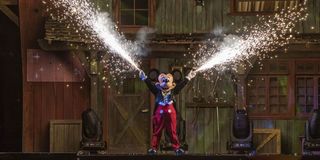 Last week, the Disneyland Resort got the news it had been waiting for: after nearly a full year of closure, there's finally a path to reopening California's major theme parks, including Disneyland and Disney California Adventure. Theme parks can begin reopening in California beginning April 1, but today it was confirmed that while Disneyland might technically be allowed to do so, it won't be opening on the first possible day. And when they do reopen, it's possible that the two Disneyland resort theme parks might not look exactly the way guests expect them to look.
There are a number of contingencies that will be impacting Disneyland's ability to reopen, so if you're looking to be among the first to make your reservations, be aware that there are a lot of moving parts that could potentially delay the reopening even beyond what Disneyland is planning to do.
It Will Take Time To Get Disneyland Cast Members Trained
Back in June 2020, Disneyland Resort announced plans for the theme parks to reopen on July 17. It gave the park slightly more than a month to get things ready to go. When California made the announcement that parks could reopen on March 5, it set a date of April 1, meaning the magic date is less than a month away. While I would guess Disneyland had something of a heads up on this announcement, it likely wasn't enough of one to get the wheels turning that much faster. Getting all the cast members back at work and trained on the way the park will be functioning in what will still be a very unique situation is going to take time.
Unsurprisingly, Disneyland has now confirmed pretty much exactly that, saying that the park is eyeing a late April opening because retraining the 10,000 or so cast members that will be coming back is simply going to take time; too much time to be ready by April 1. However, there are other reasons that Disneyland's reopening will take this long; perhaps even take longer than even the park is hoping.
Orange County Still Needs To Get, And Stay, In A Better Place With COVID-19
All of the allowances regarding theme parks reopening in California are contingent on the county where the park is located being somewhere below the worst tier of California's four-tiered coronavirus infection scale. Currently, Orange County, the home of Disneyland, is in the worst tier. While the county is very close to dropping into the red tier, which would allow Disneyland to reopen, the county not only has to get there, but also stay there or improve. Otherwise, Disneyland could reopen and then close all over again.
That's happened before. In summer 2020, it looked like things were getting better, and then they got worse and California pulled back on reopening theme parks. Orange County has been in the red tier before, but that county, like so many in California, saw a new surge after restrictions began to be lifted. Things will have to get better and stay that way, and there's only so much Disneyland can even do about that. Part of the reason the park may wait until late April is just to watch the numbers and be sure they're headed in the right direction.
15% Capacity Could Mean A Very Different Disneyland
Even if everything comes up roses and Disneyland is able to open in April, it doesn't mean that things are going to instantly return to normal or that the park is going to look the way fans remember it. Of course, there will be the various health and safety rules in place, but there will also be a very small number of guests allowed in the parks. Counties in the red tier will be able to open theme parks at 15% capacity, which is much smaller than the 25% capacity that Walt Disney World opened with, meaning that the parks may only open a fraction of their attractions, shops and dining locations.
I was far from sure Disneyland would even reopen at 15% capacity, but based on the most recent statement, that seems to be the plan. However, what is also surely the plan is that if Disneyland reopens, it needs to be profitable, it needs to bring in more money than it costs to run. With only 15% of max capacity allowed in, it will almost certainly be too expensive to bring back enough cast members to run everything. Even at 35% capacity, a lot of Walt Disney World theme park locations, shops and dining locations are still closed, and that will likely only be worse at Disneyland.
The Touch Of Disney Event Just Sold A Lot Of Tickets
After several months of fighting with the state of California and trying to reopen, Disneyland Resort finally did the thing that some other theme parks had already done and found a way to make some money without technically reopening as a theme park. The Touch of Disney event is a food and beverage festival that is a ticketed event inside Disney California Adventure, and just days before California revealed its plans, several weeks of tickets for that event were sold. The portion of Buena Vista Street that had been open as an extension of Downtown Disney recently closed to make the switchover, and that will likely need to happen again when Disney shifts things back to a limited capacity theme park.
There was an expectation that the Taste of Disney event was going to last longer than into the first week of April, and it's still possible that could happen. As a food and beverage event, Disney California Adventure will be able to welcome more guests than it will as a theme park. And while theme park tickets will likely be more expensive, it's possible with food and merchandise sales that DCA could actually be more profitable as a festival space than as a theme park, at least until capacity restrictions become less limiting.
What's clear is that the road back for Disneyland Resort is finally here. What's less clear is how long that road will really be or how many bumps we'll find along the way. At this point, Disney says the parks are targeting a late April reopening. While that will depend on many factors, and it all might not look all that much like the Disneyland we know when it happens, that day is closer. The happiest place on Earth is on the way back.
Your Daily Blend of Entertainment News
Content Producer/Theme Park Beat
CinemaBlend's resident theme park junkie and amateur Disney historian. Armchair Imagineer. Epcot Stan. Future Club 33 Member.
Your Daily Blend of Entertainment News
Thank you for signing up to CinemaBlend. You will receive a verification email shortly.
There was a problem. Please refresh the page and try again.