Jackass 4's Steve-O Celebrates Sobriety Milestone With Fun Then And Now Post, 'Grateful' Message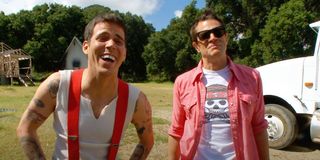 There are few things better than a comeback story. Entertainer, comedian and all-around wild man Steve-O has come a long way since his first appearance in MTV's Jackass. Over the course of his career, he's been widely known for his insane stunt performances, struggle with drug addiction and a number of SeaWorld shenanigans. Recently, Steve-O celebrated a major sobriety milestone with a post featuring a pair of then and now photos with a grateful message.
Steve-O shared the before and after post on his Twitter page, where he thanked all of those who helped him turn over a new leaf:
In the post, fans can see a 2006 picture of Steve-O surrounded by drug paraphernalia and looking a bit disheveled. The actor then recreated the scene and staged a similar photo taken this year, albeit with some healthier options on the table. He also shared that he's grateful for everyone who has helped him retain his sobriety for the last 13 years.
I have to admit, posts like this just make me smile. Steve-O was seriously struggling during the filming of the Jackass movies. So much so that long-time friend and Jackass co-creator Johnny Knoxville had to stage an intervention back in 2008. Fortunately, it worked out, and Steve-O is now celebrating his 13th straight year of sobriety.
Since getting clean, Steve-O has continued to work with his Jackass buddies and will appear in the upcoming Jackass 4. Over the past few years, he's made headlines for his high-profile stunts, including taping himself to a billboard. He has also started a stand-up comedy career and recently released a special titled Gnarly.
Steve-O isn't the only member of the Jackass crew who has struggled since the show first aired in 2000. Long-time member and Viva La Bam star Bam Margera was recently booted from Jackass 4 and had some strong opinions on the decision to move forward without him.
Although Margera will not be appearing in the latest Jackass entry, franchise veterans Johnny Knoxville, Steve-O, Chris Pontius, Preston Lacy and Wee-Man (Jason Acuña) are all set to return. Filming has reportedly started and two of the films biggest stars have already been hospitalized, which may not come as a surprise considering the stomach-churning stunts the franchise is known for.
As of now, Jackass 4 is scheduled to be released on September 4. Fans of the series can safely presume that the gang will be back at it with their signature stunts and tom-foolery. That being said, it's nice to see how much Steve-O has grown over the past decade and his latest sobriety achievement is just another feather in the cap of his truly wild career.
Into tracksuits by Paulie Walnuts, the Criterion Channel and Robert Eggers.
Your Daily Blend of Entertainment News
Thank you for signing up to CinemaBlend. You will receive a verification email shortly.
There was a problem. Please refresh the page and try again.