Jackass Star Steve-O Arrested For Insane Anti-SeaWord Stunt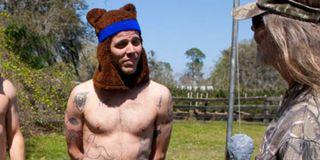 It has been a few years since we've seen Steve-O in any Jackass entity, but that hasn't stopped the actor/comedian from taking on big, bad stunts. This time around, his tomfoolery was apparently for a good cause at least. The Jackass star was arrested in Hollywood for climbing a crane in protest against SeaWorld.
Steve-O may be known for his crazy antics, but he actually is a pretty involved animal activist. His latest stunt was an anti-SeaWorld statement where the actor/comedian climbed up a high crane and at at the top, lit fireworks and hung a huge inflatable killer whale. Steve-O's plan was to 'go really high up in the air' to make a point. As he climbed the 100 foot crane, he carried a large bag that read SeaWorld sucks on the side. He filmed the entire stunt live on Facebook:
Not far into his climb, someone probably called in the police, and unsure of whether Steve-O needed to be rescued or was a potential suicide jumper, dozens of emergency responders arrived to the site. At the top of the crane, Steve-O posted another live video with the caption: "Anyone wanna bail me out of jail?"
According to Associated Press, when Steve-O climbed down, he was taken into custody. He will be booked for investigation of several charges including conspiracy to commit trespassing and filming without a permit. While Steve-O's intentions may have been good, the insane stunt is getting a lot of negative reaction, specifically from the police and fire departments who wasted valuable resources on a hoax. Fire Department spokeswoman Margaret Stewart said:
This isn't the first time Steve-O was cited for a protest against the theme park. Last year, the actor/comedian protested in response to the controversy over the 2013 documentary Blackfish.
Your Daily Blend of Entertainment News
Thank you for signing up to CinemaBlend. You will receive a verification email shortly.
There was a problem. Please refresh the page and try again.