After Getting Kicked Off Of Jackass 4, Bam Margera's Now In The Hospital With A Gross Infection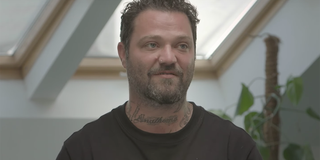 If you're a millennial, you've probably been very familiar with Bam Margera and his band of chaotic miscreants at some point in your life. Between him terrorizing his Dad Phillip on Viva La Bam, performing wild stunts on Jackass with Johnny Knoxville and company, and his fruitful skateboarding career, Margera was all over pop culture in the early 2000s. Even though he was one of the key players in the Jackass series, it looks like he won't be making an appearance in the new installment of the franchise. His involvement in the upcoming Jackass 4 has been a rollercoaster ride of F-Bombs and forgiveness, and now after officially getting kicked off of the film, he's in the hospital regardless with a pretty gross infection.
You would expect a trip or two to the hospital for anyone filming a Jackass film, especially since the boys are all grown up now. Bam Margera is not in on the new Jackass film, but that hasn't kept him out of the hospital. According to TMZ, it wasn't some stunt that required medical care - it was careless tattoo aftercare. Margera got a staph infection in his leg after soaking in a hot tub post going under the needle.
Bam Margera recently got a tattoo in the language of Farsi running down the middle of his leg that translates to "Great News". Maybe he should get a new one on the opposite leg that translates to "Great Irony", because the new ink resulted in a trip to the hospital for a staph infection. He's got plenty of tattoos and should have known better, but hey, at least Margera is owning up to the rookie mistake. You can check out the now jacked up ink in Margera's own Instagram post below:
If the former stunt star had had an Instagram back when Viva La Bam was on the air (or if Instagram had even existed back then), his page would be full of similar bloody pics. While we do get the occasional throwback and skater video, now Bam Margera's feed is that of a husband and father. Even so, Margera has hit some hard times with his physical and mental health and has had addiction issues since the time of his peak popularity, which could be a reason behind his lack of reappearance in the new Jackass film.
Jackass 4 is currently filming and though it will not feature Bam Margera, there will be returns made by a lot of the previous faces of Jackass. Johnny Knoxville, Steve-o, Wee-Man, and Chris Pontius all return 10 years after the last installment of the franchise, which is set to release sometime this year in a gnarly blast from millennial's younger years.
Constantly thinking about books, coffee, and the existential dread I feel from Bo Burnham's Inside. While writing I'm also raising a chaotic toddler, who may or may not have picked up personality traits from watching one too many episodes of Trailer Park Boys.
Your Daily Blend of Entertainment News
Thank you for signing up to CinemaBlend. You will receive a verification email shortly.
There was a problem. Please refresh the page and try again.