Leslie Odom Jr. Shows Hamilton Some Love In Response To Dual Oscar Nominations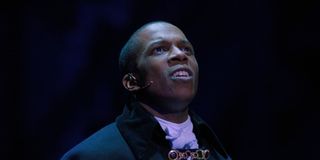 As much as 2020 was drastically terrible for a lot of people, and just a plain bummer to most, Leslie Odom Jr. actually had a pretty amazing year. The Hamilton star may have felt like he didn't get as grand an entrance with the film going straight to Disney+ during the prime time of COVID-19, but it's safe to say that the actor hasn't been worse off for it. In fact, after starring in the film version of the Broadway production, Odom landed another career-making part in One Night in Miami. After recently being nominated for not only one, but two Oscars for his work in One Night in Miami, Odom gave some love to his time working on Hamilton and how the production opened up doors for the future of his career.
In response to his dual Oscar nominations for One Night in Miami, Leslie Odom Jr. sat down with Deadline and showed his appreciation for the opportunities that his work on Hamilton has presented him. He says that he and the other cast members were lucky to work on Hamilton, and that the production was a door opener, allowing them to dream new dreams for themselves. Here it is in the musically-inclined actor's own words:
Just to be clear, Leslie Odom Jr. does have a pretty expansive film and TV history pre-Hamilton, as he's been in big pictures and had recurring TV roles since his career started in 2004. Hamilton was just his first major role in such a huge production, and honestly, it would be pretty big for anyone. The Broadway production of Hamilton has broken records, is pretty much the most expensive ticket on Broadway, and still sells out over five years after its release. It would be a major opportunity for even the top actors in Hollywood, and it was understandably a dream come true for the actors who hadn't hit it big in Hollywood yet.
Well, that's just what's happened for Leslie Odom Jr., as well as a lot of his Hamilton co-stars. Odom has kept plenty busy since his role as Aaron Burr, and other than his recent nominations for One Night in Miami, he's had major roles in two TV series, starred in Sia's new musical drama and has a couple projects in the works.
Leslie Odom Jr. was on Broadway for years in Hamilton, and has cemented himself in the role of Aaron Burr in the film adaptation, so it's only natural that the production would be dear to him. Not only that, but his involvement in Hamilton has naturally boosted his career, and even though Odom has since left Aaron Burr behind, it's nice that he can look back and show love to what is basically the climax of his career. Even if he doesn't win the Oscars he is nominated for, Odom is a winner at heart and it looks to be just the beginning for the actor - here's to all the future award nominations to come!
Your Daily Blend of Entertainment News
Thank you for signing up to CinemaBlend. You will receive a verification email shortly.
There was a problem. Please refresh the page and try again.