Leslie Odom Jr. Reveals The One Bittersweet Thing About Hamilton Hitting Disney+ Right Now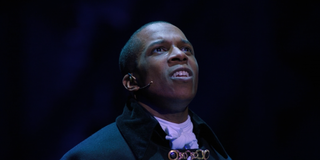 CinemaBlend participates in affiliate programs with various companies. We may earn a commission when you click on or make purchases via links.
As you likely already know by now, Hamilton, the hit Broadway musical by Lin-Manuel Miranda, has landed on Disney+. And, pretty much everyone rushed to watch it. Yet, despite finally being seen by a totally new audience for the first time, it's a little bittersweet for Tony Award winning Hamilton star Leslie Odom Jr.
Leslie Odom Jr., who plays Aaron Burr in Hamilton, recently sat down with The Philadelphia Inquirer to talk about the wildly popular musical. Though a lot of people will finally get to see him play the infamous role of Aaron Burr, Leslie Odom Jr. had mixed feelings about all of it. Here's what he had to say:
Initially Disney planned to release Hamilton in theaters on October 2021, but since everyone is stuck at home due to current events, they decided to release it early on Disney+. While that meant Hamilton just got a new, giant audience, it also means cast and fans like Leslie Odom Jr., can't really experience that in person with others. So for him, the excitement of Hamilton releasing was more about being an audience member than anything else. Here's what he said later:
Most theater fans dream of seeing a Broadway play, but it's not always possible financially or geographically. This was the case for Leslie Odom Jr. when he was growing up. So, being able to be in Hamilton means a lot to him personally. But, as he says, it also means a lot to be in the audience and praise his co-stars work.
Hamilton is available exclusively on Disney+. You can use this link to sign up for the new streaming service.
Leslie Odom Jr. skyrocketed to fame after his Tony and Grammy award-winning performance in Hamilton. He later appeared on a number of movies and TV shows, including The Good Wife, One Dollar, and The Murder on the Orient Express. He even released his second studio album in 2016 called Simply Christmas.
Of course, there's been considerable praise by critics of the Disney+ Hamilton release. Many critics specifically praised Leslie Odom Jr.'s performance, saying the actor never allows his character to become the villain of the piece. Hopefully one day Leslie Odom Jr. will be able to witness the magic of Hamilton with friends and family in one place.
Your Daily Blend of Entertainment News