Why Hamilton's Leslie Odom Jr. Couldn't Join In On His Co-Stars' Backstage 'Shenanigans' While Working On The Show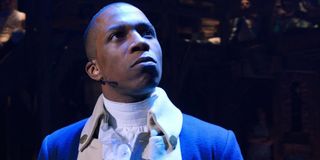 Putting on a musical like Hamilton is a huge endeavor. The cast and crew obviously work hard, both on stage and behind the scenes, and that kind of collective effort surely leads to some long-standing bonds. If you were to ask Leslie Odom Jr. what kind of hijinks the Hamilton crew got into during their time together, though, he'd be hard pressed to give you an answer. There's a good reason he didn't participate in a lot of the shenanigans, though.
In Hamilton, Leslie Odom Jr. had the unique challenge of playing both the narrator and the primary antagonist. That's not an easy feat -- you have to get the audience to trust you, all the while knowing you're going to end up murdering the titular character at the end of the show. The actor pulled it off with gusto and earned widespread acclaim (and a Tony Award!) for his performance as Aaron Burr.
However, taking on such a serious role did seemingly come with some downsides. When BuzzFeed asked Leslie Odom Jr. what the funniest backstage moment was during his Hamilton days, he had a surprising response:
It sounds like Leslie Odom Jr. was in the zone for much of his time on Hamilton and, given the intensity of his role, it's really not hard to see why. The way he describes this experience also feels a bit like life imitating art -- in Hamilton, Aaron Burr can often be seen urging his friends to chill out and be more serious when they're having a raucous good time.
While it may seem like a bummer that he missed out on some of the fun, he definitely still found a way to bond with his castmates. He shared a dressing room with Lin-Manuel Miranda, who admitted that he and Leslie Odom Jr. had significantly different approaches to their pre-show rituals. Still, based on his comments, it sounds like the two worked together beautifully.
Cast mate Emmy Raver-Lampman has also made it clear he had a strong connection to his co-stars. He even helped advocate for the Hamilton cast to make sure they had the resources they needed to avoid burning out during their tenure on the show. He's also shown his devotion to the fans who've supported the play, from its time on Broadway to its streaming debut on Disney+.
Your Daily Blend of Entertainment News
Thank you for signing up to CinemaBlend. You will receive a verification email shortly.
There was a problem. Please refresh the page and try again.