Hamilton's Leslie Odom Jr Talks Quarantining From His Pregnant Wife After Ellen DeGeneres COVID Scare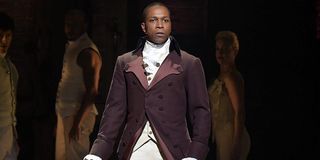 Ellen DeGeneres faced a lot of public backlash this year following allegations of a toxic workplace environment and sexual misconduct behind-the-scenes of her talk show. After an investigation was conducted and producers were fired, The Ellen DeGeneres Show returned to the air in September. However, DeGeneres recently confirmed that she tested positive for COVID-19 and Hamilton's Leslie Odom Jr. revealed that he is quarantining after making an in-studio appearance on the show.
Leslie Odom Jr. was the last person to make an in-studio appearance on The Ellen DeGeneres Show before it halted production recently. Shortly afterward, the One Night in Miami actor learned that Ellen DeGeneres had tested positive for the virus and production on the talk show had been shut down. The news sent him into quarantine away from his pregnant wife Nicolette Robinson and their three-year-old daughter. Here's what Odom Jr. told the Today Show hosts:
That's pretty scary, especially considering that Leslie Odom Jr. may have been in close enough proximity to Ellen DeGeneres to possibly have contracted the virus as well. That said, the actor and singer is getting tested every day for the entire length of his quarantine and it seems like he's doing well so far. No positive COVID test in sight right now for either him or his wife and daughter, which is a relief.
Leslie Odom Jr. also added that he was wearing two masks while inside the house as an extra precaution. You can never be too careful. The Hamilton alum had his mask at the ready to show the Today hosts too, which was a cute moment. Odom Jr. and Nicolette Robinson are expecting their second child, a son, in March.
While Ellen DeGeneres' first update assured fans that she was feeling fine, her second update revealed that she was experiencing pretty "excruciating back pain." In an Instagram video, the talk show host says she had no idea that back pain was even a COVID symptom, but that she spoke to others who experienced the same thing. Besides the back pain, however, DeGeneres says she's doing okay. Take a look.
Production on The Ellen DeGeneres Show will be halted through January. Stay tuned to CinemaBlend for updates on this story and more TV news. To find out which new and returning shows will be premiering over the next few months, be sure to check out our 2021 winter and spring schedule.
Your Daily Blend of Entertainment News
Thank you for signing up to CinemaBlend. You will receive a verification email shortly.
There was a problem. Please refresh the page and try again.