Minari Ending: The Poetic Conclusion Explained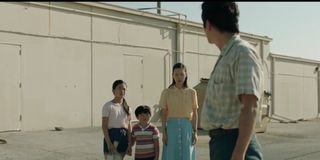 Minari, directed by Lee Isaac Chung, is a semi-autobiographical story about the Yi family. Jacob (Steven Yeun) moves his family from a comfortable life in California to a small town in Arkansas. Jacob dreams of starting a farm and living off the profits of that business. Life in Arkansas is far from what Jacob and his wife Monica (Yeri Han) hoped. All the film's tension bubbles over into the heartbreaking but hopeful Minari ending.
In March 2021, Minari earned an Academy Award nomination for Best Picture, and star Steven Yeun and Korean film legend Youn Yuh-jung both earned acting nominations. Many people who watch Minari will be blown away by this quiet family epic about the American dream and all the struggles and triumphs that come with it. The Minari ending especially offers a satisfying and showstopping conclusion. Let's deep dive into the Minari ending.
We're about to get into spoilers from the movie, so if you haven't watched it yet, read no further! And if you're looking to check it out, find out how to watch Minari streaming.
What Happened At The End of Minari
Jacob, Monica, David (Alan S. Kim), and Anne (Noel Cho) receive good news when a cardiologist lets the family know that David's heart murmur will likely heal on its own. Jacob then gets more good news when the grocery store owner agrees to have Jacob be his produce supplier. While Jacob, Monica, and the children are heading to the car, Jacob gleefully talks about how this deal came at the best time. Monica sends the children away and Jacob and her have a passionate confrontation.
She lets him know that she can no longer be with him. Jacob and she accept that their marriage is done. Meanwhile, grandma Soonja (Youn Yuh-jung) faces a trash fire that becomes uncontrollable. When the Yi family arrives, Jacob rushes to the barn to try to stop it, then he tries to save some of his produce.
After seeing that Soonja is all right, Monica rushes in as well. They eventually give up and Monica breaks down as they watch the barn burn. The movie's final scene is of Jacob and David at the creek picking minari, the only thriving plant.
What Is Minari And What Does It Symbolize?
At one point in Minari, Soonja says to David and Anne, "do you even know what Minari is, you stupid Americans?" a cheeky nod to many viewers that are clueless about minari. As explained in the movie and by the cast, --Chung called it a weed in an interview with The Wrap, but Yuh-jung corrected him and said that it's a vegetable-- minari is a versatile plant used in Korean households in various ways. It's often used in cooking and as a medicine.
In an interview with Cinemablend, various cast and director Chung spoke about how minari is special because it's a plant that thrives even in rough soil. He further explained in an interview on NPR's Reset how minari really was something that his grandmother grew, and some of his memories with her tie back to them. He also explained that minari has a purifying effect and clears poor soil and water. In an interview with Deadline, Chung also added how minari doesn't start to thrive until its second season. He saw this as an overall analogy for the immigrant experience, which he shared in a Filmmaker Magazine interview:
Minari also symbolizes the Yi's story. At the end of Minari, the family is struggling financially and now have no product because their barn burned down, but this fire has basically regenerated the family. In the Minari ending, Jacob and Monica are now working together to get the farm up and running. It's implied that the Yi family will come back stronger as farmers and as a family. They'll build something better from the ashes of their original missteps.
Water And Fire In Minari
I only noticed how prevalent fire and, especially, water are in Minari because of the brilliant Bong-Joon-ho pointing it out in his interview with Lee Isaac Chung for Variety. When asked about it, Chung mentioned the biblical idea of two destructions, first with the flood and then with fire. His real memories echoed the tornado warning and his grandmother burning the barn, but he wanted to start Minari with a flood and end it with fire.
The film also has many instances where water causes destruction for the Yi family. First, we see it with the tornado warning, then we see it with Jacob's crops not being able to get enough water, and even the bath scene between Monica and Jacob has a negative undertone because it's when Jacob gives her permission to leave him if he can't make the farm work. And if you want to stretch it further, the pee in grandma's cup scene and then her peeing on herself after her stroke all tie into water being a source of pain and disaster for the family.
However, water is also used in a positive way in Minari, but only the creek water. The creek water provides the family with water when Jacob has used it all up for his crops. This also ties with the idea of the healing powers of minari, a plant that purifies the creek water.
How Minari Tells A Story That's Universal
Minari first and foremost is a Korean immigrant story, so Korean Americans and Korean immigrants will connect and understand this story in a way that other Americans cannot, but at the heart of this story is a very American story, a story of wanting to better oneself and family.
This is a story that many can connect to because it's the story of the American dream. I am a black woman who grew up poor on the Southside of Chicago, and I felt deeply moved and connected to this film because it made me see my parents' struggles in a different way, and that's one of the remarkable things about Minari. It feels so authentic and deeply personal, but also universal in a way that many can see themselves and their family in one or all of these characters. It speaks to the very human threads of hope, struggles, and perseverance.
Yeri Han summed up in a Korea Times interview how the film resonates with audiences of many different backgrounds.
Chung has spoken in many interviews, especially in the Reset interview, about creating a personal story that would leave a legacy for his daughter, but he also wanted a story that everyone saw themselves and got out of it different things.
The Hopeful Nature Of The Minari Ending
The Minari ending shows the Yi family getting good news, first with David's heart murmur, and then with Jacob finding a grocer, but the second good news is immediately followed by bad news. Monica still wants to leave Jacob, and then all the produce is destroyed.
Despite these tragedies, the family comes out of it stronger than ever. We see David really run for the first time because he's no longer burdened by the heart murmur and he wants to stop his grandma from leaving. Throughout Minari, he's been telling his grandma to go, but he's finally embraced her and wants her around.
We also see the Yi family sleeping on the floor together. At the beginning of the film, the family was completely against this notion, with Anne commenting that Jacob snores. We also see Monica and Paul (Will Patton) with Jacob as he pays to find a new water well, something he was against in the beginning. Monica being around also shows she is now actively supporting Jacob's dream and participating in the farm dream. We also see Jacob possibly understanding Monica better when she also tries to save the produce. The growing minari also symbolizes hope for the Yi family to thrive in the future.
Spent most of my life in various parts of Illinois, including attending college in Evanston. I have been a life long lover of pop culture, especially television, turned that passion into writing about all things entertainment related. When I'm not writing about pop culture, I can be found channeling Gordon Ramsay by kicking people out the kitchen.
Your Daily Blend of Entertainment News
Thank you for signing up to CinemaBlend. You will receive a verification email shortly.
There was a problem. Please refresh the page and try again.