How To Watch Minari Streaming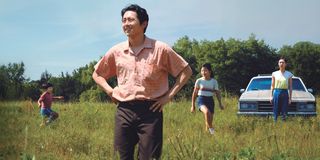 CinemaBlend participates in affiliate programs with various companies. We may earn a commission when you click on or make purchases via links.
Not everyone follows every film production from inception to final release like some people out there and typically first hear about a movie when it starts to rack up nominations and awards. Such is the case for Minari, the Steven Yeun-led A24 drama about a Korean American family that picks up everything it owns and moves from California to a small Arkansas farm for a shot at their own American dream. Up for awards in six categories at the 2021 Academy Awards, Lee Isaac Chung's emotional story of resilience in the Ozarks is getting a lot of buzz leading into the April 25 ceremony, and you can find out why now that you can watch Minari streaming.
Where Is Minari Streaming
Minari isn't currently streaming on any of the major platforms considering it was first released in theaters in January 2021, but the story about a family that would stop at nothing to find happiness and a life of their own choosing is available as VOD title on a number of different services. If you want to watch and find out why the movie received Oscar nominations including Best Picture, Best Director, and Best Actor, you can do so by renting a 48-hour rental for $19.99 on Amazon.
Rent Minari via VOD on Amazon.
You can also rent Minari on services like Apple TV, Google Play, VUDU, and any other platform that offers VOD releases. Most, if not all, services have similar pricing to Amazon.
Will Minari Be On Netflix?
Despite not currently being on Netflix, there is a good chance Minari eventually ends up becoming available on the streaming giant, especially when you consider the number of A24 films that are currently among the best movies on Netflix. And while an exact date, or even confirmation that it will land there, remains unclear, don't be surprised if you see Minari land on Netflix at some point in the not-so-distant future. If all else fails, you could always watch Moonlight, Uncut Gems, or any of the other films from the studio's offerings on the platform.
How Minari Star Yeri Han Feels The Movie Represents The Korean Experience
One of the central themes of Minari, and perhaps what makes it such a worldwide sensation, is the bond of a family and how that familial connection is tested over the course of their journey. The bond is something that star Yeri Han, who plays Monica, told CinemaBlend's Jeff McCobb in a recent interview that helped her better connect with the script as it was representative of her own experience:
To hear more of Yeri Han's comments and those made by the rest of the Minari cast, check out all of the CinemaBlend interviews with the film's stars and writer/director.
Minari is currently streaming through various VOD services, but if you want to see what else is coming to theaters and your favorite streamers this year, check out CinemaBlend's 2021 Movie Release Schedule.
Your Daily Blend of Entertainment News
Philip grew up in Louisiana (not New Orleans) before moving to St. Louis after graduating from Louisiana State University-Shreveport. When he's not writing about movies or television, Philip can be found being chased by his three kids, telling his dogs to stop barking at the mailman, or yelling about professional wrestling to his wife. If the stars properly align, he will talk about For Love Of The Game being the best baseball movie of all time.