How Minari Represents The Korean Experience, According To The Film's Star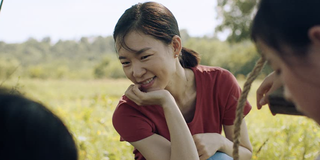 A tender and sweeping story about what roots us, A24's Minari follows a Korean-American family that moves to a tiny Arkansas farm in search of their own American Dream. Steven Yeun and Yeri Han star as Jacob and Monica, who embark on this new life along with their two children. Yeri Han has shared how the film represents the Korean experience.
There has been much discussion of late about the importance of representation in film. A common misconception, for example, is that film starring a Korean family would be made exclusively for the Korean community, but on the contrary, Minari is relatable to truly any family. The film's star, Yeri Han, spoke with CinemaBlend about the film and opened up about how much of the script is representative of her own life experience. Here's what she said:
Writer/director Lee Isaac Chung is Korean American himself and grew up on a farm in Arkansas, so it is clear he drew from personal experience when writing and creating Minari. Despite not immigrating or living in the states, Korean actress Yeri Han still has personal connections to the film. Her connections to the script have to do with family; the way she was raised along with the memories that she holds. What's so beautiful about this is that while Han and Chung have Korean roots in common, having similar childhoods is the thread that connects their experiences to this script, and that aspect can be universal, regardless of race, ethnicity, or socioeconomic background.
Through the journey of Minari, we see the family home change with the initial move, and again with the arrival of Monica's mother Soonja (played by Yuh-Jung Youn who is an absolute joy to watch every time she's on screen). The family displays resilience time and time again through various challenges that come with the instability of their new life, and it's a reminder to all of us how to dig in and come together for what matters most, which in this film specifically, is pursuing the American dream.
Minari is a lovely, touching film that is now available wherever you rent or buy movies. For more stories around the pursuit of the American dream, I highly recommend the heart-warming coming-of-age film Yellow Rose and Apple TV's The Banker, which has some familiar faces.
Your Daily Blend of Entertainment News
Obsessed with Hamilton and most things Disney. Gets too attached to TV show characters. Loves a good thriller, but will only tolerate so much blood.