Jennifer Garner On Why 13 Going On 30 Holds Up After All These Years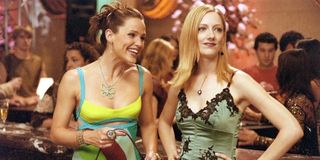 Every now and then, a movie comes out that truly stands the test of time. Whether it's a heartfelt drama such as Shawshank Redemption or your favorite romantic comedy, some films just feel timeless. Now, figuring out what makes said films so enduring is not an easy task, but 13 Going on 30 star Jennifer Garner recently revealed why she thinks the 2004 comedy holds up after all these years.
After being asked about the timelessness of 13 Going on 30, Jennifer Garner, who plays lead Jenna Rink, highlighted exactly why she thinks the film has had such a lasting cultural impact. In her own words:
In the interview with Sean Evans on First We Feast's Hot Ones, Jennifer Garner shared her thoughts on the ageless flick. She went on to suggest that 13 Going on 30 has a little bit of something for everyone, those who long to be older and those who wish they could revisit their younger years. Garner also said the film was "perfectly constructed" and fondly remembered late director Gary Winick.
Jennifer Garner's analysis totally makes sense, as 13 Going on 30 is one of those movies that fans can appreciate at almost any age. Since releasing in 2004, the film has come to be fondly remembered as a light-hearted nostalgic romp. Back in 2018, the enduring romantic comedy even popped back into the cultural spotlight with a direct reference in Ariana Grande's "thank u, next" music video.
Since her breakout performances in J. J. Abrams' Alias and 13 Going on 30, Jennifer Garner has gained a large following on her Instagram. Over the last few years, she has entertained fans with her farming-related escapades and promoting hair products from her bathtub.
Earlier this year, Jennifer Garner and 13 Going on 30 co-star and Mark Ruffalo shared a fun mini-reunion on the set of Shawn Levy's upcoming Sci-fi flick, The Adam Project. It's nice to see that the Razzle love is still going strong after all this time. Recently, news broke that Garner has another body-swapping flick in works, this time with streaming giant Netflix.
Currently the actress is promoting her latest movie, Yes Day, which is available on Netflix right now. While there's no guarantee that it will be as enduring or nostalgic as the iconic 13 Going on 30, reviews look promising.
Your Daily Blend of Entertainment News
Into tracksuits by Paulie Walnuts, the Criterion Channel and Robert Eggers.