Jennifer Garner's Yes Day Reviews Are In, Here's What Critics Are Saying About The Netflix Movie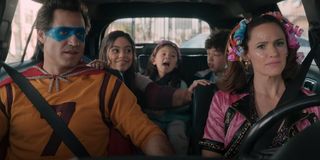 We haven't seen Jennifer Garner in a feature film in a hot minute, but her new Netflix comedy is almost here. Adapted from the book of the same name, Yes Day stars Garner, (who also produces) alongside Édgar Ramírez, and Jenna Ortega. Garner and Ramírez play parents who usually say no to their kids ,but decide to say yes to all of their kids' requests (with a few reasonable exceptions) for one day, called Yes Day.
The movie releases on Netflix this Friday, March 12, and critics have already started posting their thoughts.
Owen Gleiberman of Variety calls Yes Day "a comedy you may want to say no to." He criticizes Jennifer Garner's role, not because she isn't a good actress, but because he argues it's hard to believe Garner as a mother who has lost her sense of yes; he states that she has never lost her "sparkle." Among other criticisms, Gleiberman notes:
John DeFore of The Hollywood Reporter also heavily criticized the film, claiming it lacks dramatic energy that sparks any kind of fun. He also pointed out that the film is more "sour" than it means to be in the depiction of Garner and Ramírez as the parents. Overall, DeFore said:
David Ehrlich of IndieWire had a bit kinder things to say about Yes Day. Though he does note that the movie loses its momentum as the film progresses, with jokes and character development becoming too forced, he does consider it fun. He commends director Miguel Arteta for his sharp comedic mayhem in every scene and also compliments the comedic chops of Garner and Ramírez. Ehrlich continued, saying:
Of course, Yes Day has been getting a ton of attention ahead of its release thanks to its leading actress Jennifer Garner. The Guardian's Benjamin Lee addressed the performances in the movie, including the Juno actress. As he put it,
It's not all bad news, as there's been some praised thrown at Yes Day from critics as well. Los Angeles Times' Kimber Myers praised the film's quality and style, especially when compared to other family movies. As they put it,
Now the question is: will audiences criticize Yes Day as much as critics are? Or will it be a welcome escape in these troubling times? Only time will tell. While we wait for the film to drop on Netflix on March 12th, you can check out everything else coming to Netflix this month.
Your Daily Blend of Entertainment News
Thank you for signing up to CinemaBlend. You will receive a verification email shortly.
There was a problem. Please refresh the page and try again.