Why Deathstroke's Solo Movie Absolutely Needs To Happen After Those Zack Snyder's Justice League Scenes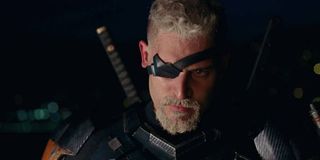 CinemaBlend participates in affiliate programs with various companies. We may earn a commission when you click on or make purchases via links.
Warning: spoilers for Zack Snyder's Justice League are in play. If you haven't seen the film yet and would like to remain unspoiled, use the Speed Force and flash back to the moment before you open this story. And don't forget to come back once you're caught up.
One of the greatest tease campaigns in the DCEU is the many times that the world has been promised to see Joe Manganiello's Deathstroke in a greater capacity, only for those claims to be dashed into the wind. The ever-evolving game plan that's seen Warner Bros changing course numerous times in their efforts to give the people what they want has left this deadly assassin without a target to take on. Well, after seeing how Zack Snyder's Justice League enhanced his character, that's a mistake that should be corrected as soon as meta-humanly possible. Allow me to explain why a Deathstroke movie needs to happen now more than ever.
What Happens In Deathstroke's New Scenes In Zack Snyder's Justice League?
If you're thinking that Joe Manganiello's Deathstroke is going to be all over Zack Snyder's Justice League, think again. The assassin and perennial Batman villain is only in the film for two scenes, and one of them is a different take of the ending tag we already saw at the end of Joss Whedon's Justice League. But, as the history of Zack Snyder's alternate/director's cuts has shown us, a little bit does indeed go a long way, and this is no exception.
The first big change comes from that original ending tag scene in Justice League. Instead of spouting some garbage about "a league of our own," Lex Luthor (Jesse Eisenberg) has much more useful information to give to the man also known as Slade Wilson. And funny enough, it's another name for someone he knows really well, as Luthor outs Bruce Wayne (Ben Affleck) as Batman. Needless to say, Deathstroke accepts that champagne in this version of events, as Zack Snyder's Justice League lands a huge punch in this moment.
But then it goes one step further in the film's post-apocalyptic epilogue. Zack Snyder's Justice League shows a new group of heroes, and villains, banding together in the Knightmare scenario that looms over potential future installments in the Snyderverse. Joe Manganiello is a part of that group, as Deathstroke is right beside Batman, questioning whether or not it was a good idea to have The Joker (Jared Leto) on their team. That's a lot of possibilities coming out of two scenes, which is only on top of the potential that's been raised and broken throughout the history of Manganiello's history in the DCEU.
The Original Plan(s) For Deathstroke In The DCEU
Everything from a spot on the original Suicide Squad cast to a role in Ben Affleck's aborted Batman solo movie has escaped Joe Manganiello. There was even a moment where Affleck himself shared footage testing the character's look in the DCEU. It was hard to avoid the topic, as Deathstroke's casting and existence in Warner Bros' cinematic endeavors to compete with Marvel was always a hot topic. The closest we came to truly knowing what that character could have given the world are thanks to remarks from Manganiello himself.
When describing what the Ben Affleck-written/directed Batman film would have done with Deathstroke, it's a concept that maps up really closely with what we've seen in Zack Snyder's Justice League. Joe Manganiello stated that his mercenary would have killed people close to Bruce Wayne, crumbling the world around him. Now knowing that Lex Luthor gave Deathstroke that crucial piece of information, it's easier to see Slade Wilson waging a very personal war with Master Wayne, thanks to his true identity being revealed.
Why Now Is The Time For A Deathstroke Solo Movie
If there was any scenario that could get Ben Affleck back into the director's chair for a Batman/Deathstroke film, this would be an exciting prospect, for sure. But there's no guarantee that Affleck would want to return to his role on either side of the camera, save for his upcoming appearance in The Flash film. The next best thing could, and should, be adapting this story from another angle. Rather than showing Batman at all, Deathstroke could focus both on Slade Wilson's origins as an assassin, as well as his systematic campaign of personally targeted destruction against Bruce Wayne.
At the very least, Ben Affleck could always return to the role for a quick appearance as Batman and/or Bruce Wayne, with Joe Manganiello carrying most of the film as his character's tentpole in the DCEU. However, if Zack Snyder is suddenly brought back to make his Justice League sequels, then there is a good chance that this could be another required building block in the road to the grand opus that the all encompassing Snyderverse. Especially when the newly hopeful Batman/Bruce Wayne is poised to have another round in Hell, thanks to Slade Wilson's seemingly eternal grudge.
The more things change, the more they could stay the same, as Zack Snyder's vision for the DCEU could find itself enduring if Zack Snyder's Justice League is a large enough hit. And in order to truly get that version of the story into the world, Joe Manganiello's Deathstroke should be given his due, as he's an important component to making it all happen. It's only going to get easier to convince the world of this point, as the more people who fall into the wonder of this magnum opus, the stronger the Deathstroke nation will become. We've kept Joe Manganiello waiting long enough; it's time to let him take the shot.
If you're curious about Zack Snyder's Justice League, and you don't already have an HBO Max subscription, check out the current offer (opens in new tab) for six prepaid months at a healthy discount. While you're at it, you can watch other DCEU movies, including that other cut of Justice League, just in case you want to compare the two versions of Deathstroke we now have in the world.
This poll is no longer available.
CinemaBlend's James Bond (expert). Also versed in Large Scale Aggressors, time travel, and Guillermo del Toro. He fights for The User.
Your Daily Blend of Entertainment News
Thank you for signing up to CinemaBlend. You will receive a verification email shortly.
There was a problem. Please refresh the page and try again.