Bob Odenkirk's Nobody Reviews Are In, Here's What Critics Are Saying About The Action Movie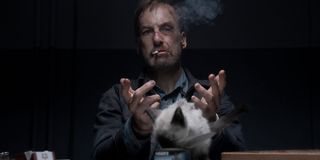 Emmy winner Bob Odenkirk is returning to the big screen in a new way: as an action star. His new film is Nobody, starring the actor as Hutch Mansell, an underestimated dad and husband who is basically a nobody (get it?!). When Hutch does nothing to defend his family from thieves who break into their home, his son Blake (Gage Munroe, The Shack) and his wife Becca (Connie Nielsen, Wonder Woman), pull even further away from him. But the aftermath of that incident inspires Hutch to take action and save his family.
Nobody is directed by Ilya Naishuller (Hardcore Henry) and the screenplay is written by Derek Kolstad, who also just so happens to be the screenwriter for the John Wick films. Will Nobody meet the John Wick caliber of legendary action? We'll have to see about that. While we've already seen the first social reactions on Twitter, critics have now begun sharing their reviews of the film, so let's check them out before the film releases in theaters this Friday, March 26.
From the CinemaBlend side, Eric Eisenberg rated the film 2 out of 5 stars in his review. He considers the action sequences the movie's greatest accomplishment, but that's about the extent of what he enjoyed about the film. He was looking forward to the next movie written by Derek Kolstad after his John Wick scripts, but was ultimately let down, as Nobody seemed to lack any magic beyond the ass-kicking. Eisenberg said:
Eric Kohn of IndieWire enjoyed the action flick a bit more, praising Odenkirk's ability to sync up the various fast-paced scenarios while not delving completely into "Better Call John Wick" and hovering at more of a Reeves-like understatement. Kohn wishes the ensemble characters could have had more involvement in the story, and criticizes the ingenuity of some narratives and the "bland finale." But Kohn still enjoyed the film overall, saying:
The Hollywood Reporter's John DeFore admits that the action in Nobody is a bit absurd, but enjoyably absurd. He praises "surprise player" Bob Odenkirk, commending his ability to sell the mayhem that his character Hutch causes. DeFore also enjoyed some of the humor and visual gags. He noted:
Alonso Duralde of The Wrap thinks Bob Odenkirk might have a shot at being an action star. He praises Odenkirk's "smartly underplayed" performance, along with Naishuller's steady direction and Kolstad's screenplay. Duralde calls Nobody "comedically over-the-top" but notes that it remained wonderfully paced and consistently clever throughout. He continued, saying:
Katie Walsh from Hastings Tribune commended Naishuller and Odenkirk like we've seen in other critics' reviews. She enjoyed Odenkirk's first outing as an action hero, commenting that he brought a sense of "dolefulness and rue" to Hutch. She notes that Naishuller really showed off his musical talent in Nobody, and praised how well his musical direction complimented the storytelling. She continued, saying:
Well, there you have it. It certainly seems that audiences will at the very least enjoy the action, as critics seem to be praising that aspect of the movie across the board.
While we wait for Nobody to release in theaters on March 26, you can plan more trips to the theater (or to your couch and your streaming services) with our full 2021 movie release schedule.
Your Daily Blend of Entertainment News
Thank you for signing up to CinemaBlend. You will receive a verification email shortly.
There was a problem. Please refresh the page and try again.