Nobody Trailer: Watch Better Call Saul's Bob Odenkirk Star In A John Wick-Esque Action Movie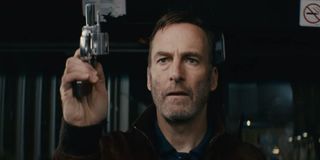 Better Call Saul's Bob Odenkirk has been known to be a bit of a chameleon. The primarily comedic actor underwent a huge shift in tone and image when he started playing his breakout role on Breaking Bad, and the hits have just kept on coming. Now there will literally be hits put out on Odenkirk on the big screen, as he's about to bust his image up yet again with a John Wick-esque action movie called Nobody. And, as included above, we've got the first, blood soaked, bullet riddled look at that very movie that you'll need to see to believe.
Nobody reveals the story of a man named Hutch (Odenkirk) who's, well, a nobody. Thieves break into his house, and he can't even muster the courage to attack them, which makes him even more of a nobody in the eyes of his family, and the world. That is until circumstances force Hutch to return to a life he thought he'd left behind. It doesn't look like he loses a dog in the process. But as you've seen above, he kicks a lot of ass to protect the ones he loves, and he looks good doing it.
Now there's a really good reason why Nobody looks and feel like a John Wick movie, and it's not because a new kid on the block is trying to steal the crown of that Keanu Reeves starring franchise. Rather, the film is a project that was written by Wick series scribe Derek Kolstad, and produced by David Leitch, co-director of the first John Wick, and co-executive producer of the entire series. It's an impressive pedigree that absolutely sets Nobody on the path of the righteous, and it's a familiar looking journey with a brand new spin.
One of the gags that Nobody already seems set on milking for all of its worth is the fact that you wouldn't expect Bob Odenkirk to be taking down armed assassins left and right. But as he proved with his shift into the universe of Breaking Bad, nothing is impossible, so long as you know how to sell it. When he tells those armed thugs what he's going to do to them on the bus, it's all Nobody needs to kick start a beautifully frantic trailer, set to Louis Prima's "I'm Just A Gigolo/I Ain't Got Nobody."
The trailer to Nobody is the holiday present we didn't know we needed. While we're now even more bummed this didn't open in August as planned, we can see why Universal would want to save this kitten for theaters. An action packed thrill fest that looks ready to make us laugh with its jokes and cringe with its kills, 2021 already looks a little brighter knowing this movie is on the way. Nobody come to theaters only on February 26, 2021; so it's not too early to get psyched for this action packed ride.
But if you want to go one step further, you can check out our 2021 release schedule. There's already competing films that are planning to take on Bob Odenkirk at the box office, as it's going to be a busy year. And to them we say, good luck, as it looks like he's ready for about anything in this flick.
CinemaBlend's James Bond (expert). Also versed in Large Scale Aggressors, time travel, and Guillermo del Toro. He fights for The User.
Your Daily Blend of Entertainment News
Thank you for signing up to CinemaBlend. You will receive a verification email shortly.
There was a problem. Please refresh the page and try again.