Bob Odenkirk's Nobody Has Screened, See What People Are Saying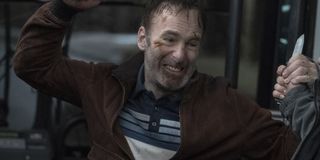 Emmy winner Bob Odenkirk (Better Call Saul, The Post, Nebraska) is returning to the big screen in director Ilya Naishuller's Nobody – but you should prepare to see him in a totally new light. The film stars Odenkirk as Hutch Mansell, an underestimated dad and husband who takes life's indignities on the chin and never pushes back. He's a nobody (get it?). When thieves break into his home and Hutch does nothing to defend himself or his family, his son Blake (Gage Munroe, The Shack) and his wife Becca (Connie Nielsen, Wonder Woman) pull further away from him. But the aftermath of that incident lights a fire under Hutch, and he takes action to save his family from a dangerous adversary and ensure that he will never be underestimated as a nobody again.
Nobody was written by Derek Kolstad, who also happens to be the screenwriter for the John Wick films. Will Bob Odenkirk become the new John Wick? We'll just have to see about that. The new movie doesn't release in theaters until March 26, but critics have already begun posting their thoughts on Twitter. Let's see what they have to say.
To start in house, CinemaBlend's own Eric Eisenberg was disappointed with the film. Though he appreciated the action sequences, he calls the script "directionless" and criticizes the film as having no creativity. He said:
Scott Menzel of We Live Entertainment had a widely different opinion of Nobody. He called it "FREAKING AWESOME," even going so far as to say that it "blows the John Wick series out of the water." He noted that Bob Odenkirk is at his prime. Menzel wrote,
The comparison to the John Wick franchise came up more than just once in reviews (I wonder what Keanu Reeves will have to say about this?). Scott Wampler of The Kingcast really hyped up the film, noting that it's "like John Wick but Bob Odenkirk." Wampler Tweeted,
Steven Weintraub, editor-in-chief at Collider, was also impressed with Nobody, noting that Bob Odenkirk trained for two years for his role as Hutch, and that it shows on screen. Weintraub commented that the movie kicks ass, saying:
While Nobody might be considered as an "under-the-radar" film, some people were certainly blown away by it. And then again, some were not impressed at all! But what will other viewers think? We'll have to wait until Friday, March 26, when the action film arrives in theaters.
While we wait for Nobody to release, you can check out more under-the-radar films that are coming out in 2021, and all the other movies that are coming out in March (while you're planning your trips to the movie theater or to your couch to stream movies, you might also want to check out the rest of the films coming out this year). And if you just can't get enough of Bob Odenkirk, check out the questions that Better Call Saul still needs to answer while we continue to wait for the sixth and final season.
Your Daily Blend of Entertainment News
Thank you for signing up to CinemaBlend. You will receive a verification email shortly.
There was a problem. Please refresh the page and try again.