Bad Trip's Eric Andre And Lil' Rel Howery Tried A Prank With Chris Rock For Their Movie, But It Fell Apart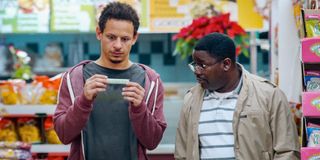 Netflix's Bad Trip sees two friends, played by Eric Andre and Lil' Rel Howery, embark on a prank-filled road trip from Florida to New York City. If you've seen the trailer, you know the pair get into more than a few crazy situations, which are all witnessed by unsuspecting bystanders. The film, however, actually included a number of other pranks that didn't make the final cut. This includes one particular prank featuring none other than actor and comedian Chris Rock.
With any film, it's almost a given that some things will be left on the cutting room floor and, when I recently spoke with Eric Andre and Lil' Rel Howery about their work on Bad Trip, they revealed some of the pranks that didn't make it into the film. Andre recalled an interesting one with Chris Rock before revealing a spooky-sounding stunt:
Eric Andre, Chris Rock and Lil' Rel Howery are formidable comedic talents, so it's surprising that such a prank couldn't be pulled off. Nevertheless, things can be tricky when it comes to hidden-camera pranks, as unforeseen circumstances can sometimes derail plans.
Aside from the Chris Rock prank, the demon possession stunt also sounds crazy. It seems the two really committed, especially since they were even willing to bring in a clergyman. Lil' Rel Howery opened up about the prank even more, and it sounds like the man of the cloth was heavily affected by the faux supernatural experience:
With such an over-the-top prank, one has to wonder why it was ultimately cut out, but we can probably just chalk it up to the creative process. But who knows, maybe Eric Andre and Lil' Rel Howery's deleted sequences will get to see the light of day at some point in the future.
Bad Trip hits Netflix on Friday, March 26.
Covering superheroes, sci-fi, comedy, and almost anything else in film and TV. I eat more pizza than the Teenage Mutant Ninja Turtles.