The Eric Andre Show: The Best Interviews In Season 5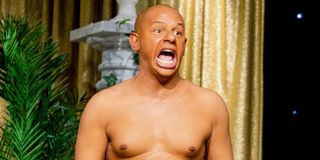 In October, after a four-year absence, Eric Andre finally debuted the fifth (maybe final?) season of his notoriously prank-heavy late-night talk show spoof, The Eric Andre Show. And unsurprisingly (and thankfully), the Adult Swim favorite was a much-needed burst of ludicrous nonsense to combat an already insane and intensely nightmarish year.
Continuing to heighten the show's commitment to insanity by featuring an all-new set, an all-new band, a steady stream of high-profile guests, and a rotating round-up of co-hosts, including LaKeith Stanfield, along with a completely hairless, well-tanned host, the intensely loud, aggressively abrasive comedian produced another absurd season of ultra-wacky midnight cable television, complete with even more wild-and-out celebrity "interviews," an abundance on person-on-the-street antics, and an onslaught of nutso and gross-out (and hilarious) moments. Certainly, Andre made up for lost time, producing 10 entertaining new episodes filled with even more utter ridiculousness.
Here are a few of our favorite interview segments from Adult Swim's constantly zany, commendably bizarre, joyfully reckless talk show, The Eric Andre Show Season 5.
Adam Rippon (Episode 1)
Following Judy Greer's squeamish introductory interview, Olympic figure skater Adam Rippon kicked Season 5 off nicely with his rambunctious back-and-forth with The Eric Andre Show's havoc-loving host.
Featuring some knocking on the shortness of the guest's 2019 memoir, carpet bits raining from the ceiling, a pair of mischievous hands constantly grabbing the guest, and, of course, some tubular bells, this opening interview was a great way to get back in the swing of things for this long-delayed fifth season. It also featured some of Hannibal Buress's best bits this year, particularly as he'd walk away in the next episode, aptly titled "Hannibal Quits."
While it's disappointing that Buress opted to leave, the dry-witted sidekick comedian still gave Season 5 one of its funniest quotes with "You're wearing spiked boots. You're supposed to be fearless!"
Shanola Hampton (Episode 2)
In the parodic talk show's first completely Hannibal-less interview, The Eric Andre Show was in the midst of figuring out its uncertain new direction, particularly after the introduction of Blannibal, Hannibal's menacing, outsized clone. While Shameless' Shanola Hampton's interview isn't one for the ages, it demonstrates the host's unwavering ability to keep his unstable program moving, despite this setback, while also producing more fun, increasingly bewildering antics for his unsuspecting guests.
Filled with constant, increasingly wacky interruptions, notably from PAs and returning sidekick Felipe Esparza, as well as an impromptu mini bat mitzvah before its high-flying finale, this interview was a comforting reassurance that Andre and his assorted crew would continue keeping things light, fast, and funny — even with Hannibal sadly no longer around.
Dermot Mulroney (Episode 4)
Everyone handles The Eric Andre Show differently. Some guests watch it with some odd mixture of enticement and bewilderment, trying to make heads or tails of this whole puzzling spectacle. Some celebrities are visibly annoyed/outright upset by Andre's clownery, with a couple walking out in disgust. And some do their best to play along and have fun, though they find their guard taken down by the sheer onslaught of insane hijinks that ensue over the course of their conversation. For Dermot Mulroney, he tries playing it cool. But it's quickly apparent that he's out of his element, and he's unable to act naturally in this uncomfortable interview.
Ultimately, the vibe is different here since Mulroney's casual awkwardness gets the better of him more so than Andre's general silliness. His verbal discomfort takes the focus, though the main highlight is Lizzo's female reboot of Bird Up — one of Season 5's most outstanding moments. Then, of course, it's time to scream.
Brenda Song (Episode 5)
For my money, Brenda Song's Episode 5 interview might be Season 5's peak. Over the course of two minutes, the former Disney Channel star goes from playful to terrified as our demented host starts marketing H2O2 ("the sequel to water"), goes on a shooting spree against Mountain Deux, challenges the power of God, and eventually threatens to kill a live fish in front of her. And that's before a fast-flying frisbee appears. This interview features some of the show's most absurd, outlandish moments, complete with a seemingly unsuspecting guest who can't contain her fearful uncomfortableness with this perplexing barrage of unrelenting craziness.
Considering that Macaulay Culkin, Song's partner, made a cameo earlier this season, you'd think that Song had some idea what to expect from Andre's gleeful brand of nihilistic debauchery. But if she did, it didn't register on-screen, resulting in some of Season 5's most rollicking and unhinged moments.
Tiffany "New York" Pollard (Episode 6)
With Flavor Flav's Season 4 interview being one of Eric Andre Show's high points, the debauched mock talk show needed to up the ante when Tiffany "New York" Pollard, a Flavor of Love contestant and I Love New York host, stopped by. While they don't do anything as extreme as kicking Flav's face, Andre brings all kinds of hell on New York in this off-the-wall conversation.
Accompanied by co-host Lakeith Stanfield, this free-wielding interview features everything from ping pong balls haphazardly flying across the room to a surprise appearance from celebrity chef Roy Choi to popping balloons in coffee mugs to wild pelicans roaming the studio willy-nilly. And that's without mentioning the dead birds falling from the ceiling. Andre really puts poor Pollard through the wringer, and the reality TV personality's animated expressions and continued reluctance to engage with his misbehavior resulted in one of the season's funniest, most spontaneous interviews.
Tia Carrere (Episode 7)
Wayne's World's Tia Carrere never got as famous as she should've. Thankfully, The Eric Andre Show gave her more time in the spotlight (as well as the hot seat) as she's put through a number of absurd, bombastic occurrences, including airline turbulence with air masks that smell like farts, telepathic explosions, thermometer slurps, and an angry confrontation between Andre and his crew, with the titular host insisting that he didn't give permission to be filmed. Sure enough, bullets flies, cameras smash, bottles break, and fistfights ensue. All the while, Carrere remains confused and disturbed.
While it follows the typical format of an increasingly ridiculous Eric Andre interview, Carrere plays it up beautifully, questioning everything but never backing away from the idiocy of it all. It results in one of Season 5's most delightfully goofy interviews.
Cleopatra Coleman (Episode 8)
Admittedly, Cleopatra Coleman's interview may be more of a personal favorite than one of the season's absolute best, but I'm a sucker for Eric Andre Show interviews that don't actually find time for the guest to speak. Indeed, this is a classic example of an Eric Andre segment that's so caught up in its own absurd tangents that it doesn't leave any room for the guest to get more than a couple of words in before it's over.
Between Felipe Esparza's big personality taking over the room, the introduction of his short person sidekick, Belipe Esparza, scooter hijinks, and Andre's fashion runway walk, which predictably finds him once again in the nude, Coleman can barely get a word in edgewise, and this short-but-hysterical segment is a perfect miniature display of The Eric Andre Show at its most outlandishly berserk and completely nonsensical.
Stormy Daniels (Episode 10)
To wrap up the season (and potentially the series?), Stormy Daniels was the final guest of Eric Andre Show Season 5. But it wasn't long before the controversial adult film star's presence is overshadowed by the show's habit of devolving into silliness, particularly with an elaborate "rest of the interview" celebration paving the way for the return of several season/series favorites, including Hannibal's Brother, Kraft Punk, "Russell Brand," "George Clooney," "Reese Witherspoon," Blannibal, and even Hannibal Buress, who reveals in a shocking twist that he was actually a mirage.
With Daniels now completely ignored, all the present/returning cast members engage in a climactic, celebratory, and, eventually, explosive end-of-the-season musical number, one that suggests that the show might be done. If it's truly over, it had a hell of a run.
Honorable Mentions
Unfortunately, The Eric Andre Show Season 5 had the sad distinction of hosting Naya Rivera's final interview, as the Glee actress tragically passed away this summer. While the mock talk show is known for its mean-spirited irreverence, this posthumous Episode 6 interview was presented in a surprisingly considerate, tasteful fashion, complete with a somber end credits memorial. With that said, the segment stayed true to the parody show's rambunctious spirit, finding the right balance between keeping Andre's zaniness while not being disrespectful or in poor taste.
While it won't be remembered as the funniest Eric Andre Show clip, Rivera's interview became a mindful and respectful tribute, which isn't something you'd expect from Adult Swim's otherwise gleefully obnoxious late-night program.
A few other Season 5 standouts include Judy Greer (Episode 1), Saweetie (Episode 2), Omarion (Episode 3), Diane Guerrero (Episode 4), Mercedes Javid (Episode 5), Luis Guzman (Episode 7), Robin Givens (Episode 8), Chad Johnson (Episode 9), and Blake Griffin (Episode 10).
What was your favorite Eric Andre Show Season 5 segment? Let us know below!
Will is an entertainment writer based in Pittsburgh, PA. His writing can also be found in The Playlist, Cut Print Film, We Got This Covered, The Young Folks, Slate and other outlets. He also co-hosts the weekly film/TV podcast Cinemaholics with Jon Negroni and he likes to think he's a professional Garfield enthusiast.
Your Daily Blend of Entertainment News
Thank you for signing up to CinemaBlend. You will receive a verification email shortly.
There was a problem. Please refresh the page and try again.